Merino is an integrated manufacturer and marketer of interior solutions with a wide array of world-class products for homes, offices, commercial and public areas. Decades of strong market presence and satisfied customers have created high brand recall for Merino. Launched as a manufacturer of interior solutions, the company has also delved into the Agro-industry and IT services. The Company also believes in utilising its influence for the betterment of society and has launched multiple programs focused on sustainable endeavours and the diverse range of businesses headed by them.  The Merino Group entered the AEC industry, specifically focusing on the interior solutions business by launching plywood in 1974. Soon after this launch, the demand for Merino Ply increased and Merino became one of the most preferred plywood brands in the Indian market. This successful beginning led to the establishment of Merino's first manufacturing unit of high-pressure decorative laminates at Hapur in 1981 followed by the second unit at Rohad in 1995. Over the years, Merino products have become the first choice for architects and interior designers and the company has established itself as one of the leading manufacturers of plywood. Owing to ever-increasing product demands and a desire to innovate and create new products that aligned with the latest international trend, an additional manufacturing plant was set up. This new unit was located in Dahej, Gujarat in 2017, taking the total Merino production capacity to 47 million Sq.m.
The Merino Group believes in consistently delivering quality products and services.
The Merino Group is regarded as the pioneer in the plywood industry, but their approach towards Environment and Sustainability is as universal as their approach towards the business. Merino's Mission, "Universal Weal through Trade & Industry" is an effort to keep nature pure and clean. 'Universal' stands for the world – the gamut of Stakeholders, and 'Weal' ensures wealth that is earned without harming the environment. The Merino Group believes that sustainable actions and outcomes create long term values by achieving a balance between economic, environmental and social performances. The company has embarked on a program called "Nirmal", which focuses on integrated, multidimensional and holistic transformation broadly covering air, soil, water, waste, and energy.
The Merino Group over a period of time has expanded its manufacturing facilities to Hosur (Tamil Nadu) and Dahej (Gujarat). Multiple strategies have been incorporated to make campuses green and focus on improving indoor air quality by indoor plants. The company is making improvements in optimizing resource usage and reducing the company's ecological footprint in terms of carbon, water, emissions and any kind of waste. The Energy and Resource Institute (TERI) and Visvesvaraya National Institute of Technology (VNIT, Nagpur) were retained to assist and complement The Merino Group's in-house expertise and experience to adopt best practices in energy management, water management, creating value out of any scrapes/wastes, greenhouse gas (GHG) management and soil management. The overview of key initiatives undertaken and their outcomes include:
Energy Management
The company follows a belief system that, 'the future lies in renewable energy that fulfils our objectives of ecological sustenance and indigenous sources of energy availability'. To achieve this, the company has formulated a three-pronged approach.
Energy Sources – At present, the company fulfils its energy requirement through a combination of both conventional sources of energy like fossil-based Diesel-Generators (DG Sets), State Electricity Boards (SEBs) and renewable energy sources like Solar, Biomass-based turbines (TG) and Biogas plants (BG). However, over a period of time, the company has shifted their focus and dependence on biomass-based turbines and solar energy as their primary sources of energy to fulfil their energy needs.
Energy Efficiency – The Merino Group has installed Variable Frequency Drive (VFD) across machines, boilers, pumps, compressors etc. to control load fluctuations, saving electrical inputs and gaining overall efficiencies of these systems. Installations of Real-Time Power Factor Correction System at needful places has improved the power factor and reduced demand. Emphasis has been laid on the installation of energy-efficient (IE3) motors in production and other facilities at all establishments of the company. The replacement of low-efficiency centrifugal pumps with high-efficiency pumps has been done in multiple places to gain in operating efficiencies. Optimal lighting is ensured in factories by the installation of LED lights and saving 30% electrical consumption.
Energy Conservation – Along with awareness, there are plenty of tangible processes and improvement measures that help the organization in the conservation of energy. In 2021, OTIF projects were implemented to minimize the material movement in factory premises and reduce the dispatch container loading time. The Merino Group has used an adiabatic cooler in a closed-loop circuit for cooling the press, eliminating the secondary cooling circuit by PHE and another water circulation pump. The company believes in keeping the power factor of the plant at 0.999 to conserve energy.
Water Management
A holistic approach has been undertaken for water management in and around the units, with a focus on the conservation of groundwater. These constructive conservation efforts can be classified into three key actionable implementations:
Focused practices to reduce water consumption:
The Company has installed 200 and 250 CHM Adiabatic Cooling Towers at Hapur plants that saves more than 25,000 KL water annually. The flash steam recovery system further helps save 15% of the water used in steams. All manufacturing units of the Merino Group have moderated water consumption per unit of the laminate produced through an increase in water efficiency by the use of upgraded technology and a better water management system.
Recycle and reuse of water:
Water management strategies are implemented at all company manufacturing facilities, using ETPs (Effluent Treatment Plants) and STPs (Sewerage Treatment Plants). The capacity of ETP and STP are 250 and 70 KLD respectively in Hapur plants. This helps treat and recycle over 100,000 KL of water annually in the Hapur premises. The Rohad plant has installed a capacity of ETP and STP of 50 and 100 KL per day respectively. It helps make 50,000 KL of reusable water annually from wastewater. Similarly, with the use of STPs in the manufacturing premises of Hosur and Dahej, the company reuses over 10,000 KL of water annually.
Replenishing and restoration of water sources:
The Merino group has installed a rainwater harvesting system having a reservoir capacity of over 1,00,000 litres at Hosur. The company has built reservoirs and installed groundwater recharge systems in and around the factory premises. Three such ponds have been developed to recharge groundwater at Hapur to restore nearly 5,53,815 KL of water cumulatively in a year. 
3. Waste Management under Circular Economy principles:
The Merino Group has adopted innovative methods to reuse wastes. A system collects all wastes and segregates them into various categories like hazardous (non-recyclable), non-hazardous (recyclable), organic, non-organic, liquid and solid wastes, to plan for the reuse of recyclable wastes and to create a system to carefully dispose of hazardous wastes. Combustible process wastes from manufacturing, like residue of paper materials, laminates, panel products, are used in furnaces to generate heat for drying biomass. Ash generated from boilers and incinerators along with ash from NTPC power plants are used for manufacturing bricks and tiles. These bricks and tiles are used for internal pavements within the factory premises. Organic wastes are converted into manures through bio-conversion processes and the manures obtained are used for plantations in the company's establishments.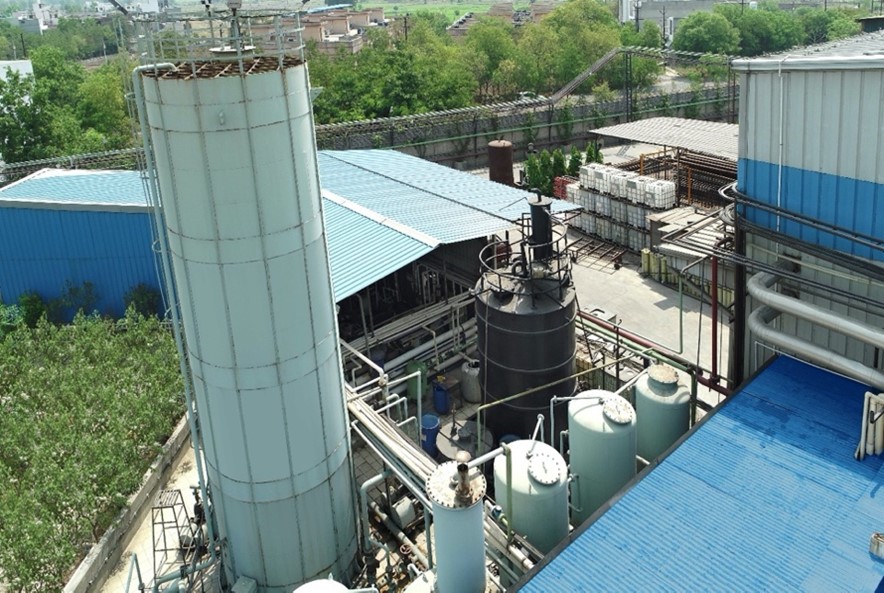 4. Air, including care for emission and air quality:
All manufacturing units under the Merino Group diligently adhere to maintaining lower emissions than what is stipulated to bring about a positive change. A major part of the company's cooling needs is addressed by VAM chillers that use waste heat instead of a conventional compressor that is run on refrigerant gases. Wet scrubbers installed in the company's lamination plants at Hapur, Rohad and Dahej help to control air pollution. Along with this, there are electrostatic precipitators and bag filters in manufacturing units to control emissions. The chillers in the production units for process and comfort cooling operate on the latest technology and are more environmentally friendly than the conventional cooling system.
An important aspect of industrial emission is ozone-depleting gases (ODG) that get released into the atmosphere. At the Merino Group, the company has addressed ways to mitigate this through proper knowledge, training and technological enhancement. Chlorinated Fluorocarbon (CFC) refrigerants have been replaced by technologically advanced hydrofluorocarbons (e.g., R-410A) refrigerant in over 376 tons of refrigeration (TR) systems annually. This has helped to mitigate an equivalent amount of ODG from the environment. The company's plants at Hosur and Dahej have complete refrigeration facilities based on Non-CFC refrigerants.  
Waste at the facilities is directly converted into useful gases and composts without greenhouse gas emission into the environment. The transformation of biomass (and its embodied "biogenic" carbon) into products has brought about effective carbon sequestration, as these products effectively store CO2 over a period of time. Thus, the use of biomass contributes to a reduction in CO2 levels in the atmosphere and addresses the key issue of global warming.
Soil Care through resilient agricultural practices & green activities:
Taking a constructive step towards soil biological health and its conservation, the Merino Group is engaged in enriching the carbon content of the soil using bio manures and desired soil health management practice. The primary goal of these initiatives has been to promote locally adaptable farm practices, need-based usage of agricultural inputs to sustain soil health and crop ecology. It is also to increase the income of the huge number of farmers associated with the Merino Group. Therefore, the development of soil crop/soil specific and cost-effective organic manure customised with major and micro-nutrients and bio-agents/catalysts are under progress by Merino in collaboration with VNIT. 
The Merino Group has taken initiative to establish the economic and ecological sustainability of a small dairy farm with scientific as well as traditional wisdom. It has focused on utilizing the existing herds and establishing the contribution of retired animals. Along with the improved milk yield, the economic utilisation of Cow dung and Gomutra are works in progress. 
Adoption of the 'Miyawaki Method' to grow forests at a fast pace inside the manufacturing campus in Hapur is one of the company's endeavours. In this method, saplings that support each other are placed to grow the plants fast. The Company has taken advice from multiple experts in order to grow the 'Miyawaki Jungle' while placing the 600 samplings into an area of 320 square yards (ca. 268 m²), in a narrow lane between two large work-shades in the furniture factory of the company in Hapur.
The Merino group also delves into multiple other sectors like the Agro-industry, and It Services. In the Agro-industry, the Merino Group began with the cold storage business and subsequently diversified into farming, biotechnology and food processing. The integrated approach enables the company to offer raw materials to the finished product. This integration in both directions has shaped the brand initiative in the FMCG market, where the Company launched potato flakes and 'ready to eat' snack mixes under the brand name 'Vegit'.
Merino Consulting Services, a fully owned subsidiary of the Merino Group, is a world-class IT Consulting and Enterprise Software Solutions Company serving 300+ clients across 40+ countries. Merino Consulting Services has 13+ years of experience delivering world-class IT consulting and implementation services to numerous clients across the world, including some big brands.
The Merino Group believes that Corporate Social Responsibility (CSR) is a mindset that instils socially responsible thinking and leverages the skills and resources in order to create a positive change in the lives of underprivileged sections of society.
The company implements its CSR activities through Sri Hara Kasturi Memorial Trust, formed specifically for this purpose. To create a significant impact in the lives of people, the CSR programs are mainly focused on two broad segments:
Education – The education program emphasizes on educating underprivileged children and empowering them to lead a better life.
Established in 2013, Swami Vivekananda Arunoday Vidyalaya (SVAV) works as a catalyst in spreading education and empowering economically weak households to improve their social habits and conditions. Started with just 15 students in its maiden year, the school now enrols students from economically weaker families up to class VI and has a strength of 116 students. 
The pandemic has affected the educational system not only in India but across the globe. Lockdown confined students within their houses against their inherent and inquisitive nature of exploring things. During such trying times, the teachers from Swami Vivekananda Arunoday Vidyalaya were continuously in touch with the students to keep them motivated. To help teachers transition from classroom teaching to online instruction, the company partnered with Socrates Foundation for Enhanced Learning, Pune for two weeks. The teacher training programme covered multiple topics to enhance their teaching skills, including 5Es of lesson planning, Bloom's taxonomy, good questioning strategies, and peer reviews.
The trust is committed to aiding students who have graduated from SVAV. Financial assistance and academic support through structured coaching are provided to help them complete their education till the 12th standard and ensure their academic standards are maintained along with fulfilling their nutritional needs. This is currently being implemented in Northern India, at Hapur, Uttar Pradesh.
'Yogakshema' is a scholarship programme launched in 2018 and implemented in Kolkata and West Bengal to help disadvantaged but meritorious students. The scholarship is offered for two years to those students who have scored over 80% in their Standard 10th Board Examinations. To encourage students to express their talents, the Yogakshema program has started a quarterly in-house magazine named 'Abhi'.
Near the Merino campus in Rohad, Haryana the company provides midday meals to Savera School, Jhajjar for differently-abled children and to Bal Griha, Bahadurgarh, an orphanage for girls.
Prior to the lockdown at SVAV, the school used to offer students nutritious meals three times a day. The impact of the initial lockdown has been very severe for the students' families. To help them sustain themselves during the lockdown, the trust provided them with raw food supplies. Along with the local administration, the trust also distributed 1500 packets of raw food supplies to 1500 families, helping them meet their ration requirement for about 10 days.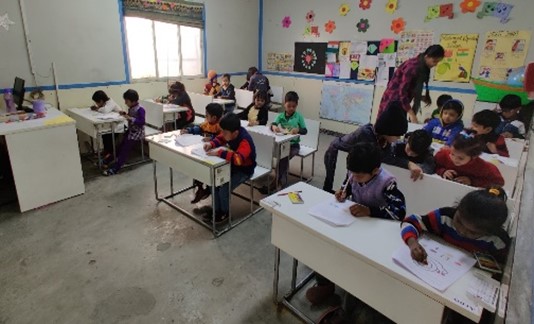 Healthcare – Along with education, the trust believes that the overall development and progress of any nation significantly depends upon the health and well-being of its citizens. The company's free healthcare services for the well-being of the poor is one of the many steps that they have taken towards building a healthy society. The healthcare program is currently limited to parts of Northern India only.
The Sankat Mochan Abhiyaan is a COVID-19 awareness campaign to create awareness amongst the people of Hapur. Multiple activities have been undertaken under this campaign, including:
Awareness Campaign and Sanitation Drive: With the help of local representatives, the healthcare program covered 23 localities of Hapur. The volunteers organised door to door campaigns, put up banners, and distributed pamphlets, medicines, and Ayush Kadha (sachets) for boosting immunity. The trust covered 19 localities and did a complete sanitisation of streets and common gathering places. Local communities were engaged in carrying out this sanitisation drive along with Merino office staff.
Daridra Narayan Seva Blanket Distribution Drive: To serve the poor and help them beat the freezing winters of December, the staff distributed 990 blankets. The staff went out at night, braving the cold winter in order to identify and serve those who needed it the most.
Shri Prem Chand Lohia Health Centre(SPCLHC): Healthcare facilities such as OPD services, treatment of TB Patients and Ayurvedic treatment to local people are provided through SPCLHC. SPCLHC also provides medical facilities to needy patients in and around Hapur through mobile vans manned by qualified doctors. Throughout the year, 377 such trips were undertaken to provide medical services to needy patients.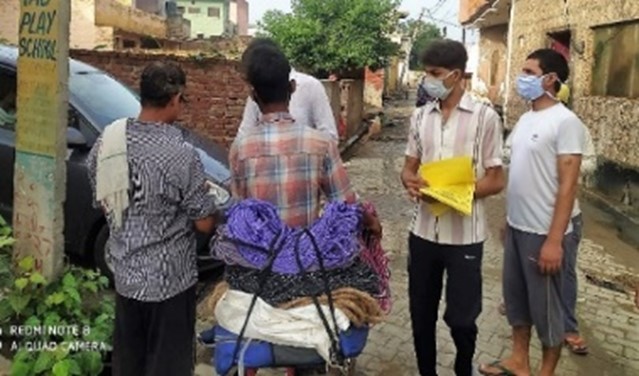 The company believes that safety has taken a whole new meaning, especially when it comes to public spaces. So, the Merino Group has also introduced a public restroom accessory called FootLatch. It enables users to open and close restroom doors without touching the doorknob. The company is committed to making restrooms much safer and more thoughtful. According to Shubhankar Paul Chowdhury, the Marketing Manager at Merino,
"The building material industry will have to adapt and address the changes in the habits of people. Out of these habits, some may fade with time, while some may last and evolve further."
Safer washrooms and the requirement of cleanliness will become a new normal. Merino Restrooms has already launched women and geriatric centric restrooms. Similarly, to enable people to wash hands more often, the company has launched a mobile hand washing unit called PuriWash. Moving forward, the company is looking to evolve restrooms into much safer and thoughtful spaces that address the safety and convenience needs of the consumers.
Merino aims at maintaining affordability (economy), maximising the product value (excellence), and preserving transparency in the relationships (ethics). Making the most use of technology and resources, Merino group has garnered a name for itself for being one of the most innovative companies in the interior designing sector. They believe, being pioneers in the lamination industry, specific technological innovations and benchmarks have given them a platform to use their influence to bring about a change in society and make a difference. 
Visit: www.merinoindia.com
Email id: www.merinoindia.com , merinoservices.com
Contact: 011-45557000, 25107617