Sarita Handa and Khanoom come together this Spring to bring the art, craft and tradition of hand-made pottery at their MG Road flagship store in New Delhi. Shop for hand-painted ceramic plates, platters, salad bowls and enjoy browsing Sarita Handa's extensive bedding and textile ranges.
In an endeavour to promote artisans and craftsmanship, luxury lifestyle brand Sarita Handa is hosting a pop-up of Jaipur-based Khanoom at their MG store from March 24 to April 10. It is a celebration of craft and art, with Sarita Handa's eclectic take on reinterpreting global crafts and textiles and Khanoom's handcrafted botanical plate collection.
Khanoom is the brainchild of Ms Priyamvada Golcha and Mr Simon Marks. Their vision for the brand is to create pottery and tableware that fuses together traditional techniques with a blend of East and West sensibilities for contemporary living, The brand's ethos is rooted in storytelling and draws inspiration from motifs of nature.
The hand-made and hand-painted botanical plates use rich, joyous motifs and luminescent colours that are scented with the romance of meals amidst lush, fruiting gardens. The collection conjures fantastical scenes as if plucked from the pages of a book. The prints are patterns steeped in 16th to 18th-century vintage botanical drama. The entire dinnerware is brought to life by the bright palette and richly textured paintings.
"We are honoured to come to Delhi for our first ever pop-up at Sarita Handa. Their contemporary designs and traditional techniques used by the artists with whom they collaborate for their textiles and embroideries resonated with our own ethos of hand-painted ceramics made by the traditional techniques of the kumbars and; laghu chitrans of Rajasthan and Jaipur, interpreted for a present-day audience," says Priyamvada Golcha and Simon Marks, Founders of Khanoom.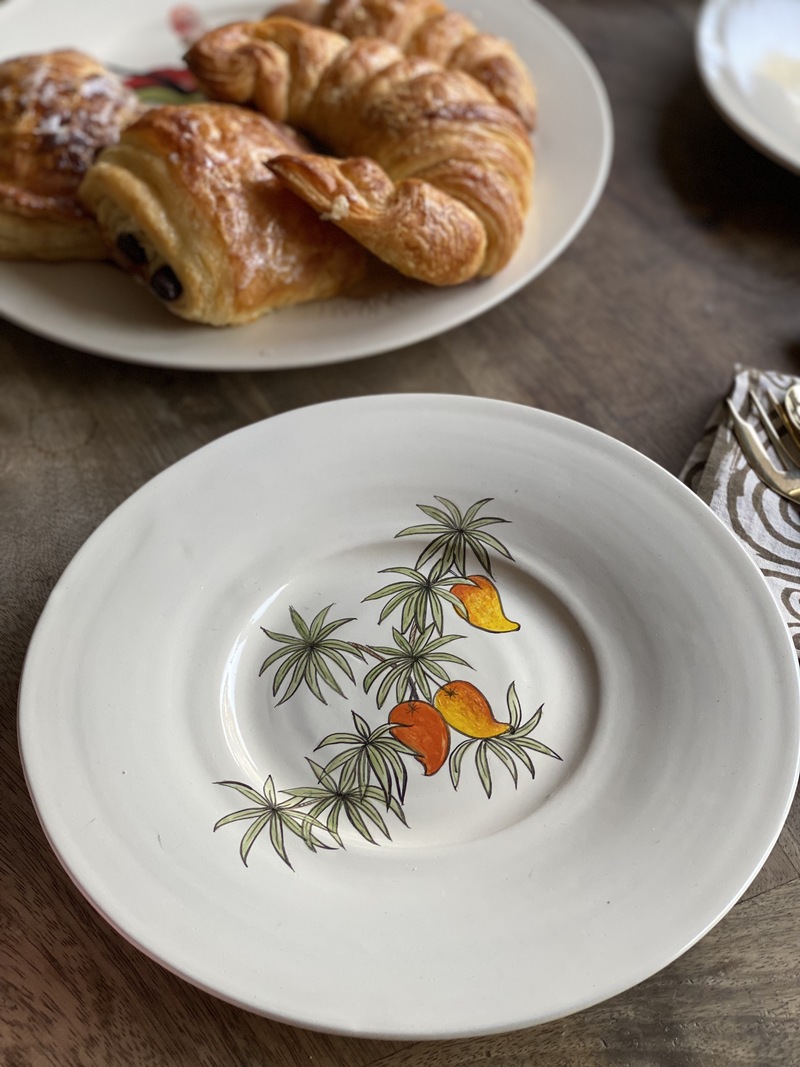 Sarita Handa, a pioneer in reviving the age-old art of Indian craftsmanship, is known for pushing boundaries by reinventing techniques, creating vividity, and drawing on the memories of varied, bygone cultural empires. Indulge in some experiential shopping at their store that showcases a collection of vibrant textiles, eclectic beddings, hand-embroidered cushions, artisanal vases and artefacts, furniture and much more.
"We admire the design language of Khanoom and the ecosystem they have created that ensures financial sustenance for local artisans. Their efforts to generate interest in the younger generations of potters' families to continue this craft as a viable way of living is noteworthy. They are not just selling craft but actively participating in preserving our heritage. This pop-up is thus a celebration of our artisans and crafts," says Suparna Handa, Managing Director, Sarita Handa
Sarita Handa,Khanoom
Visit: saritahanda , khanoom.jaipur