The '100 Smart Cities Mission was launched by the Centre in June 2015. These cities were expected to have improved infrastructure, more affordable housing, and more open areas, among other things. Due to the COVID-19 pandemic, several programmes under the SCM remain unfinished seven years after their commencement. As a result, the SCM has extended the implementation deadline, giving cities until June 2023 to finish the project.
India will require $4.5 trillion in infrastructure investment by 2040, according to the 2017-18 Economic Survey. The majority of this must go to metropolitan regions. These will house 40% of the country's population—600 million people—in the next ten years. According to Hardeep Singh Puri, the Union Minister of State for Housing and Urban Affairs (independent charge), India would require 700-900 million square metres of residential and commercial space every year over the next ten years to accommodate the 600 million additional urbanites. In this perspective, the National Smart Cities Mission launched by the Prime Minister Narendra Modi during his tenure is critical for India's future.
India's Smart City Mission
The "Smart City Mission" is a revolutionary scheme initiated by the Government of India in 2015. The Smart City Mission aims to transform the country's urban landscape. The primary goal of the government is to transform all Indian cities into smart cities. They plan on doing this by leveraging technologies and promoting local area development. The government plans to redevelop the existing areas. They also plan to create a livelihood for locals and develop new areas (e.g., greenfield areas) to accommodate the expanding urban population. Implementation of smart solutions in cities would entail deployment of technology, information, and data to enhance infrastructure and improve services. Such a comprehensive development would improve the quality of life, generate employment and boost income for locals.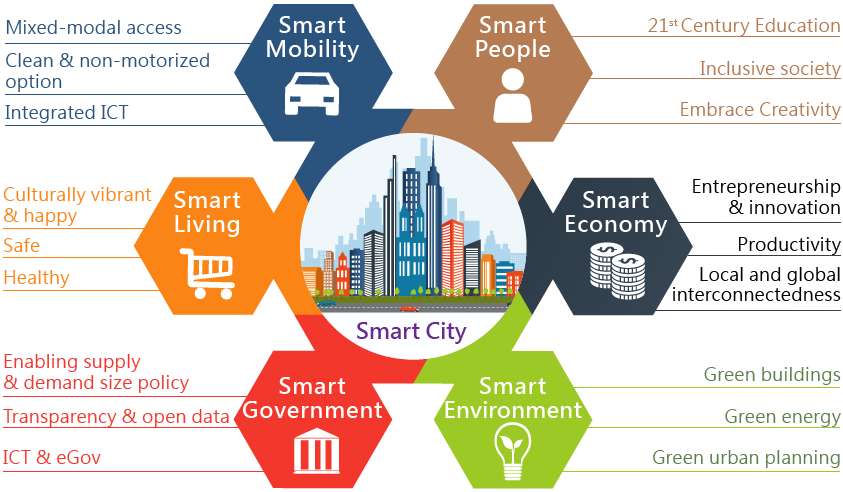 What is a Smart City, exactly?
A Smart City does not have a common definition. According to the Smart Cities Mission (SCM) mission statement, such metropolitan places must contain all fundamental infrastructure necessary for inhabitants to enjoy a fair quality of life while also having a low environmental impact. This comprises reliable water and energy supplies, effective sanitation, solid waste management, and public transportation. It also includes appropriate healthcare and education facilities and affordable housing, particularly for the economically disadvantaged. Beyond these fundamental criteria, such communities must also have reliable information technology connections. These will enable public engagement in community affairs and better local administration.
The Ministry of Housing and Urban Affairs (MoHUA) increased its focus on climate-friendly infrastructure in smart cities in September 2020. It released the Climate Smart Cities Assessment Framework 2.0. The MoHUA also released a "Streets for People" plan, which would prioritize pedestrians and non-motorized road users in urban planning.
Despite this, several programmes under the SCM, which is partially sponsored by the Centre, are still unfinished owing to the COVID-19 pandemic, which halted work for most of 2020. As a result, the Smart Cities Mission has extended the deadline for cities to finish their work until June 2023.
Status as of now
SCM first chose roughly 100 cities in stages. These encompassed over 21% of India's urban population as well as significant growing cities. Within five years after the date of selection, the programme sought to complete more than 5,924 projects. These are worth more than INR 2,00,000 crores. These initiatives aimed to make cities more liveable, economically dynamic, and ecologically sustainable by improving basic infrastructure and services. However, according to the most recent government statistics, 49% of the 5,196 projects for which work orders were issued remain incomplete. Forty-two percent of the initiatives in 33 cities that ended their five-year lifespan this year are still unfinished. As of June 23, 2021, a total of Rs 40,622 Crore has been issued. Here INR 27,862 Crore (69%) accounting for the majority.
Concept of SPVs
The concept of Special Purpose Vehicles (SPVs), which have been developed in every city to accomplish the mission on a PPP basis, is the largest problem with Smart Cities. These were formed as limited companies under the Companies Act of 2013. Their goal is corporatizing the process of establishing a smart city and cutting through the political muck. They did, however, wind up circumventing the democratic process.
While there has been a focus on data collection and careful monitoring of plan implementation, there appears to be a complete lack of transparency in providing information and important details about bids, initiatives, and so on. There is very little detailed data in the public domain, other than the big statistics that declare the initiatives' success.
Financial Support for ULBs
In terms of the financial support required by Urban Local Bodies (ULBs), these schemes come with riders and a "reform" agenda that incentivize ULBs to focus more on competition by rating them on scheme implementation points, causing local governments to implement them under duress in order to obtain additional resources. As a result, ULBs are pushed to invest in initiatives that have low priority in their cities and do not fit their environment. There are several examples of municipal governments enticing investment by providing incentives to Public Private Partnerships (PPPs) and financial institutions. There have also been occasions where ULB assets have been sold at market pricing. This is in order to raise funds for the SCM plan and to attract additional investors.
How far have we reached?
According to the Urban Affairs Ministry, a total of 6,452 projects worth 1,84,998 Crore have been offered as of November 12, 2021. Similarly, according to the report, 5,809 projects totalling INR 1,56,571 crores were in the works or had been finished, however it is unclear how many were completed.
According to the MoHUA, 5,151 projects totalling Rs 2,05,018 Crore were submitted under the Ministry's initial framework for the 100 cities. Despite the fact that the Mission's target includes 100 cities, only 66 were picked in several rounds of the "challenge" procedure between 2016 and 2018.
Tamil Nadu, India's most urbanized state, proposed 11 Smart Cities with 618 projects at INR 15,307 crores. Its experience revealed the challenges of fulfilling the Mission's goals. During November 2021, the SCM project to renovate the Chennai Pondy Bazaar commercial district and add an elevated sky-walk to the local bus stop came under fire when flooding in numerous nearby neighbourhoods was blamed on the project's inadequate drainage planning.
In terms of implementation, the Centre has stated that Smart City Special Purpose Vehicles (SPVs), which were established to implement, operate, and monitor the projects, are empowered to make decisions on Mission projects under the overall guidance of State High Powered Steering Committees and are not required to submit projects for Ministry approval. This basically places the obligation for meeting deadlines on these businesses, and the Centre is not responsible for any delays.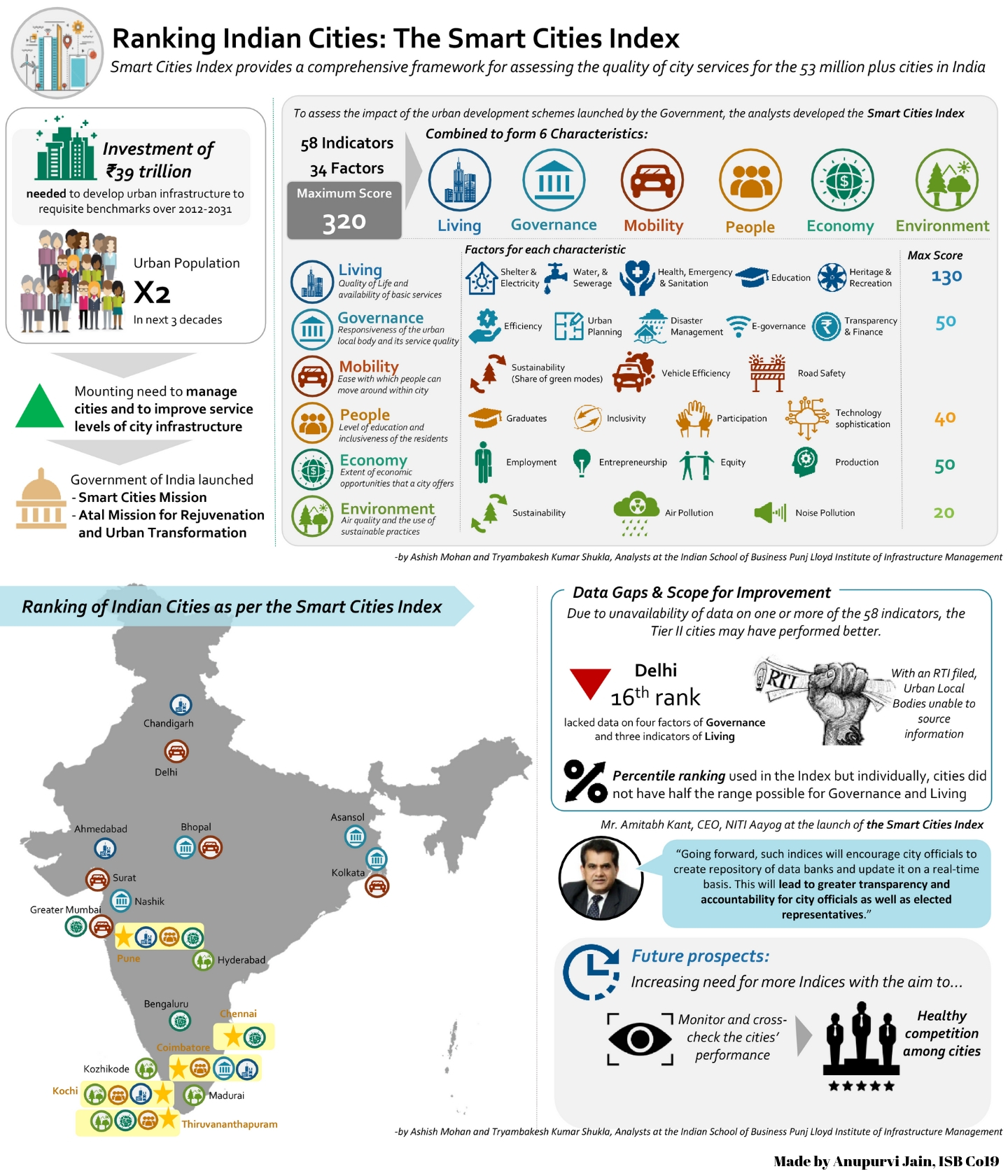 Challenges involved
In reality, smart city plans have been criticized for being disconnected from democratically elected institutions and broad public debate, as seen by project completion involving mostly state governments, bureaucracy, and independent experts. This is despite the fact that internet tools and platforms have been used to gauge public mood. The applicability of other smart city components is determined by a key factor of liveability and inclusiveness, such as cheap rental housing.
Some cities, including Ahmedabad, Bhopal, Bhubaneswar, Indore, and Thane, have incorporated housing improvements of different sorts, ranging from slum repair to free house sales, into their smart city programmes, some of which cost more than a billion rupees; others have lesser housing budgets.
The demand to design for climate change is also a factor in current smart city ideas. All investments would need to be aligned with national commitments under the Paris Agreement of the UN Framework Convention on Climate Change (UNFCCC) and the UN Sustainable Development Goals, according to the Climate Smart Assessment Framework (SDG).
Outlook for the Future
By 2030, urban regions are predicted to house 40% of India's population and provide 75% of the country's GDP. The Smart Cities Mission is an urban city development programme in India. The government is putting innovative goods and ideas to the test as part of several programmes in order to efficiently execute 'Smart Cities.' For efficient project planning and execution, initiatives like the Smart Cities Forum bring together collaborative perspectives from all key sectors. In addition, private-sector companies are cooperating with cities to produce innovative goods and services that address local requirements.
Sources:
Disclaimer: The information contained herein have been compiled or arrived at, based upon information obtained in good faith from sources believed to be reliable. The opinions expressed within the content are solely the author's and can be subject to change. The image featured in this article is only for illustration purposes. If you wish the article to be removed or edited, please send an email to editor@biltrax.com