The outbreak of the Coronavirus (COVID-19) pandemic and subsequent lockdown restrictions weighed on the Indian Construction Industry's output last year. On a positive note, government investment in infrastructure development aided the industry's recovery in the final quarter of the year. According to the Ministry of Statistics and Programme Implementation (MOSPI), the Indian construction industry grew by 6.2% year-on-year (YoY) in the final quarter of 2020 (Q4) – up from Y-o-Y declines of 7.2% in Q3 and 49.4% in Q2 2020.
The Indian Construction Sector
The Indian construction sector is the country's economic engine. Because strong infrastructure provides the foundation for all other initiatives, the Indian construction industry is responsible for accelerating the country's overall growth, and it receives top priority from the government. The Indian government has estimated that it will need significant amounts of money to build infrastructure that meets certain standards while also supporting the growing process. They've also highlighted the necessity for advanced technology to speed up and improve the efficiency of infrastructure development. As a result, the Indian government is working hard to boost building activity in the country.
The infrastructure and construction sectors in India have progressed beyond their infancy. For decades, both government and corporate developers have focused on "Low-Hanging Fruits," or projects that were simple to implement and yielded the most economic gain. However, there is now a significant chance to take on complex and difficult projects, where the main element for construction companies will be not just cost-effectiveness, but also technological expertise and efficiency.
Predictions for 2022 and beyond
By 2022, we predict that the Indian construction sector will grow at a CAGR of 15.7 percent, reaching $738.5 billion. It has a 55 percent stake of the steel industry, a 15% portion of the paint business, and a 30% share of the glass sector. Export cargo (10%), highway construction/widening (9.8%), power generation (6.6%), import cargo (5.8%), and freight at major ports (5.8%) are the operations within the sector that have seen the most development (5.3 percent).
According to the experts, the industry would continue to recover throughout the projected period, rising by an average of 6.7 percent in real terms between 2022 and 2025, with overall output surpassing pre-pandemic levels by 2022. Investment in transportation, energy, residential, and industrial infrastructure projects will bolster the industry's output throughout the predicted period. The government set aside INR5.5 trillion (US$78.2 billion) for capital investment in the Fiscal Year (FY) 2021/2022 budget. The number of projects in the National Infrastructure Pipeline (NIP) was also increased. This increase was from 6,835 to 7,400 as of June 2021; as of June 2021, the number of projects in the NIP has climbed to 7,973.
The National Infrastructure Pipeline (NIP)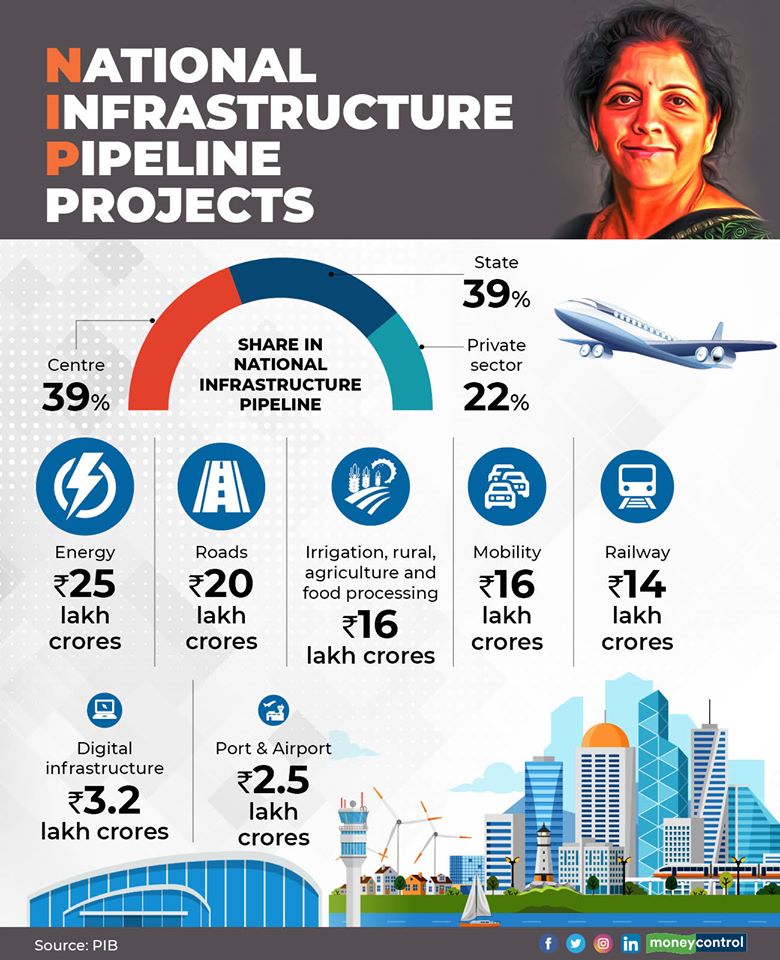 A High-Level Task Force led by the Secretary, the Department of Economic Affairs (DEA), and the Ministry of Finance envisioned a first-of-its-kind, whole-of-government exercise to accomplish this. The National Infrastructure Pipeline (NIP) was created with the goal of improving project planning and attracting infrastructure investments. The goal is to give Indian inhabitants with world-class infrastructure, therefore increasing their quality of life.
At all three levels of government, the NIP aims to create a favourable and supportive climate for major private infrastructure investment. It also aims to develop, deliver, build, and manage public infrastructure projects in order to achieve efficiency, equity, inclusion, and disaster resilience goals. The pipeline establishes a rapid infrastructure institutional, regulatory, and implementation framework, as well as benchmarking infrastructure performance against global best practices and standards. It employs cutting-edge technology to improve service quality, efficiency, and safety in the Indian construction business.
The NIP will support and encourage more infrastructure development and employment creation. The goal is to make life easier for residents by providing fair access to infrastructure thereby making growth more inclusive. A country's infrastructure improves the amount and breadth of its economic activity, and the NIP will give better-prepared projects while reducing aggressive bids and project delivery failures. It will also improve access to financial resources. In addition, the NIP will boost investor trust by ensuring that identified projects are properly prepared and that they are actively monitored by a competent body.
Employee wellness
Construction organizations can assist in protecting their employees' health by implementing the correct digital solutions and platforms. Intelligent thermal scanning, digital fences for keeping social distance between employees, and a variety of other options can all help to improve workplace safety compliance. Along with halting the spread of COVID-19, we may use the opportunity to strategically introduce new protection and safety standards inside the industry, which would benefit employees in the long term.
Governance on Projects
Urban Planners may better predict project demands, collaborate and communicate better, and easily manage delivery for better results with improved project planning and modelling utilizing BIM (Virtual Design and Construction-VDC). All stakeholders may follow project progress, prevent any delays due to labour or material shortages, give improved predictions for pricing and revenue management, and ultimately build a more effectively managed and executed construction project using BIM as the common foundation. In 2021, there will be an option to deploy such technology so that supervisors or engineers may handle projects remotely via online monitoring.
Drop in spending
Across the economic spectrum, job losses and salary reductions have occurred. Consumers and investors will undoubtedly be concerned about the looming uncertainties. There is also significant worry in commercial real estate concerning the impact of numerous "work from home" practices introduced by Indian corporations during the lockdowns. Companies have implemented long-term remote working arrangements in numerous well-publicized situations, primarily from the technology or services sectors. They expect to save money on real estate by letting most (if not all) of their workers to work from home. It's yet unclear how this will affect the industry in the long run. As a result, building investment will be more careful and deliberate.
The Way Forward
In order to increase service quality in both urban and rural regions, India must address infrastructural inadequacies. Most crucially, in order to increase its contribution to the national GDP, India must fully use the potential of its booming urban economy. While the Covid-19 pandemic has slowed short-term growth in the Indian construction sector, when the economy recovers as expected, market participants will be presented with new prospects for infrastructure investment and development in India.
As we previously stated, the Indian government intends to invest $1.4 trillion in the country's infrastructure. These massive investments in India's building industry would provide possibilities for both domestic and foreign parties.
Sources
Disclaimer: The information contained herein have been compiled or arrived at, based upon information obtained in good faith from sources believed to be reliable. The opinions expressed within the content are solely the author's and can be subject to change. The image featured in this article is only for illustration purposes. If you wish the article to be removed or edited, please send an email to editor@biltrax.com