Adhiraj Capital City, officially named as Adhiraj Samyama, is a residential complex in Sector-37, Kharghar in Raigad district of Navi Mumbai, Maharashtra. These high rises, luxury apartments have triple height lobby spaces at regular vertical intervals. It is a unique approach to break the conventional ways of constructing residential buildings. The project developer is Adhiraj Group and Malik Architects have designed the residences. The project development is in collaboration with Optimal Consultancy Services Private Limited, Spaceage Consultants, Global Engineering Services, Vascon Engineers Limited, JMC Projects (India) Limited.
The project occupies a land parcel of 40 acres and the construction occupies an area of over 20,00,000 sq. ft. There are 26 towers in the complex, of which Buildings 1 to 6 have a ground floor, a stilt level and 20 upper floors. Two towers, 1A and 1B, comprise 45 upper floors. Towers 1C, 1D, 4A, and 4B each have 44 upper floors. Towers 2A, 6A, 6B, 7A, 7B, 9A, 9B, 10A, and 10B comprise 46 upper floors. Two towers, 2B and 3B, have 56 upper floors. Towers 5, 11, and 12 each comprise 57 Upper Floors. All the towers have two basements, a lower ground level, an upper ground level, and two podiums. The Club House has a lower ground level, upper ground level, two podiums, and three upper floors. The total number of residential units is 9,270. There are 76 shops for daily requirements and necessities.
The luxury flats come along with multiple amenities to suit and relax its residents. These amenities include a reflexology garden and path, a banquet hall, a swimming pool, a yoga and aerobics studio, a café, and a restaurant. There is a provision for various sports activities like tennis court, cricket pitch, indoor football, children play area and indoor games. A spa room, a jacuzzi, a cigar lounge, and a library are some other recreational activities. The flooring is of vitrified tiles and kitchens have a granite countertop. The project covers the sustainability criteria like rainwater harvesting. There is a 24×7 CCTV surveillance to ensure protection of the residents.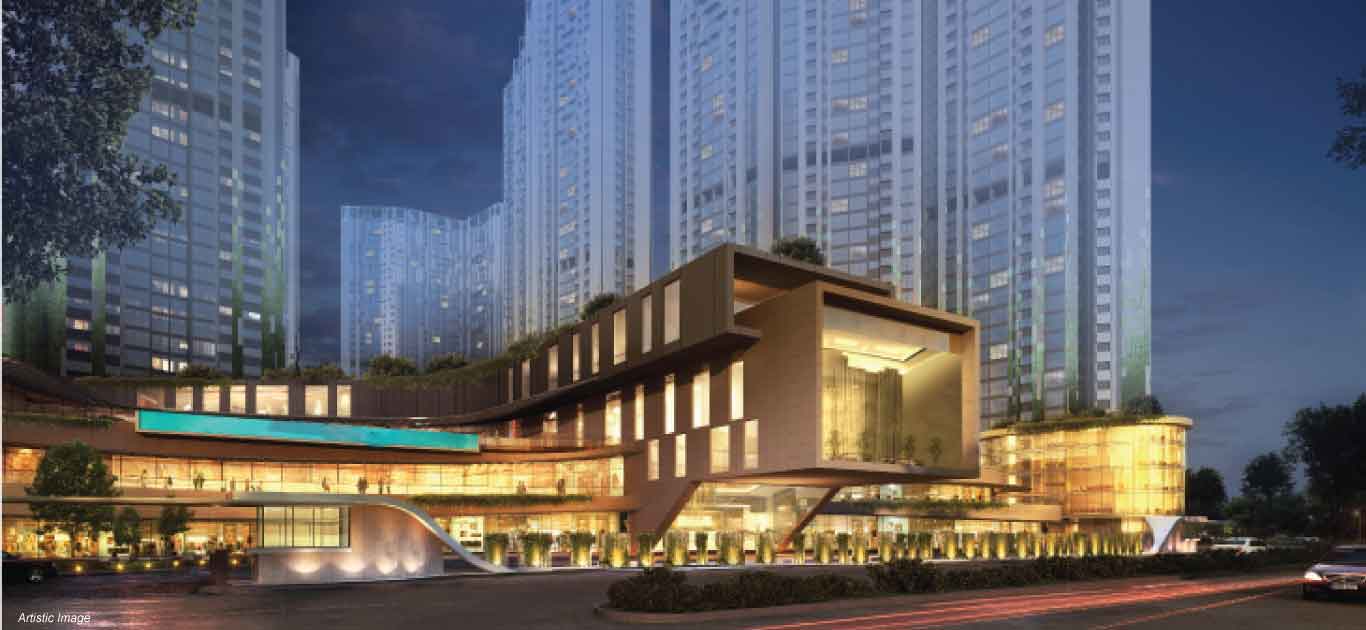 | | |
| --- | --- |
| Project Name | Adhiraj Capital City (Adhiraj Samyama), Kharghar |
| Name of the Developer | Adhiraj Group |
| Location | Sector 37, Kharghar, Navi Mumbai, Maharashtra |
| Pin code | 410201 |
| Building Use | Residential |
| Category | High Rise, Luxury Residential |
| RERA ID | P52000004449, P52000004493, P52000014859, P52000014856, P52000007539, P52000003039, P52000004189 |
| Year of Commencement | 2017 |
| Year of Completion | 2022 |
| Latitude | 19° 4′ 51.528" N |
| Longitude | 73° 4′ 40.0044" E |
| Plot Area (in acres) | 40 acres |
| Construction Area (in sq. ft) | Above 20,00,000 sq. ft |
| Maximum Floors (Above Ground) | 59 |
| Maximum Floors (Below Ground) | 2 |
| Total Project Cost | INR 6,500 crores |
Adhiraj Construction
Adhiraj Constructions' goal is to provide dynamic, self-sufficient environments that give investors a sense of accomplishment and a better quality of life. The business has been successful in creating a code of conduct that uses technology and intelligence to construct cities and residences with increasing economic and personal worth. They take great satisfaction in the careful attention they put into developing, planning, and carrying out their real estate projects.
Malik Architects
In institutional architecture and interiors, Malik Architecture's concept of offering a full design competence and utilising modern technology has produced creative and dynamic solutions. They combine the architectural, structural, HVAC, electrical, mechanical, and interior aspects of construction into interesting design elements. This is consistent with their steadfast conviction that they cannot reach final design solutions without the prompt amalgamation of all crucial services at the very beginning of the idea stage.