India is currently under enormous strain as a result of its growing population and the resulting urbanisation. India's national objective is to provide basic services to homes and to provide facilities in cities that will improve the quality of life for all people, particularly the poor and disadvantaged. In this context, the Atal Mission for Rejuvenation and Urban Transformation (AMRUT) is a positive step forward. The work done thus far is highly encouraging, but the initiatives must pick up speed if they are to enhance service delivery, mobilise resources, and make municipal government more open and responsible.
In June 2015, the Atal Mission for Rejuvenation and Urban Transformation (AMRUT), was launched to make life easier for inhabitants in 500 cities by providing tap and sewer connections. The Atal Mission for Rejuvenation and Urban Transformation (AMRUT) aims to ensure that every household has access to a tap with a reliable supply of water and a sewerage connection; (ii) improve the amenity value of cities by developing greenery and well-maintained open spaces (e.g., parks); and (iii) reduce pollution by switching to public transportation or constructing non-motorized transportation facilities (e.g.,walking and cycling). The government has previously approved a 1 lakh crore (US$13 billion) investment in urban development under the Smart Cities Mission and the Atal Mission for Rejuvenation and Urban Transformation of 500 cities.
Why is water security a prerequisite for Indian cities?
India's urban population is expected to reach 590 million by 2030, accounting for 40% of the country's overall population, according to a McKinsey research (2010). In addition, India's metropolises are expected to rise in size and number to 68. The growing emphasis on urbanisation, as well as the resultant influx of migrants from other regions of the nation, will result in a developing urban agglomeration in India, putting enormous strain on the urban infrastructure of these cities. Only 70.6 percent of people in India have access to tap water as their primary source of drinking water, while 20.8 percent use hand pump and tube wells and 6.2 percent use well water as their primary source of drinking water.
AMRUT Scheme's Goals
Through the execution of urban revival projects, the AMRUT Scheme focuses on developing an infrastructure for providing adequate sewage networks and water supplies in urban areas. Rajasthan was the first state to submit a State Annual Action Plan under the AMRUT system. Other programmes including the Swachh Bharat Mission, Housing for All 2022, and local state water supply, sewerage, and infrastructure initiatives can all be connected to the AMRUT programme.
The main objectives of the Atal Mission for Rejuvenation and Urban Transformation (AMRUT) are mentioned below:
To ensure a proper supply of water and a sewage connection in every household.To develop green and well maintained open spaces and parks to increase the amenity value of the cities.To reduce pollution by switching to public transport or through the construction of non-motorized transport facilities such as walking and cycling.Atal Mission for Rejuvenation and Urban Transformation (AMRUT) aims in covering around 500 cities that are having a population of over one lakh with notified municipalities.
The AMRUT Mission consists of the following major components:
Capacity building
Reform implementation
Water supply and management of sewerage and septage
Drainage of stormwater
Improvement in urban transport facilities
Development of green spaces and parks.
The search for improved outcomes, will not end with the supply of taps and sewerage connections to everyone (universal coverage). Following the achievement of the universal coverage standard, other benchmarks will be sought in a step-by-step approach. The term "incrementalism" refers to a method of reaching goals in a progressive manner. This does not imply that other Securities Lending and Borrowing (SLB) are less significant; rather, SLBs are realised incrementally in accordance with National Priorities. In the case of urban transportation, the goal will be to minimise pollution in cities, while the installation and maintenance of storm water drains will be to reduce, and eventually eliminate, floods, making cities more resilient.
Earlier, the MoHUA used to give project-by-project sanctions. In the AMRUT this has been replaced by approval of the State Annual Action Plan once a year by the MoHUA and the States have to give project sanctions and approval at their end. In this way, the AMRUT makes States equal partners in planning and implementation of projects, thus actualizing the spirit of cooperative federalism. A sound institutional structure is a foundation to make Missions successful. Therefore, Capacity Building and a set of Reforms have been included in the Mission. Reforms will lead to improvement in service delivery, mobilisation of resources and making municipal functioning more transparent and functionaries more accountable, while Capacity Building will empower municipal functionaries and lead to timely completion of projects.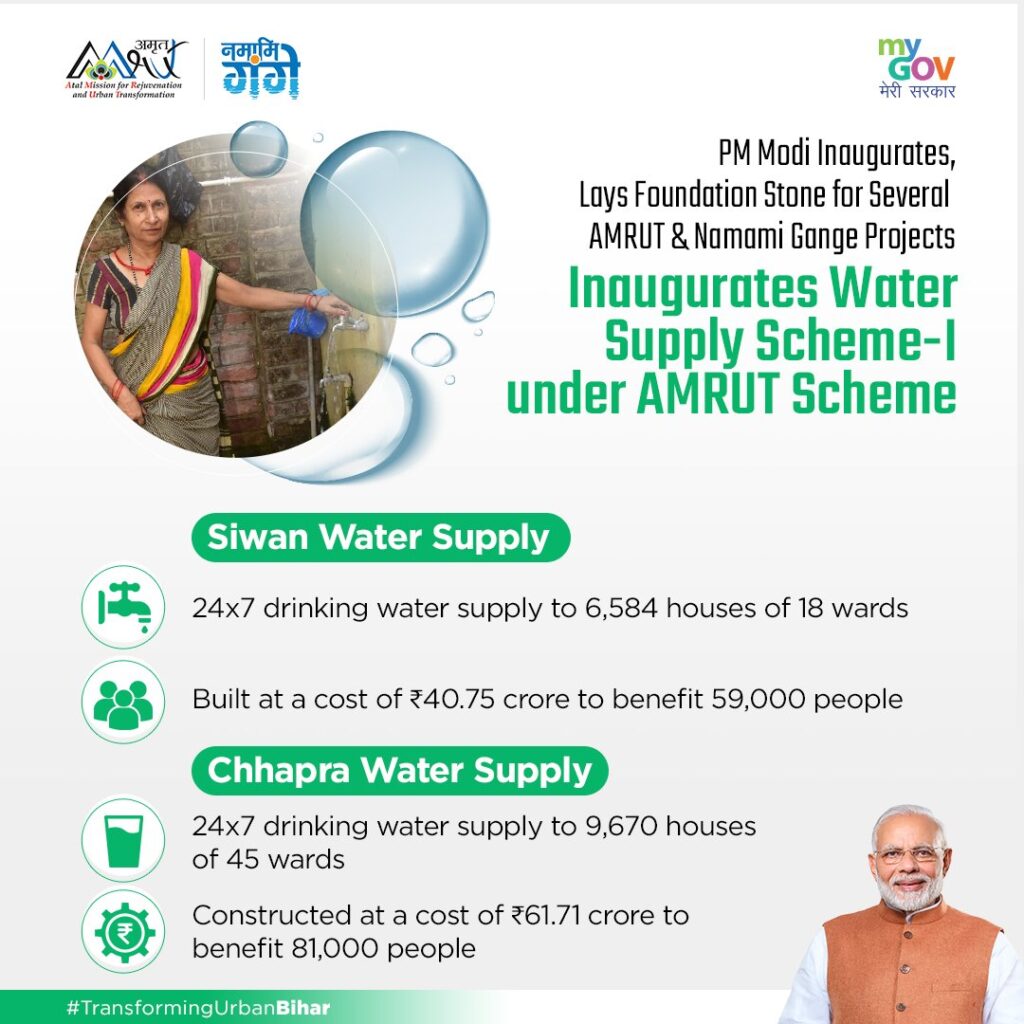 AMRUT 2.0
Prime Minister Narendra Modi announced the Swachh Bharat Mission-Urban (SBM-U) and the Atal Mission for Rejuvenation and Urban Transformation (AMRUT) second phases in October 2021, declaring that the missions' aims were to make cities garbage-free and water secure.
In his remarks accompanying the launch of SBM-U 2.0 and AMRUT 2.0 at the Ambedkar International Centre here, Prime Minister Modi said the next stages of these missions are also a crucial step in realising Dr. B. R. Ambedkar's dreams. "It is a great honour for us to host today's event at the B.R. Ambedkar Centre. Urban growth, according to Babasaheb, was critical to reducing inequality, "Prime Minister Modi stated.
The Swachh Bharat Mission-Urban 2.0 aspires to make all cities "Garbage Free," assure grey and black water management in all cities not covered by AMRUT, and secure all urban local bodies as Open Defecation Free + (ODF+) and ODF++, achieving the goal of safe sanitation in urban areas. The Mission will focus on source segregation of solid waste, employing the 3Rs (reduce, reuse, recycle) principles, scientific processing of all forms of municipal solid waste, and the rehabilitation of legacy dumpsites for successful solid waste management.
According to the Prime Minister's Office (PMO), AMRUT 2.0 aims to provide 100 percent water coverage to all households in around 4,700 urban local bodies by installing around 2.68 crore tap connections, as well as 100 percent sewerage and septage coverage in 500 AMRUT cities by installing around 2.64 crore sewer or septage connections, benefiting more than 10.5 crore people in urban areas. According to the firm, AMRUT 2.0 would follow circular economy concepts and encourage the protection and replenishment of surface and groundwater bodies. According to the PMO, AMRUT 2.0 will cost around Rs 2.87 lakh crore. SBM-U and AMRUT, according to the PMO, have made significant contributions to enhancing the urban landscape during the previous seven years. According to the study, the two flagship missions have enhanced the ability to provide residents with basic water and sanitation services.
AMRUT 2.0's TargetsThrough the installation of 2.68 crore home tap connections, AMRUT 2.0 aims to deliver 100 percent water supply coverage to all families in about 4,700 Urban Local Bodies (ULBs). It will also give 100 percent sewage coverage in 500 AMRUT communities, thanks to more than 2.64 sewer connections. The goal intends to expand AMRUT's coverage from 500 cities to all 4,372 cities, effectively reaching the entire urban Indian population.Water bodies will be rehabilitated, coupled with urban aquifer management, to complement a sustainable fresh water supply. It is anticipated that the reuse and recycling of treated wastewater will cover 20% of overall water demands in cities and 40% of industrial demand. As part of the objective, fresh water bodies will be protected against contamination, ensuring the long-term survival of natural resources.The scheme aims at the construction of a 'City Water Balance Plan,' which is a thorough plan for each city focused on recycling/reuse of treated waste or sewage, water conservation, and rejuvenation of water bodies, in order to promote the notion of a water circular economy.Encourage the use of digital technology: The objective is mostly paperless. Cities will implement "Pey Jal Survekshan" to guarantee fair water distribution, wastewater reuse, and water body mapping based on quantity and quality of water. The Water Technology Sub-Mission will use the most cutting-edge water technologies from throughout the world to accomplish this.The mission's goal is to promote Atma Nirbhar Bharat by providing a platform for a variety of startups and entrepreneurs. This will not only assist to promote the gig economy, but it will also help to engage the kids in the cause. Through an information, education, and communication effort, the public will be made aware of the necessity of water conservation. A target-based capacity-building initiative will include contractors, plumbers, plant operators, students, women, and other stakeholders.The mission has directed that all cities with populations of more than a million people pursue PPP projects worth at least 10% of their total project money allocations.
Conclusion
Providing adequate water and sanitation facilities at home helps individuals save time by reducing the amount of time they spend travelling long distances to get water, allowing families to focus on education and career opportunities and, in the end, breaking the cycle of poverty. To this purpose, AMRUT 2.0 has a comprehensive reform agenda that emphasizes the need of strengthening ULBs and ensuring total water security in cities. India would be able to get closer to achieving its goal of Water for All by implementing important reforms such as water body rejuvenation, rain water harvesting, non-revenue water reduction, and dual piping system for bulk consumers.
Sources:
Disclaimer: The information contained herein have been compiled or arrived at, based upon information obtained in good faith from sources believed to be reliable. The opinions expressed within the content are solely the author's and can be subject to change. The image featured in this article is only for illustration purposes. If you wish the article to be removed or edited, please send an email to editor@biltrax.com