Ravideep Singh, the Associate Director at Creative Designer Architects, New Delhi, explains how adaptive reuse in depleted healthcare buildings can bolster our preparedness for future pandemic waves.
While healthcare systems across the world struggled with the pandemic in 2020, India's healthcare infrastructure is now grappling with the third wave. Insufficient beds, lack of medical infrastructure, and overworked staff added tremendous pressure on our healthcare system. In addition, rapid urbanisation has led to increased disused buildings and neglected construction sites. With green building codes and energy-efficient guidelines making their way into building designs, we are beginning to see the dis-composing irony of building sustainable infrastructure.
Preparing for the future
Today, as India continues to battle another wave of the pandemic, it has become imperative for architects, healthcare professionals and policymakers to look beyond conventional approaches. While make-shift beds, portable oxygen cylinders and overworked staff were synonymous with the first two waves, India requires a much more sustainable approach to healthcare infrastructure that is prepared to tackle future medical challenges.
Climate change, combined with the pandemic's catastrophes, has led to the emergence of alternative approaches to building sustainable and efficient healthcare infrastructure. One such approach is 'adaptive reuse' of older, depleted or otherwise vacant buildings. Adaptively repurposing and reusing existing built structures has been a successful endeavour for several industrial and commercial projects. The efficacy of adaptive reuse especially in healthcare, even though sceptic initially, is gradually gaining meaningful acceptance. In the race to outrun the Covid-19 variants, healthcare professionals, architects, and planners are working in tandem to investigate adaptive reuse as an alternative approach to create sustainable and economical medical infrastructure.
Adaptive reuse in healthcare buildings
Owing to the peculiar requirements of a hospital building, adaptively reusing existing buildings can be a challenging endeavour. However, with careful consideration and meticulous planning, this approach offers multi-fold benefits – financial, environmental and communal. The feasibility of a hospital depends on its location, visibility, and accessibility. Hospital buildings generally require loftier floor-to-floor heights to accommodate the complex mechanical and service systems. Low structural floor heights in older buildings often challenge repurposing and lead to increasing costs.
Accounting for the constantly evolving technology and medical equipment, architects must also consider the potential of future MEP induction in the existing structure. However, with meticulous planning, healthcare architects can overcome these challenges to create an operationally and financially efficient healthcare building.
Challenges and opportunities
Furthermore, it is crucial to examine the prospects of growth, flexibility and reconfiguration in a repurposed building to allow for a surge in bed counts and accommodate additional care units to serve a larger population. Along with a detailed analysis of the site conditions, structural integrity and other operational viability considerations, architects must ensure that the project complies with regional and national building codes. By investigating the various prospects of adapting an existing building to a hospital, generating a point-based decision matrix can help establish the project's overall feasibility. In addition to the pragmatic factors, the hospital must eventually manifest itself as a healing and safe environment for patients and caregivers. Therefore, architects must also factor in the prospects of improving community health and well-being and revitalising the structure for a holistic and sustainable approach towards the built environment.
Having successfully delivered several such brownfield healthcare projects at CDA, we consider each of these factors at various stages of the design process, carefully evaluating and speculating on the outcomes of each project. While every project has unique challenges and opportunities, our goal remains to create a sustainable and healing environment that withstand unprecedented medical catastrophes. For instance, the La Midas Wellness Centre in Gurgaon is a twenty-year-old residential structure refurbished into a high-end wellness centre for women that stands tall as bold street furniture.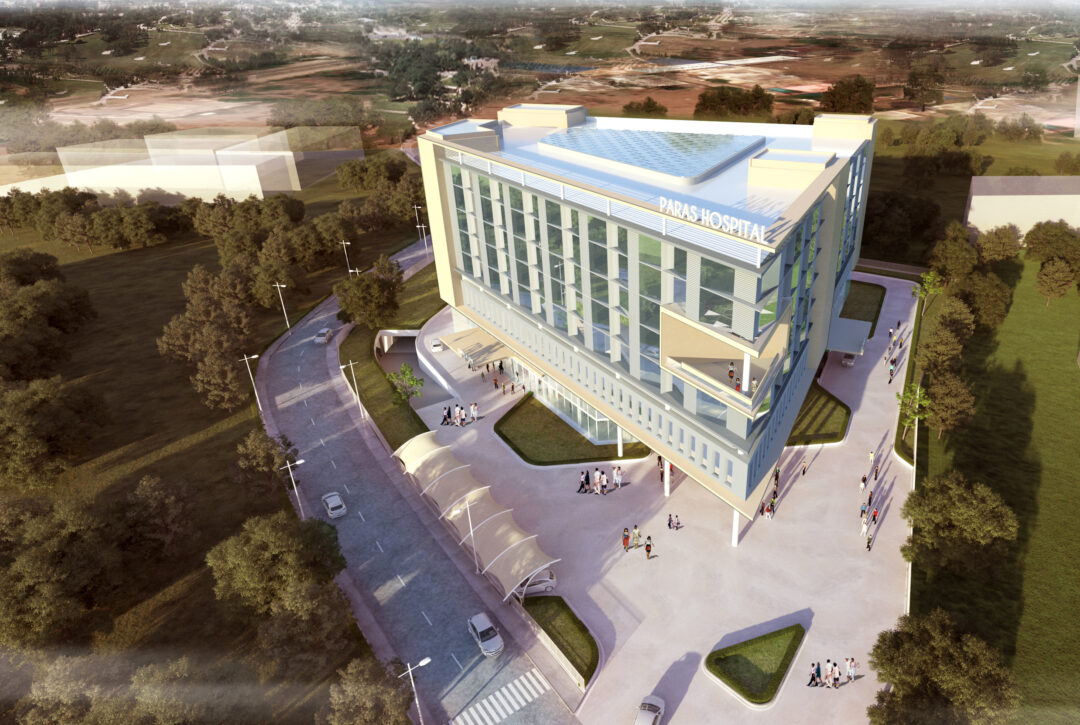 Diyos Men's Health Centre is another brownfield project that transformed an old derelict residence. On a larger scale, CDA resuscitated 1.8 lakh sq ft of retail space into a full-fledged hospital in Kaushambi, Uttar Pradesh. The expansive atriums of the Shopprix Mall now serve as the entrance lobby of Yashoda Super Speciality Hospital. The Santosh Children's Hospital is an ongoing project in Indirapuram, designed to transmute a dilapidated clinic into an engaging, responsive and altruistic built-form.
With meaningful interventions and a thoughtful design approach, adaptive reuse in the healthcare design realm is an opportunity to breathe new life into buildings, their inhabitants and the community.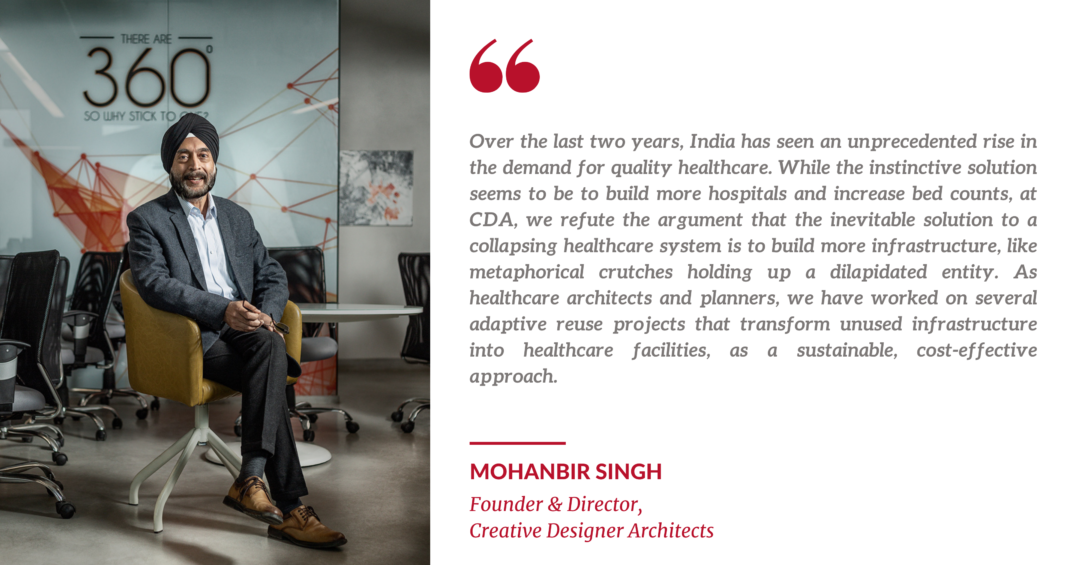 Creative Designer Architects
E-mail: creativedesigner.1@gmail.com, media@cdaarchitects.in
Biltrax Construction Data is tracking 17000+ projects on its technology platform for its Clients. Email contact@biltrax.com to subscribe and generate business leads.