CannonDesign shares their thoughts on directing a post-pandemic framework for Healthcare Design. We rightly describe Architects as the doctors of the built environment. With their critical eye and the ability to think holistically, their deeper insights reveal the truths and needs of a post-pandemic reality.  With the past behind us and the future uncertain owing to COVID-19, the need to rethink the built environment around us is now more than ever. Yogesh Jog, the Vice President and Office Practice Leader at CannonDesign enlightens us on the subject matter. He highlights how a framework of flexibility in design can future-proof healthcare facilities against such virus surges. He also talks about how digitally smart hospitals and telehealth which were short-term solutions for infection control will effectively become essential design components in the future.
What led to the establishment of CannonDesign in India?
We set up our India office over a decade ago with our first project – the Tata Medical Center in Kolkata. We have continued our partnership with the Tata Medical Center Kolkata. This is with the design and delivery of Phase I in 2011 and Phase II of the Cancer Facility in 2019. Our journey has been quite fascinating. The design crew working on significant projects with prominent Indian clients from the healthcare, education, and IT sectors including Tata Consultancy Services, Amity University, and Tata Main Hospital Jamshedpur, to name a few. Our Mumbai office has a diverse team of fifty designers with global perspectives and international experience. CannonDesign commits to the Indian market and keep growing every day.
Covid-19 has ravaged the healthcare infrastructure across the globe. Post-pandemic, what is the path forward to healthcare design in India? What design actions must be considered while designing healthcare infrastructure in the post-pandemic world?
Even before the pandemic, our country was aware that the healthcare sector was failing to meet the ever-growing population needs. There was thus a dire need for a complete system overhaul at different levels. We saw many hospitals at capacity during virus surges during the pandemic. This made the government's plan to expand hospitals in each state in India an even more urgent goal.
There has been a push to create isolation centres and COVID-specific facilities equipped with ICUs and negative pressure rooms. Many existing buildings have been repurposed for this. Both the government and private providers have realized the value of making healthcare buildings flexible to respond to current and future needs. Overall, all providers now recognize the need for expanded and higher quality healthcare across the country. They also realise the importance of bringing it equally to the largest cities and the smallest villages. Hopefully, this momentum continues even once the pandemic wanes.
Here are few key shifts we'll see in how we design healthcare spaces moving forward and out of the pandemic:
Health facilities should ensure flexibility and adapt easily to changing patient populations and to rapidly institute infection control measures. This has proven valuable. For example, with The University of Kansas Health System's Strawberry Hill Behavioral Health Hospital in Kansas City, Kansas. This facility has the ability to shrink or expand unit sizes.
Alternate ways of delivery models, such as using prefabricated or modular designs will be favoured. Modular design, in particular, accelerated the timeline for one of our projects, the Los Angeles County and University of Southern California Restorative Care Village, which provides healthcare, housing, and social services for the un-housed population.
Telehealth will continue to be utilized and may help certain healthcare systems expand their patient population outside the normal geographical patient population catchment area.
Enhanced HVAC systems that provide thorough circulation and ventilation will be critical not only in healthcare facilities but also in communal living facilities such as long-term care and rehabilitation buildings. Incorporating more negative pressure rooms in hospitals can increase capacity for infection control and isolation needs.
Within India, crowd management during public health emergencies will also be considered a mandatory step in the planning phases of new healthcare facilities. As we know, airborne illnesses spread quickly in crowded settings. Hence, allowing for more distance in healthcare facilities becomes critical. A new area per bed benchmark should also be considered during new facility design, as it could help significantly control infections during future pandemics.
Can you tell us more about the e-Report launched by Cannon Design for planning and designing the future of healthcare beyond COVID-19?
The eReport was born out of many conversations our lead designers were having with clients during the height of the pandemic in 2020. Many providers were struggling to adapt to the ebb and flow of the virus surge. They were looking to our expertise to help formulate both temporary and long term solutions. The CannonDesign team who authored the report consisted of designers, planners, architects, nurses, engineers and more. They used their experience and continual conversations with healthcare organizations to put together this e-Report to guide future planning.
With the pandemic still a major public health issue throughout the world, healthcare facilities are continuing to adapt to the ongoing realities of COVID-19. As the report was authored in the summer of 2020, some of the concepts are out of date, but many continue to be instituted. These include spacing and checkpoints in waiting areas, drive-through services for testing and vaccination, modified way-finding and circulation routes to decrease potential contact with infectious disease, flexible units to accommodate patient surges and more.
The industry continues to build a body of knowledge that will have a lasting influence on the way we plan and design health spaces for a post-pandemic future. We will continue to share lessons learned as we work with clients on making their facilities adaptable and ready for whatever the future holds. The more we share best practices and lessons learned, the healthier future we will all live.
While testing is seen as a stigma, pop-up testing facilities are a necessity to curb the spread of the virus. In reference to your project COVID Shield, can you explain how this modular facility functions to provide fast and flexible testing solutions?
Modular design and prefabrication speed up the delivery of any project by having the rooms or in this case, the testing booth, built off-site or close to the site and then easily transported to where they will be used. The COVID Shield, which allows for easy testing at workplaces to college campuses, can be assembled by two people. Its pieces collectively weigh 84 Kg with no panel more than 27 Kg, and the COVID Shield comes with clear step-by-step assembly and uses instructions. This portability and easy assembly make it easy to institute at several venues.
Overall, in larger healthcare facilities, modular design helps speed up the installation of "repeatable" rooms, such as bathrooms and exam rooms. We built the rooms off-site and then shipped to the construction site and installed. This can reduce costs, speed up the construction timeline and reduce risk on-site. 
Your project, Tata Medical Center served as a COVID-19 testing and treatment centre in Kolkata. What strategies and tactics did you adopt for patient segregation, risk mitigation, and critical care?
Last year, our Mumbai office consulted with hospital representatives about how Tata Medical Center adapted to treat both COVID and non-COVID cancer patients. Representatives shared that the hospital identified a zone on the second floor of Phase II of the facility. This normally houses acute and critical care spaces with negative isolation rooms for cancer patients, to treat COVID-positive cancer patients and staff members.
The original intent of Phase II was to increase the bed capacity of the hospital to 437. This was borne out as well during the pandemic to accommodate the surge of COVID-19 patients in addition to its regular cancer care. Almost immediately after Tata Medical Center had opened its first phase in 2011, the demand for its services far outweighed the capacity of its 183 inpatient beds and outpatient facility. Today, it continues to provide superb cancer care to much of the region, and the flexibility built into the facility's plans allowed it to accommodate COVID-19 care as well.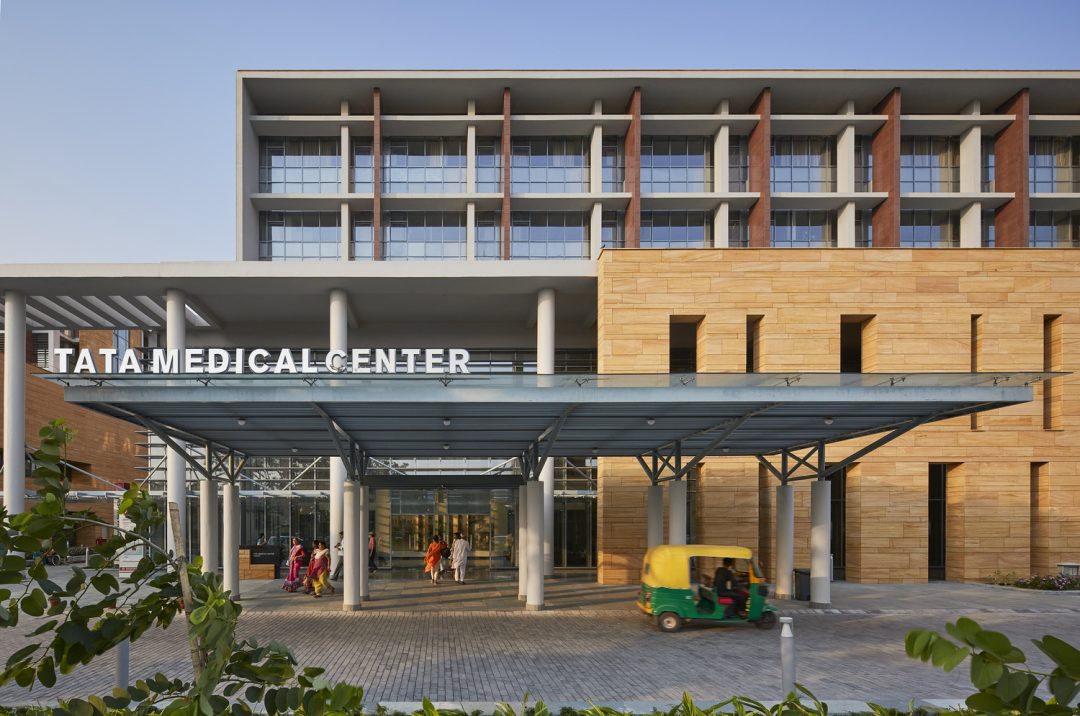 In your opinion, what must the architecture of ideal healthcare environments inculcate- both for the caregivers and the care seekers? How can architecture contribute to patient recovery?
Patients and caregivers spend many hours and days in the same building. Thus making their experience as optimal as possible are key. Creating a healthcare facility that is safe and aligns with industry standards is important, but a healing environment is vital. The various concepts described below help patients recover. They make their time in the facility as comfortable and worry-free as possible. Many of these experiences extend to the staff. They are the ones who spend a lot of time in these facilities. They thus benefit from similar amenities, comfort, and efficiencies. These are a few concepts that improve patient and staff experience:
Access to nature: Due to the amount of time spent in healthcare facilities, having access to the outdoors is crucial. Research has shown that access or views to nature accelerates healing and helps curb burnout in staff. We can accomplish this through multiple ways. These include patios, balconies, ample windows, and bringing plant life into the building where safe to do so.
Technology integration: Telehealth is an obvious arena where technology has improved accessibility to care. But it has also helped within facilities themselves. Wireless tracking devices can allow patients to wait for appointments where they'd like. It would also enable patients to get notified when it is time for their appointment. Check-in and paperwork for appointments can also be done ahead of time online, streamlining the experience for patients and staff.
Artwork: Often the artwork in a healthcare facility is an afterthought, one of the last things to be considered in a project. But carefully curated artwork can make intimidating healthcare spaces more welcoming and soothing. In the Penn State Health Hampden new hospital, the organization created a committee to select artists. These artists represented the entire surrounding community. The artists created pieces that depicted various populations in the area. They also depicted the surrounding rural and urban landscapes, to make all who enter the hospital feel welcome.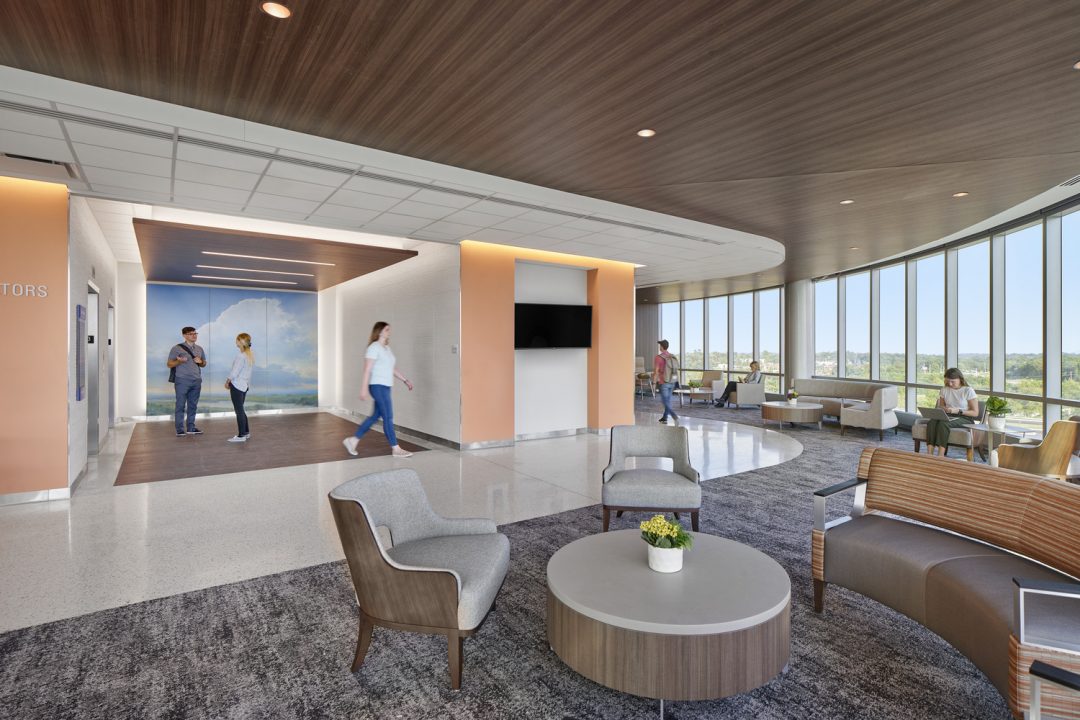 What can hospitals and healthcare facilities do to reduce their carbon footprints?
Hospitals understandably use a large amount of energy, much of it towards life-saving equipment and procedures. But there are a growing number of ways hospitals can save energy and reduce their carbon footprint.
Renewable energy: The use of solar panels on the rooftops of buildings can significantly reduce the need to rely on fossil fuels for energy, which are a big carbon footprint contributor.
Lighting control: Allowing controllable or motion sensor lighting can help reduce energy usage, as well as improve the patient and staff experience by allowing custom lighting. LED lighting is also a major energy saver.
Ventilation: In India in particular, using a mix of passive and natural ventilation strategies has proved useful in reducing energy costs. While these strategies are not recommended for critical areas and departments such as surgery, ICUs, isolation rooms and so on, public areas and certain patient and staff areas can utilize them.
Access to Public Transport: Limiting the necessity to use personal vehicles to get to hospitals can reduce gas usage.
Access to Nature/ Landscape using indigenous species: The courtyards at Tata Medical Center not only provide a respite space for patients, visitors and staff, but they also use local plants and landscaping that will naturally thrive year-round.
Designing for Thermal Comfort: Building an efficient building exterior can help with conserving energy costs and maintaining comfort within the space. Controlling solar gain and ventilation are key in creating optimal thermal comfort.
What can architects and architecture do to further the ambition of public health and promote a healthy society?
CannonDesign uses an approach called Living-Centered Design. This aims to address not only human needs but also the increasingly complex interdependencies that exist in society. Inspired by human-centred and systems-based design methods, it addresses challenges through the lens of the broader ecosystems they exist within. It thus helps organizations and communities realize an impactful and systemic change.
Access to healthcare continues to be a global issue. Designers have a responsibility to make healthcare facilities accessible and welcoming spaces for all. Whether this is through improving care in rural or underserved areas or helping organizations address major issues such as mental healthcare or cancer care, we aim to solve these problems in a holistic way that not only improves the lives of users, but also the communities and cities they exist within. 
We have all learned from the pandemic that healthcare organizations can adapt quickly to adverse conditions. They can also provide the best patient care possible. Going forward, design teams should use the lessons learned over the last two years and help facilities be as flexible. They should make them as prepared as possible for the rapidly evolving healthcare industry.
What are you currently working on?
While we are actively pursuing local work, the Mumbai office is an integral part of CannonDesign's Single Firm, Multi-Office strategy. It works towards bringing the best talent from all of its offices to each project. Our design team collaborates with multiple North American CannonDesign offices to deliver complex healthcare, education, and technology projects. We work through all phases of design and construction administration. 
We are also working on a few projects in the United States. Here we are repurposing existing buildings for current and future healthcare. On such projects, the Mumbai studio gets involved in conducting feasibility studies, current state analysis, master planning, phasing, and programming of existing facilities and campuses. Some organizations we are currently engaged with include Children's Hospital of Orange County (California), Barnes Jewish Hospital (Missouri), Richmond University Medical Center (New York), Resnick Sustainability Research Center at Caltech (California), Texas Children's Hospital (Texas) and Ohio Health Pickerington Medical Campus (Ohio).
CannonDesign
Contact: 022-4920-1111
LAC + USC Restorative Care Village

LAC + USC Restorative Care Village

Penn State Health, Hampden Medical Center

Penn State Health, Hampden Medical Center

Penn State Health, Hampden Medical Center

Tata Medical Center

Tata Medical Center

Tata Medical Center

Tata Medical Center

University of Kansas Strawberry Hill Behavioral Health Hospital

University of Kansas Strawberry Hill Behavioral Health Hospital

University of Kansas Strawberry Hill Behavioral Health Hospital
Biltrax Construction Data is tracking 17000+ projects on its technology platform for its Clients. Email contact@biltrax.com to subscribe and generate business leads.