India's retail inflation decreased marginally to 7.04 per cent in the month of May as compared to 7.79% in the previous month, but was still above the Reserve Bank of India's (RBI's) upper limit of 2-6 per cent tolerance band for the fifth consecutive time, according to data released by the Ministry of Statistics and Program Implementation.
With this, the consumer price index (CPI) inflation has been recorded to be above the RBI's medium-term target of 4 per cent for 32 consecutive months.
Consumer Price Index
April 2021 – May 2022 | Monthly | %

Source – Ministry of Statistics and Program Implementation
The Statistical base effect, eased import duties on edible oils such as soyabean and sunflower, lower central excise duties on petrol and diesel all contributed to a lower print in May 2022 as compared to April 2022.
Price rise in various commodities (%):
However, inflation in vegetables continues to be high at 18.26 %, followed by oils and fats at 13.26 % mainly due to the war in Ukraine creating a disruption in the global supply chain.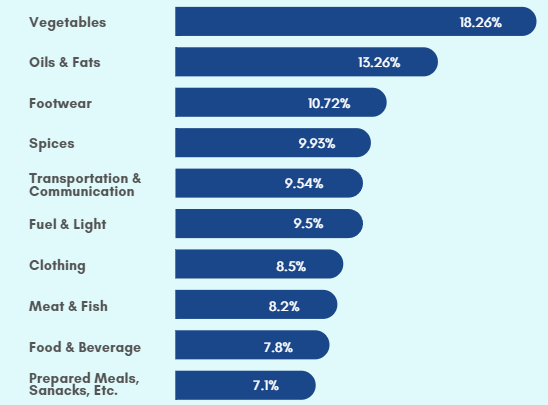 Source – Ministry of Statistics and Program Implementation
Sources:
CONSUMER PRICE INDEX NUMBERS ON BASE 2012=100 FOR RURAL,
URBAN AND COMBINED FOR THE MONTH OF MAY 2022
Know more about various Macro Indicators:
Biltrax Construction Data is tracking 20,000+ projects on their technology platform for their Clients. Visit https://www.biltrax.com/ or email us at contact@biltrax.com to become a subscriber and generate new leads.
Disclaimer: The information contained herein have been compiled or arrived at, based upon information obtained in good faith from sources believed to be reliable. All such information and opinions can be subject to change. The image featured in this article is only for illustration purposes and does not in anyway represent the project. If you wish the article to be removed or edited, please send an email to editor@biltrax.com