In the past decade, office design has seen a tidal shift owing to the evolving work culture across the globe. The idea of co-working spaces and open office plans has gained immense popularity amongst the millennial working population. Companies such as WeWork and Innov8 have been promoting these concepts successfully worldwide. This has helped to blur the lines of corporate hierarchy and create holistic work communities. The paradigm of a modern-day office is a clutter-free open plan with modular furniture that allows a free-flowing movement of its users. However, the outbreak of the Covid-19 pandemic in March 2020 has forced people to rethink these developments.
Why is it necessary to redesign office spaces post-pandemic?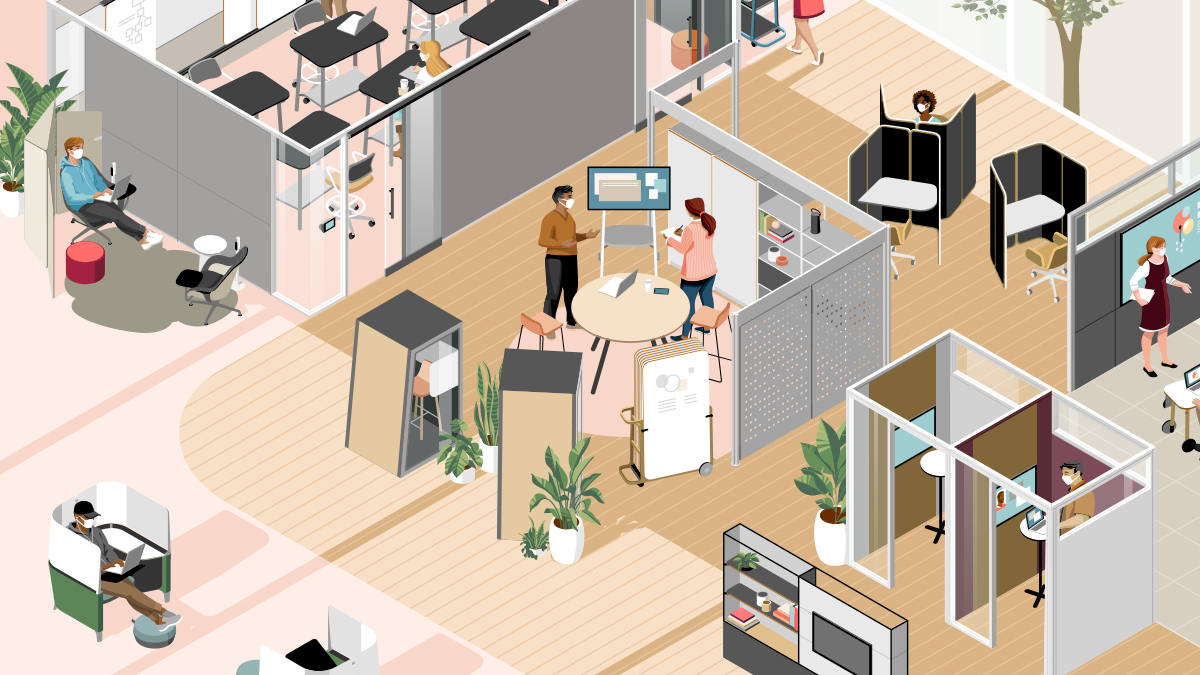 Ever since the highly contagious virus has restrained people indoors, the public movement for essential services has been following social distancing and isolation norms. Mass gatherings have been prohibited, and strict sanitization protocols are being followed as a resilient measure. In this light, most offices were seen making the move to the "work-from-home" module, which allowed employees to work from the safety of their homes. Technological advancements lent help in this transition by seamlessly allowing giant corporate companies to go virtual overnight. Contact-less communications were explored to their fullest with the help of video calling applications. A 2021 research suggests that working from home has improved employee productivity by 14%, but gravitating back to working from offices is inevitable.
Although vaccines have been discovered and helped reduce the infection rate, the pandemic-enforced protocol has become the new normal. With about 58.5% of the global population fully vaccinated against the virus, the Covid-19 pandemic continues to impact the world. While many offices continue to fully work remotely, others are exploring the hybrid module. The employees are working from the office for 2-3 days a week on a rotational basis, and the remaining days of the week are meant for working from home. The effectiveness of this module is yet to be determined, but with workspaces beginning to fill up again, it is necessary to reinvent office design.
Interpreting Office Design Solutions for Post-Covid Times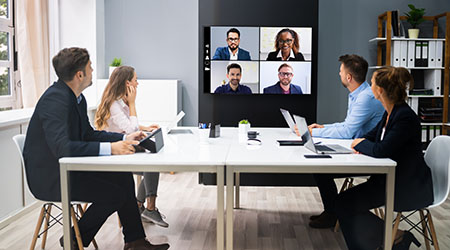 Adaptability became the key factor when designing commercial buildings in the post-pandemic era. The existing buildings will have to be remodelled to support the pandemic enforced norms. Constructing new buildings will need the developers, architects, and interior designers to have a seclusion design approach. The road ahead for open-plan offices looks dicey because of the need for social distancing. With all these concerns, the blueprint of offices can change by adopting various precautionary design measures.
Redesigning office layouts will help curb the virus at the grassroots level. The meeting spaces and common areas will be accommodating a lesser number of people as against the ergonomic standards. Personalization of spaces with cubicles and cabins will be encouraged. The office plans will incorporate partitions to ensure limited sharing of spaces. Shared facilities in offices such as break-out spaces, canteens, and toilets can be designed to ensure that at any given time they're not densely inhabited. Vertical transportation designs such as staircases and lifts will be planned at shorter distances to avoid overcrowding.
Enhancing the air quality and ventilation system is essential to avoid any possibilities of the virus spreading through the air. Improving indoor air circulation is vital to avoid the entry of the virus indoors. Planning for openable windows can allow fresh air into the building. It also helps dilute the airborne contaminants and gives people the choice to control their office environment. The HVAC systems need to be designed so that maximum air circulation is possible at all times. This will also create energy-efficient designs that will help in cost saving and promote environmental sustainability.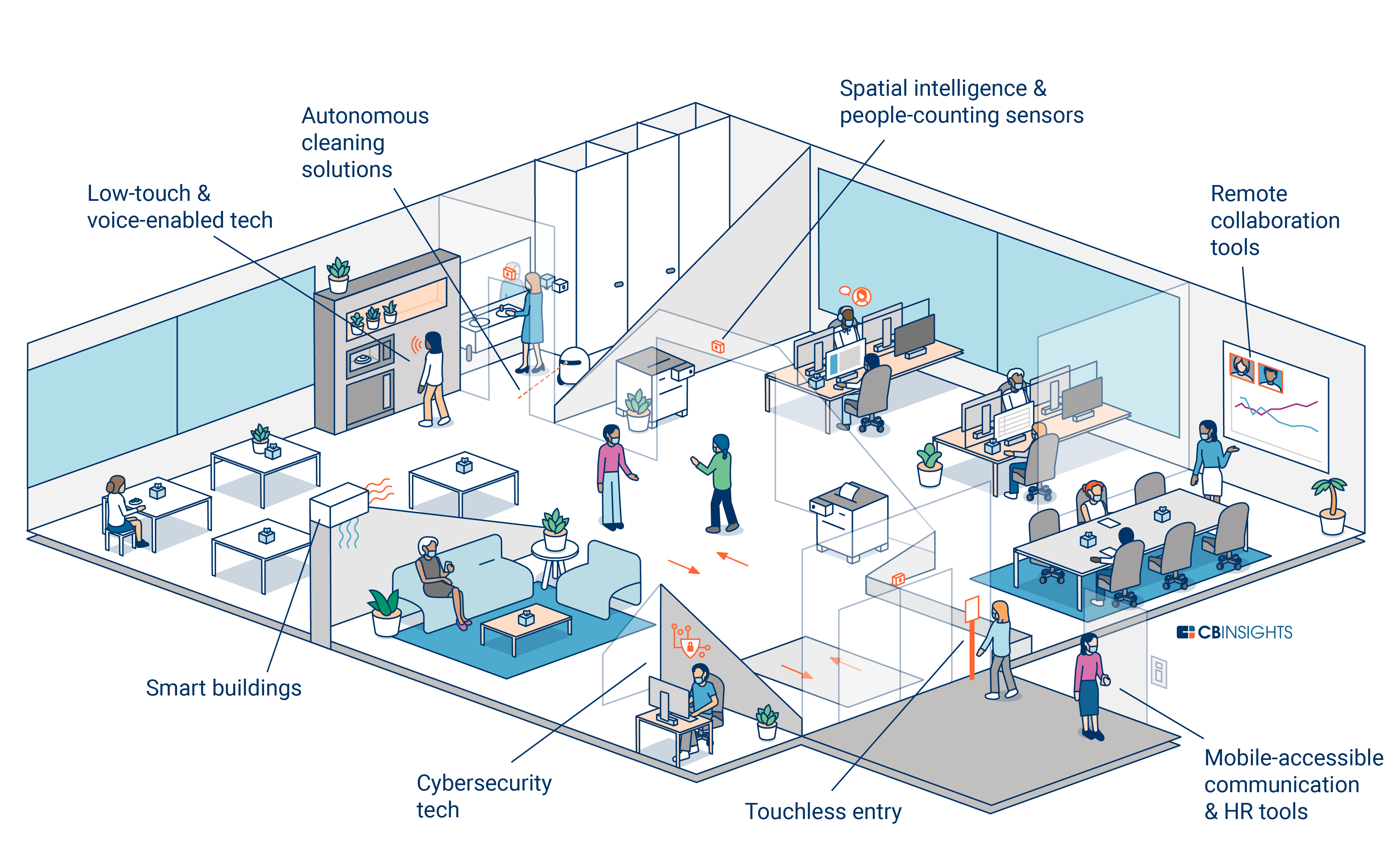 Having a terrace, balcony, or podium garden can promote a sustainable office design. Planning green spaces and indoor landscapes at regular intervals is a viable solution to improve the indoor environment. It helps to break the chain of mechanical air circulation and lets people breathe in the fresh air. Biophilic design elements provide other advantages such as reducing the sick building syndrome, enhancing productivity, and decreasing stress levels. Planning for living or green facades is also a contemporary biophilic idea that helps to improve indoor thermal comfort.
Creating a sanitization system that assists to keep the building germ-free is necessary. Installing hand sanitizers in every common lobby will remind people to take precautionary disinfection measures. Additionally, organizations should have regularly scheduled macro sanitization protocols for the office. Placing instruction boards in lobbies about hand sanitising and handwashing will build the vigilance of the people to stay protected. Antibacterial surfaces for walls and furniture which were primarily popular for use in hospital buildings will now find larger applications.
Technology-infused building design can support the norm of contact-less movement. Installing tempering check machines at entry and exit points will ensure that no symptomatic person enters the premises. Motion-activated sensors should be fixed near doors to enable them to open without anyone pushing or pulling. Voice-activated technology can be integrated with lifts to avoid touching the surface. The places of shared touchpoints will be condemned with the idea of touchless switches that open by waving at the sensor. Since video conferencing has largely replaced physical meetings, audiovisual aid in offices would see a sharp rise.
With the changing face of the pandemic, it is difficult to determine how the buildings of the future will shape. But the prevailing norms have put across that an isolated way of living will be the way forward. In either case, the landscape of building design would change immensely. And, technology and innovation will play significant roles in determining how comfortable this transition would be.
Sources:
Disclaimer: The information contained herein have been compiled or arrived at, based upon information obtained in good faith from sources believed to be reliable. The opinions expressed within the content are solely the author's and can be subject to change. The image featured in this article is only for illustration purposes. If you wish the article to be removed or edited, please send an email to editor@biltrax.com