"I like to welcome nature and I take architecture as a dialogue with nature, our nature, and the nature of the world around," said Didi Contractor in one of her interviews. A self-taught architect and sustainability advocate, Contractor resurfaced the importance of vernacular architecture through her practice. She understood the Indian context of climate, culture, and techniques which reflected deeply in her works.
Contractor's work at the grassroots level in North India, especially in the state of Himachal Pradesh, is noteworthy. Contractor was inspired by the designs of architect Frank Lloyd Wright, who himself was a self-taught architect. Her career spanned 30 years when she designed buildings with attention to detail, human circulation, and comfort.
Originally an American citizen, Didi Contractor (then Delia Kinzinger) was born in Minneapolis in 1929. Contractor received a formal education and training in art at the University of Colorado, Boulder. Didi Contractor moved to India after marrying Narayan Contractor, who was studying at the same university. They moved to India in 1950 where they lived together in Nashik and Mumbai.
After separating from her husband, Contractor moved to Sidhbari, Kangra District in Himachal Pradesh, where she began her journey in sustainable architecture. Her education and work in art allowed her to make the transition to architecture fairly easily. She soon learned the material properties and the art of handling them, which made building design easier for her.
Contractor was the subject of two feature films, namely Earth Crusader (2016), and Didi Contractor: Marrying the Earth to the Building (2017). She was awarded the Nari Shakti Puraskar in 2019 – India's highest civilian recognition for women achievers. She won the Women Artists, Architects, and Designers (WADe) and the Asia Lifetime Achievement Award in 2017.
Contractor's Design Philosophy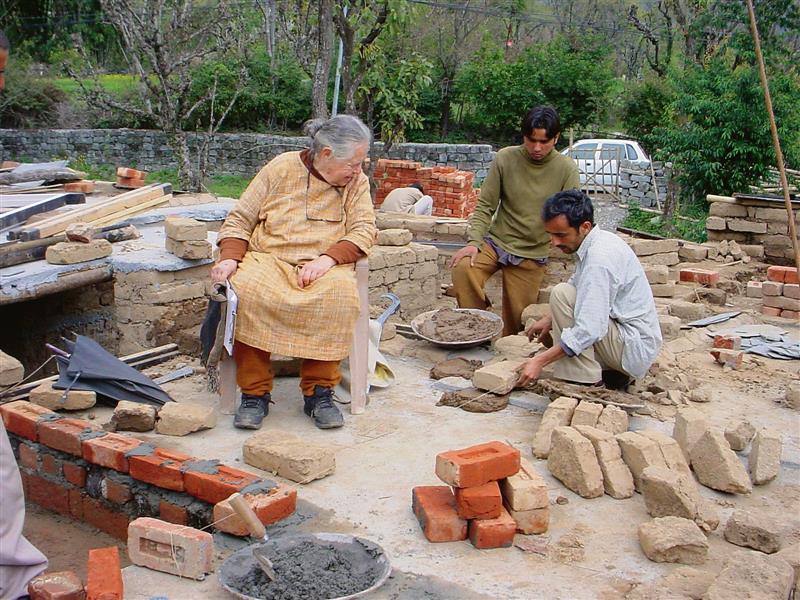 Didi Contractor steadily held her principles of sustainability in every aspect of design. She believed that buildings grow from the earth and that they should thrive in harmony with nature. According to Contractor, landscape is an important element of design that blends buildings and nature. Hence, a building should be planned with a landscape-integrated approach, using it as a bridge between the built and the unbuilt environment. She drew her inspiration from the design of traditional and vernacular buildings, which were designed with a good balance of built and unbuilt spaces. Contractor identified landscaping as the key element that marries earth to the building. 
Another striking feature of Contractor's design ideology was her empathy, playfulness, and imagination. She celebrated materials by analysing their properties and bringing them to life by their use in building construction. Earth, clay, slate, bamboo, stone, and adobe were Contractor's most used materials for construction. She nurtured the relationship of materials with natural elements such as light, wind, landscape, and earth.
Contractor attempted to follow or sync building construction with the cycles of nature. She did this to ensure that the building was in harmony with its environment. Her belief was that modern architecture and technology should be empathetic towards human emotions and nature. The sensitivity of her design made Contractor a pivotal figure in sustainable architecture. 
Works of Didi Contractor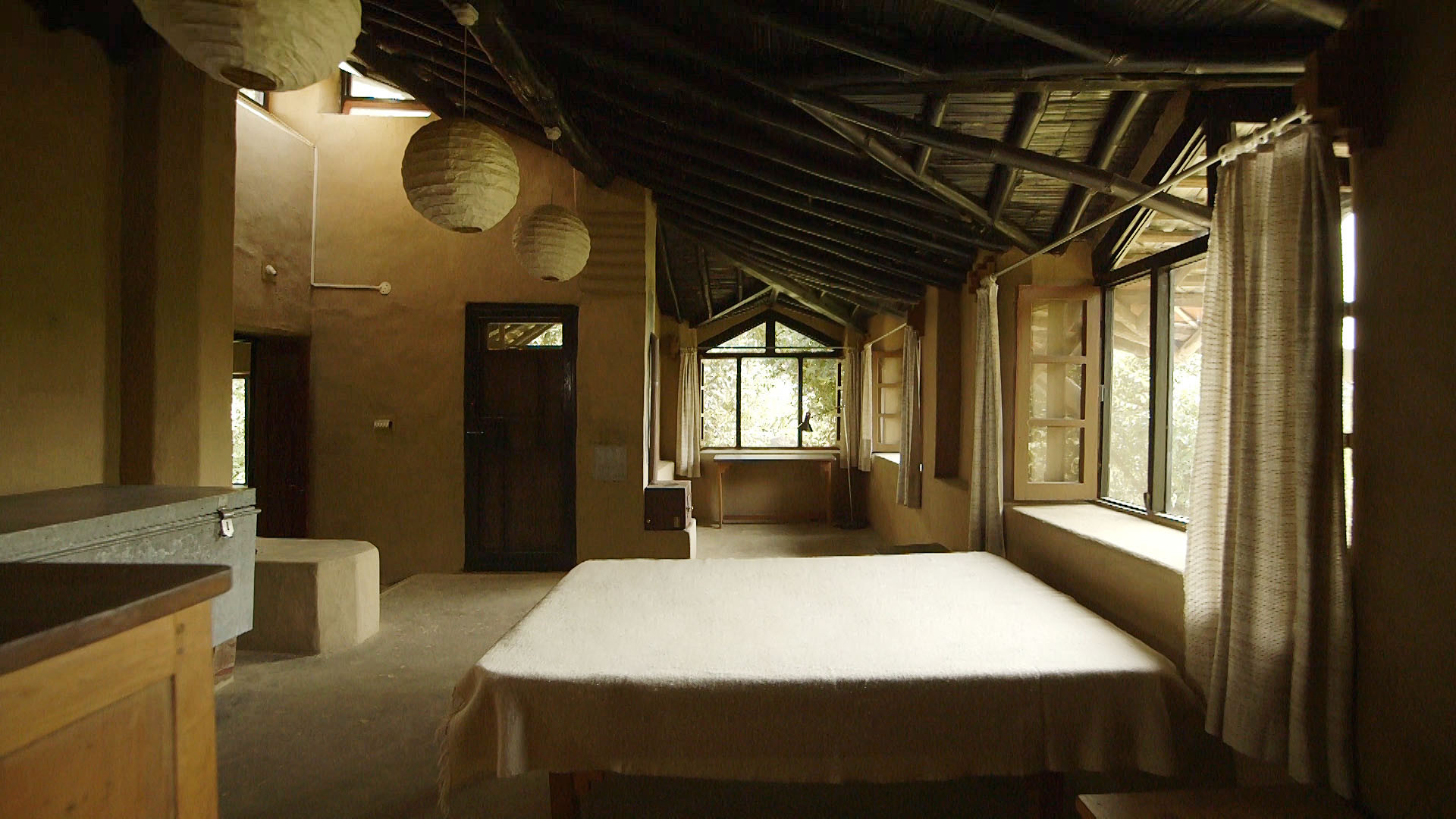 Dharmalaya Institute is Contractor's most celebrated work in India, where she has designed every element of the building and its surroundings to promote sustainable living. The institute primarily focused on curating educational programmes in the fields of community aid, personal development and holistic healthcare, vocational training, conscious ecotourism, and economic self-sufficiency. Located along the Himalayan foothills, the campus structures are completely built in earth that is seismically reinforced.
The alignment and placement of each building is strategically planned to optimise solar heating and passive cooling through the campus. The use of locally available material makes the campus energy efficient and environmental wastage by saving on transportation. Sustainable concepts such as net-zero energy, recycling, and cautious waste disposal are practised in the institute, making it a symbol of eco-friendly living.
​​Didi Contractor undertook a significant number of residential projects as a practising architect. While living in Kangra, she built many houses that speak of timelessness and humility. She developed her ways of constructing sustainable homes with mud and stone. Her residential designs resembled the vernacular architecture of Kangra houses, which were designed for the local climate and accessibility. The inclusion of local traditions, art, techniques, and labour made her residential works relevant to their site.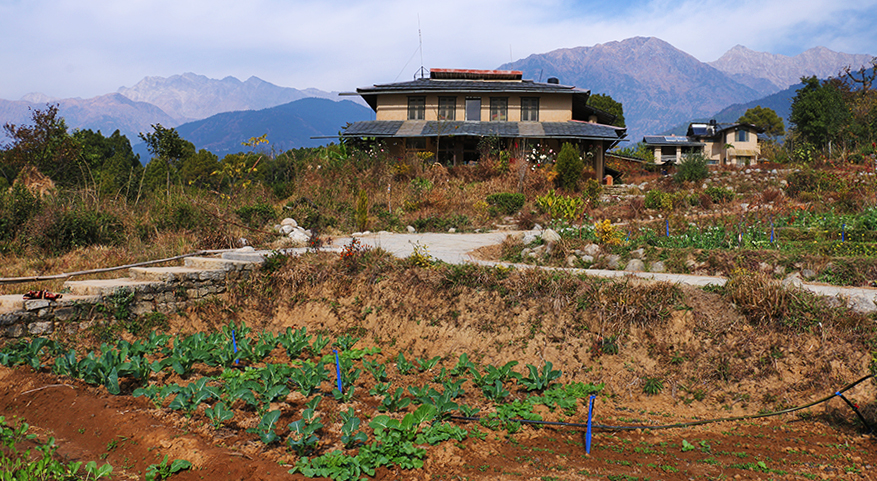 Contractor also designed buildings within the Sambhaavana Institute of Public Policy, Kandwari founded by Prashant Bhushan – an Indian lawyer and politician. Her designs justify the purpose of the institute to create an alternative learning space for the youth to discuss life principles and policies. The rooms within the building are designed with ochre mud walls and high ceilings to provide warmth amidst the cold weather of Himachal Pradesh. These buildings are a testament to her acumen in blending comfort and tradition with functionality.
Didi Contractor was pivotal in shaping sustainable architecture in India. Her keen observational skills and penchant for Indian culture led her to create marvellous designs. Her work re-established the importance of the contextual design approach. Today, in a world where technology and computation are taking over design, Contractor's work is inspirational for its homely and comforting vibe. The young aspiring architects can learn from her the art of simplistic and responsible planning. Her work is a guiding light for all those who wish to stay true to their roots while keeping up with the world's modernity.
Sources:
Disclaimer: The information contained herein have been compiled or arrived at, based upon information obtained in good faith from sources believed to be reliable. The opinions expressed within the content are solely the author's and can be subject to change. The image featured in this article is only for illustration purposes. If you wish the article to be removed or edited, please send an email to editor@biltrax.com