In conversation with Biltrax Media, Cityspace' 82 Architects share their thoughts on "Facades: A Fusion of Materiality". In the contemporary world, a city is nothing but a culmination of multiple clusters of built entities. These built entities have 'forms', the exterior. The exterior/facade of the building is responsible for drawing people's attention to it, but it also serves a bigger purpose.
A well-designed facade takes care of the aesthetic appeal as well as the responsiveness to the context. Ar. Sumit Dhawan, Founder & Principal Architect at Cityspace' 82 Architects, has talked about the importance of facade design in a building. With an experience of more than two decades, Mr. Dhawan has established a name for himself in the field. Ar. Sumit Dhawan has received a number of awards including awards by CWAB, World Architecture Community, Novum Design, and Estrade. He has also been a panellist and jury on platforms. These include FOAID, Design Dialogues and Eldrok Indian Architecture Summit and more. According to him, "Facade design is an important design factor that can manipulate the indoors." In a conversation with Biltrax Media, Mr. Dhawan expressed his thoughts on facade design. To gain a deeper understanding of it, do check the article below.
The exterior design of a building reveals a lot about the interior spaces. A building's facade can convey a variety of notions about its design. It highlights the structure's style, geographical region, materials used, and construction, as well as the period during which it was created. Other than highlighting the structure's elevation of facade health and regulating or monitoring the interior structure of a building. As architects of today it is imperative to design a facade that is sustainable, resistant to climate, has thermal and acoustics insulation, and few others.
"Facades were once used to display opulence and dignity reflected through beautiful exteriors. Conversely, when modernism approached the decoration was phased out in preference for contemporary architecture principles, and materials were completely explored as a means of expressing identity," says Ar. Sumit Dhawan.
Considered an important design factor, facade design can manipulate and regulate the temperature indoors, while being climate-sensitive and environmentally conscious. Taking into consideration that in a hot or humid climate, concrete building structure generally generates a lot of heat. Whereas mud and brick as a building material would be advantageous because of the cooling capabilities. Pitched roofs are also prevalent in rainy and snowy areas, while double-insulated outside walls are common in cold areas.
Contextually speaking, combining indigenously obtained materials with modern materials results in revolutionary aesthetics and design approaches.
Cityspace 82 Architects believes screen facades are becoming extremely prevalent in contemporary buildings. This is because light and shadow play a fundamental role. Screens provide shielding and sun protection while also adjusting the light all through the day. They work well with diverse designs and can be combined with different materials to create unique aesthetics.
Sun breakers are a design element that many designers frequently overlook. It's an important concept for the environment that India experiences, and if used strategically in today's modern construction, it's quite effective at deflecting strong sunlight and keeping the indoors cool. Along with evolution, using wooden louvres or textile products results in attractive facades, which are then paired with durable elements such as concrete and steel. Designers can also experiment with angular facades, which can enlarge the interiors and emerge in a diverse array of forms and aesthetics.
In order to give structures a rustic but spectacular appearance, the development of innovative materials takes place. A good example is weathering steel. It doesn't need to be painted, and when exposed to the elements. It creates a simple yet rusty appearance that contributes to its timelessness. This allows for a gradual material transition.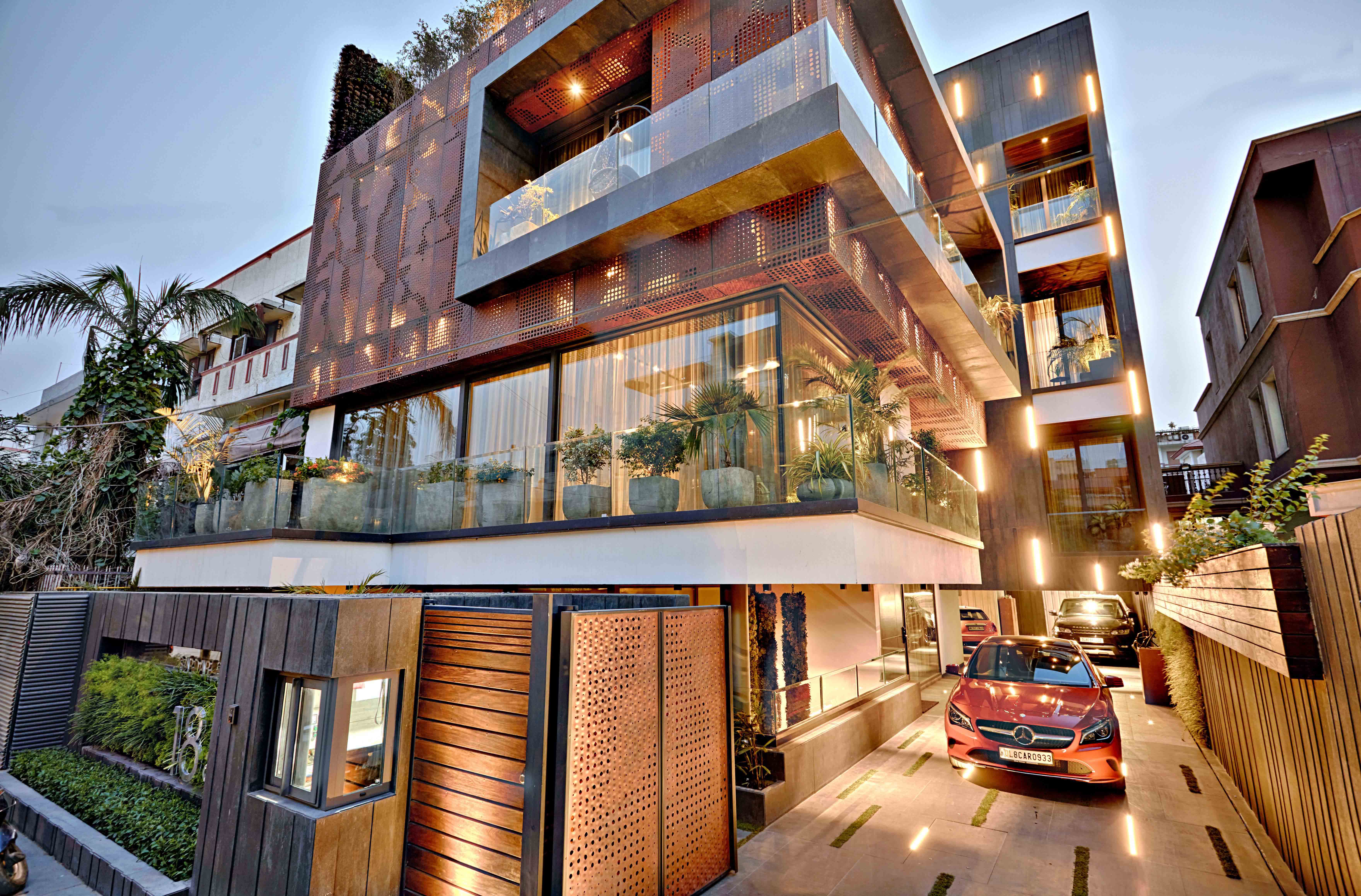 Interesting facade designs by Ar. Sumit Dhawan
Known also as the building's skin, facades allow the structure to breathe in response to its surroundings, connotation, and orientation. We can build them in a variety of materials, including wood, metal, and even fabrics. They prove useful to provide a unique screening for the building.
Another important key factor of modern perspectives is green design, which is becoming more widespread in buildings. In order to create buildings that have a zero-carbon footprint and that are self-sustaining, solar panels, rainwater harvesting, and vertical gardening are some green building techniques incorporated. Green spaces integrated into the facade are not only aesthetically pleasing, but they also keep the interiors temperate. These green spaces integrated into the facade also assist in lowering the total energy consumption. Though glass facades are conventional in most contemporary designs, there are innovations with different hues and compositions of glass as well as other materials. In addition, we can explore transparent or translucent frame facades in a myriad of contexts.
Finally, facades are largely symbolic of a region's unique culture and social circumstances throughout the world. Some, on the other hand, convey worldwide idioms; they are global in scope and originate for the benefit of architecture.
About The Architect
Ar. Sumit Dhawan is the Founder & Principal Architect at Cityspace'82 Architects.
Ar. Sumit Dhawan has established his name extensively in the design industry. Known for transforming homes into heaven, his aesthetic sensibility has found its way to renowned celebrity homes of cricketer Yuvraj Singh and Gautam Gambhir. His eclectic facade style has made him a favourite amongst numerous practising architects.
Born and brought up in an architectural household, Ar. Sumit Dhawan had a prolonged affinity for architecture since childhood. Looking at his father, Ar. Satish Dhawan working on his drawings with fancy architecture equipment always fascinated Sumit to pursue this field and he enticed a passion for the profession.
Starting with Architecture in the year 2000, Ar. Sumit did his internship in Auroville, Pondicherry under Suhasini Ayer. He went to Auroville for one of the college case studies. Here the nature of work enthralled him and he decided to perpetuate an internship with Auroville there and then. The office granted a lot of exposure and opportunities for the budding architect where he learned the fundamentals from numerous local and international architects like Dominic Dube, Anupama Kundoo, Piero and Gloria Cicionesi, Satprem Maini etc. Post completing his internship at Auroville, he got an opportunity to work with commercial architecture firm Tevatia Chauhan & Sharma Architects known as Design Forum International today, where he amalgamated the internship knowledge with the practical fieldwork.
He got his first project immediately after the completion of the internship while he was in the last year of college. The project was a 500 sq. yd. residence in Gurugram, assigned to him by a friend's father Mr. Bhutani, who he still considers to be the foundation of his career. We planned the residence with a sustainable approach using earth blocks, solar passive strategies and cavity walls and therefore, the residence got overwhelming appreciation.
The next turning point in his career was Lawyer Dang's residence. This is amongst one of the most appreciated projects he conferred onto. It is after this project that there has never been a looking back situation. His niche clientele includes DLF, Ansal, Orchid, MGF and many more. Sumit started a solitary practice directly after completing B.Arch in the year 2005 and founded Cityspace'82 Architects. His childhood passion for architecture manifested the perseverance and belief which lead Sumit to practice unconditional hard work. Initially, during his college years, Sumit took inspiration from multiple international architects like Norman Foster, Zaha Hadid, Santiago Calatrava and Le Corbusier. Soo K. Chan, Principal – SCDA Architects has been a major influence for his work as he believes that his thought process resonates with the renowned designer, giving him immense confidence in his work.
Having an experience of almost two decades today, Sumit experiments and innovates his projects with numerous design styles fusing one into another and delivers impeccable intricate spectacles. Firmly believing a perfect balance between functionality and form adopting a to and fro methodology for the same, Sumit ensures to rationalise both, the aesthetics and functional regime of every endeavour he outlines. He also believes that a building must speak for itself with its concept, rather than having theoretical philosophy to it.
Sumit Dhawan has been a part of the various discourses and an avid speaker at various design-driven platforms including Windows & Facades, Casamia, Designworx, FOAID etc. He is also an advisory board member for World of Fenestration 2020 by Acetech. Our projects have also been published in multiple magazines and publishing houses including Good Homes, Elle Decor, Architect & Interiors India, India Design ID, Hotelier India, FOAID, Economic Times, Design Detail, India Today Home and many more. Our project The Centaurus has recently been awarded by World Architecture Community in the 35th cycle and Estrade Award 2020 in the category Interior Design- Private Residence. We are also honoured with Estrade Awards 2020 in the category Architect of The Year- Residential for the project The Illuminati.
With this empirical & multifaceted design philosophy, Sumit starts every project with a comprehensive understanding of client's requirements, kinaesthetic and research. His idea is to subsume the lifestyle and necessities of a client, getting into his shoes and designing the space like it's his own, invoking the client's identity through the space. The goal is to continue designing veritable projects. We want to be known for the quality of work in the fraternity and outside.
Visit: www.cityspace82.com
Email: cityspace82@gmail.com
Contact: 0124 426 7519