The Grace Homecare Bed by Godrej Interio addresses the challenges of home healthcare. India was not prepared to meet the healthcare needs of its billion-plus population. When faced with a crisis, humans often embrace changes they would not otherwise consider. Home-based healthcare is one such area that gained ground both among COVID and non-COVID patients. Immunity compromised patients started seeking testing, healthcare monitoring, dialysis, cancer care, and other medical procedures from home. Godrej Interior Healthcare has entered this growing home healthcare sector with its new product – The Grace Homecare Bed. Home healthcare is expected to grow at a CAGR of 19.2% by 2025 in India. This is owing to factors like urbanisation, the trend of nuclear families, advanced technology, and increased awareness. The mortality rates have also gone down. The life expectancy of the elderly increased to 68.7 years (2012-2016) from 49.7 years (1975).
The Grace Homecare Bed Concept
Godrej Interio, India's leading furniture solutions brand, in-home, and institutional segments, launched a unique range of homecare beds. The Grace Homecare Bed is a unique concept. The backrest and leg rest can be electronically adjusted with the hand control device. This thus facilitates ease of movement and enabling alternating between sitting and lying down postures. With the new range, Godrej Interio addresses the need for making homecare safe and convenient for the patient and caregiver.
The Pandemic and its effects on Healthcare
The ongoing pandemic with its newer strains has introduced a further nuance to the growing preference for home care. At its peak, hospitals ran at full capacity, compelling patients to recuperate at home. It became ideal for hospitals to discharge patients for whom observation will suffice. Hospitals can then admit patients who need critical care or extensive procedures.
About the Grace Homecare Bed
Godrej Interio's feature-loaded Grace Homecare Bed design makes homecare safe and convenient for not only the patient but also the caregiver. Considering the varying levels of patient mobility, the bed design delivers utmost safety and stability in all positions. The key safety features include full-length telescopic side railings to prevent falls, ergonomic design and DVT (Deep Vein Thrombosis) position wherein the elevation of a patient's legs aids in better blood circulation, preventing clots and swelling. It also comes with a 100 mm gap between the edges of the side rails to provide better visibility and to avoid claustrophobic feeling so that the recuperating loved one can interact with their environment. Its motorized features aid the caregiver in providing better care to the patient while safeguarding their physical well-being.
Aesthetics of the Homecare Bed
Grace Homecare Bed's elegant aesthetics of the bed minimise the 'hospital feel' and blend in seamlessly with contemporary and classic home decor. With a modern aesthetic, the bed minimizes a hospital-like feel and blends seamlessly into a contemporary and classic decor. The headboard, leg-board, and side panels are all made from PLT (engineered wood panels) in two warm shades of natural wood. Aluminium side rails with an anodized finish enhance the premium look. The enclosed box design hides the understructure, preventing misuse and accidents.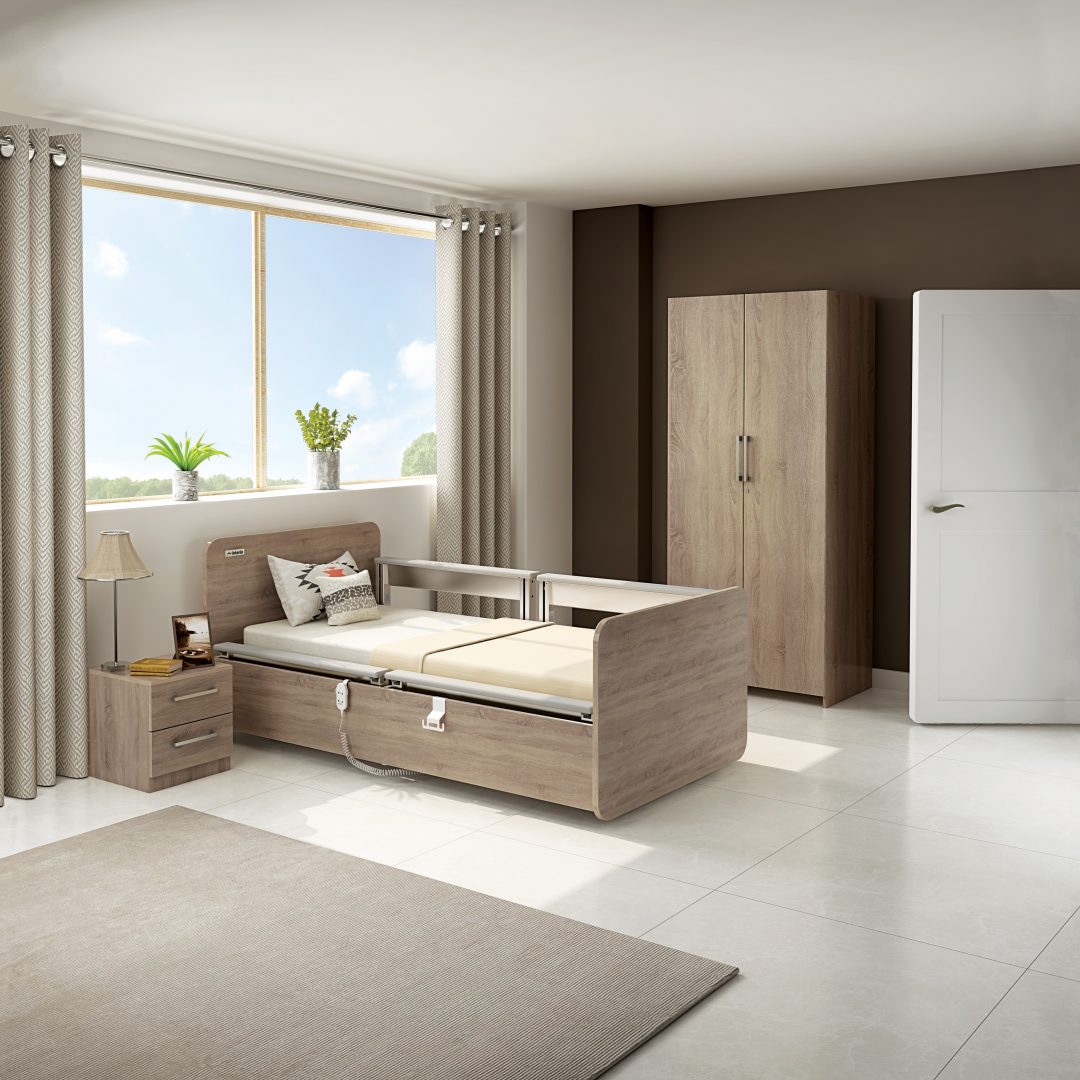 From the Chief Operating Officer's Desk
On the new product launch, Anil Mathur, Chief Operating Officer Godrej Interio said, "At Godrej Interio, it has been our mission to enrich the quality of life every day everywhere. While the pandemic triggered the need for remote home health solutions, the governments along with the private sector are increasingly working towards the need to establish the role of home care. Considering the perks and the potential of India's home health care market, leading health care organisations are coming forward to expand their reach in this sector.
However, the lack of sufficient medical facilities is a key factor that has caused the growth of this trend. According to ICMR, India shares about 20% of the global disease load, with about 6% of hospital resources and 8% of professional medical staff. At Godrej Interio, we continue to work on innovations that address the unique challenges faced by the home healthcare industry and the Grace Homecare Bed is a testament to it. The bed design makes space for healing. It keeps the patient safe during caregiver interactions and allows for uninterrupted, peaceful periods of rest. We take great pride in continuously innovating to uplift the quality of experience in healthcare across India."
From the desk of the Associate Vice President
Sameer Joshi, Associate Vice President, Godrej Interio, explains the need and vision for Grace Homecare beds. He says, "Healthcare facilities in India are often incompatible with the changing needs and lack of awareness is a major contributor with our study revealing that only 18% of patients being guided by hospitals to opt for homecare. Godrej Interio's Healthcare business focuses on creating environments that support patients and families in process of healing. These ergonomically designed healing environments focus on the efficiency, empathy, and well-being of all stakeholders including patients and caregivers. The newly launched Grace Homecare bed highlights our design philosophy which is based on adopting a human-centric approach and using adaptive space solutions for improved patient-doctor interaction."
Godrej Interio
Email: sales@godrejinterio.com
Contact: 1800-267-1122
Biltrax Construction Data is tracking 17000+ projects on its technology platform for its Clients. Email contact@biltrax.com to subscribe and generate business leads.