"We borrow from nature, the space upon which we build," said Tadao Ando. The iconic Japanese self-taught architect is famous for his design style called critical regionalism. His approach to architecture balanced the progressive needs of the contemporary world with the prevailing local needs. His idea of respecting the natural local environment while interpreting modern-day architecture supports the concept of sustainable architecture. Building from locally available materials, uniquely designing each site for its topography and landscape are some elements of Ando's work. This establishes that sustainability in design was, and is continuing to be relevant.
As more land continues to get developed, it becomes significant to map the building construction impact. The amount of resource usage, greenhouse gas emission, and waste generation in construction works is huge and hence it requires a systemized approach to be tackled. With a view to encouraging sustainable building design, the concept of Green Building Rating Systems was born. Green Building Rating System is a set of rating tools used to review and assess the sustainability ratio of a building. The environmental impact of a building construction project is assessed on predefined sustainability parameters to assign it a green rating.
The Origin of Green Building Rating Systems
Building Research Establishment Environmental Assessment Method (BREEAM) is regarded as the first green rating system developed globally. The system was developed in London, United Kingdom. The project to formulate BREEAM was contracted to Building Research Establishment (BRE) by Ron German, an official at Stanhope developers.
The inspiration to develop a green rating system was found in Stanhope's belief that their buildings were more sustainable than those constructed by other developers in the 1990s. However, they found it difficult to prove their claim. Hence, they desired to develop a sustainability rating system to prove their point based on tangible reports.
The initial version of BREEAM was created to rate residential buildings which further extended to encompass commercial and hospitality buildings. The BREEAM rating system was based on 10 core parameters. These include innovation, material, energy, transportation, pollution, health, land use, public health, and construction management. All green building rating systems globally provide certification to acknowledge the successful sustainability assessment of a building.
Green Building Rating Systems in India
Indian Green Building Council (IGBC) by the Confederation of Indian Industries (CII) created India's first green building rating system in 2001. The system is based on the principles of the National Building Codes (NBC) and the Ministry of Environment, Forest, and Climate Change (MoEF). It is a credit system that allots points to building construction projects as per their compliance with its standards. IGBC also oversees the awarding of Leadership in Energy and Environmental Design (LEED) certification. A noteworthy building in India with LEED certification is the CII- Sohrabji Godrej Green Business Center.
The Indian government set up the Bureau of Energy Efficiency (BEE) in 2002 under the Energy Conservation Act. The green building rating framework designed by BEE, called the Energy Conservation Building Code (ECBC) sets the standard for energy-efficient designs. The buildings are assessed for energy consumption and saving to rate their sustainability factor.
Green Rating for Integrated Habitat Assessment (GRIHA) by The Energy and Resource Institute (TERI) was formulated in 2005, with the objective to reduce resource consumption and encourage the use of renewable and recyclable building materials. The GRIHA rating standards are designed in accordance with India's climate conditions, building codes, and by-laws.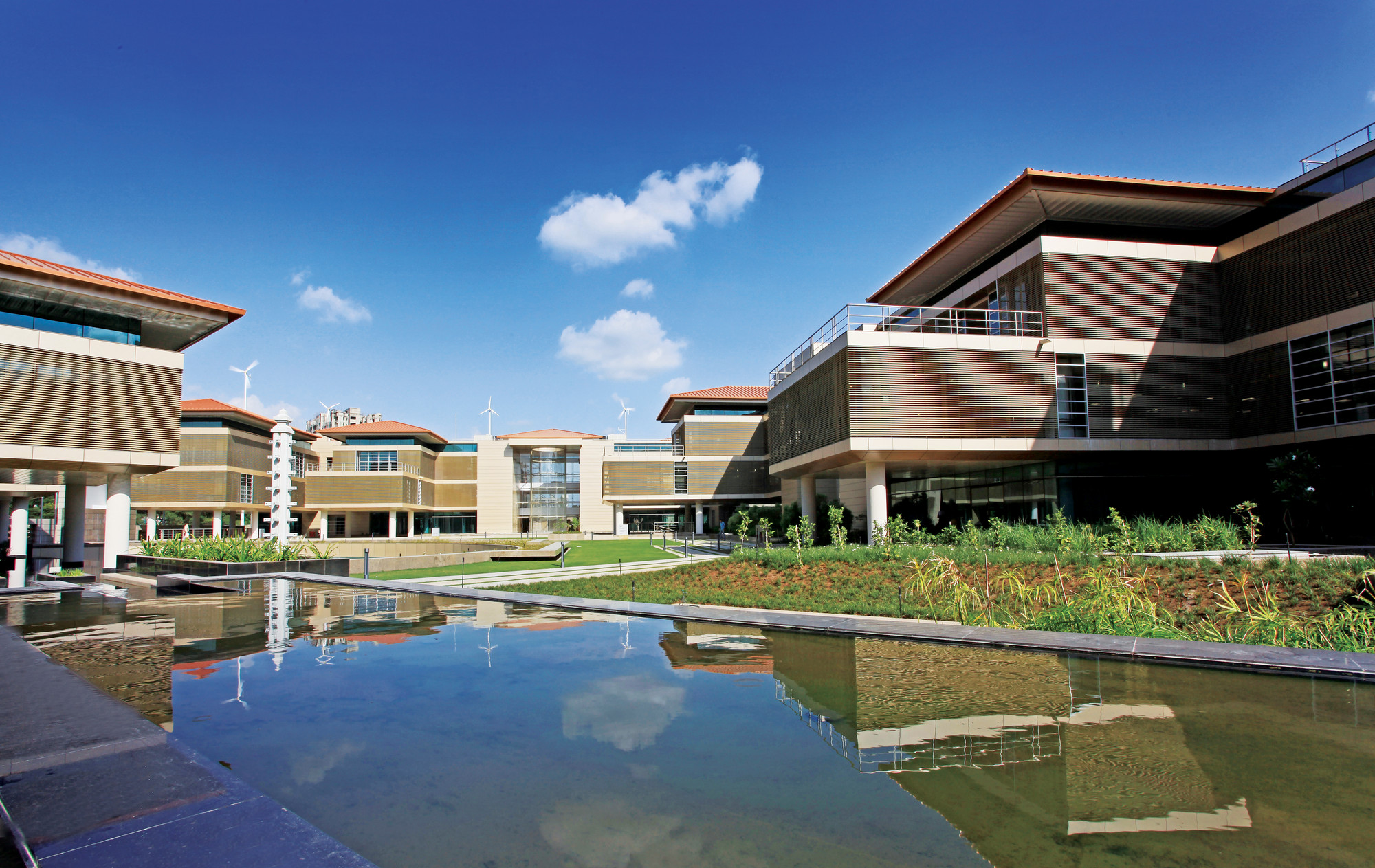 An excellent example of a superior-rated Green building in India is the Suzlon One Earth Global CorporateHeadquarters project in Pune. The project has been designed by architect Christopher Charles Benninger in keeping with the company's motto – powering a greener tomorrow. Hence, the design objective was to design the greenest office in India by relying on recyclable and non-toxic construction materials.
The project site is spread across 10.4 acres of land with a million square feet of built-up area. Suzlon has received a LEED Platinum rating along with the GRIHA certification based on its energy-optimized design approach. 8% of the energy generated on-site is through photovoltaic panels and windmills. The Suzlon building is also termed a Zero Energy Project because 92% of the building's energy consumption is met with renewable energy sources.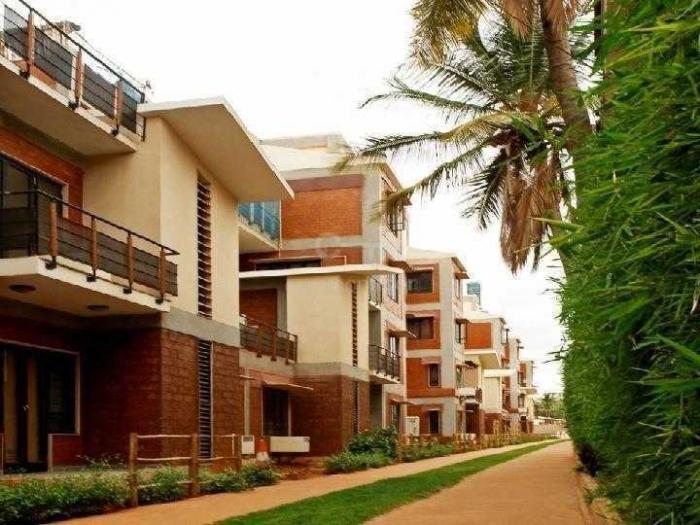 Another good example of a highly rated green building is the T-ZED (Zero Energy Development) apartments in Bangalore. It has been designed and developed by Biodiversity Conservation India Limited (BCIL). The building is India's first IGBC accredited platinum-rated residential complex. The apartment project was not constructed with conventional materials such as bricks, toxic paints, concrete blocks, or vitrified tiles. Instead, green building materials such as stone, mud, fly ash blocks, and filler slab construction makes T-ZED a sustainable project. The materials were sourced from nowhere beyond a radius of 700 km from the site.
The sustainability aspect of the project extends to its building services. Installing water conscience meters, tech-integrated lighting systems, solar water heaters, and air-conditioning free of Chloro Fluoro Carbons (CFCs) makes the apartment energy efficient. The use of renewable energy resources has brought down the electricity bill to one-third of conventional residential projects. The waste generated in homes is segregated as organic and inorganic. The organic waste is sent to the vermicomposting pits where it is degraded and further used as a fertilizer for on-site landscaping.
Green building rating systems are often considered as brownie points or marketing baits for developers. However, green building rating systems imply much more than that. India's green rating authorities promote a sustainable way of living by way of environment-conscious planning. With the surge in global warming, modern-day architects are considering sustainability as a necessity and not just an optional design feature. While initially, only large-scale projects were considering a green design approach, today even stand-alone projects are adopting sustainable architecture.
Sources:
Disclaimer: The information contained herein have been compiled or arrived at, based upon information obtained in good faith from sources believed to be reliable. The opinions expressed within the content are solely the author's and can be subject to change. The image featured in this article is only for illustration purposes. If you wish the article to be removed or edited, please send an email to editor@biltrax.com