A Greenfield International Airport is being developed at Village Hirasar, near Rajkot in Gujarat. The airport is located 30 kilometres from Rajkot city and would cover 2,534 acres of land area.
Overview of Greenfield Airport, Rajkot
Rajkot is the fourth largest city in Gujarat, after Ahmedabad, Surat, and Vadodara. The city acts as the geographic centre of the Saurashtra region of Gujarat. The growing population and traffic volume in these regions make it clear that Saurashtra, central Gujarat, and south Gujarat needs integrated airport development. The only domestic airport in the Saurashtra Region is located at Rajkot, and it is a fairly old structure. The neighbouring residential and commercial building is the primary cause of the airport's significant capacity challenges, which renders the plan to extend the runway and other airside facilities unfeasible.
To cater to the increasing population and air traffic in this area, Airports Authority of India (AAI) has taken on the work for the development of New Greenfield Airport, Rajkot. With a project cost of INR 1,405 crores, the new Airport is intended to serve as a transportation hub for people making international trips.
The proposed layout of the new Greenfield Airport –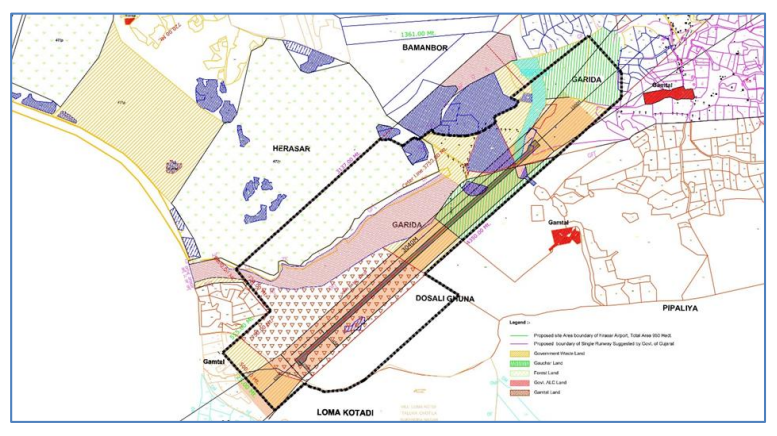 International Greenfield Airport, Rajkot – Key Project Highlights
| | |
| --- | --- |
| Name of the Project | International Greenfield Airport, Rajkot |
| Latest Status | Under construction |
| Location | Rajkot, Gujarat |
| Construction Cost | INR 1,405 crores |
| Landmark | Hirasar |
| Building use | Transport Infrastructure |
| Category | Airport Terminal |
| Construction Area | 2,534 acres |
| Sector | Public |
| Project completion (Estimated timeline) | 2023 |
Project details
International Greenfield Airport, Rajkot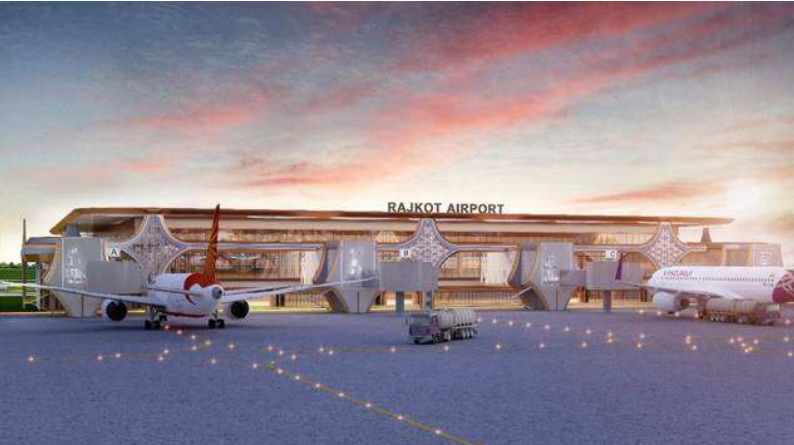 The 2,534-acre Greenfield Airport has been planned with modern amenities for travellers, including a more significant number of counters and other required services. The terminal building of this new airport will have a built-up area of 23,000 sq.m. excluding the basement, and can accommodate 1800 passengers at peak times.
To ensure operational continuity, the new airport will be built in stages. The terminal will have 20 check-in counters, three conveyor belts, four passenger boarding bridges, and advanced fire alarm and firefighting equipment. The airport's city side will be improved with new landscaping and will generate enough space for cars, buses, and taxis. The runway length is planned for 3040 m for serving AB-321 type of aircraft which will be capable of parking 14 aircraft at a time.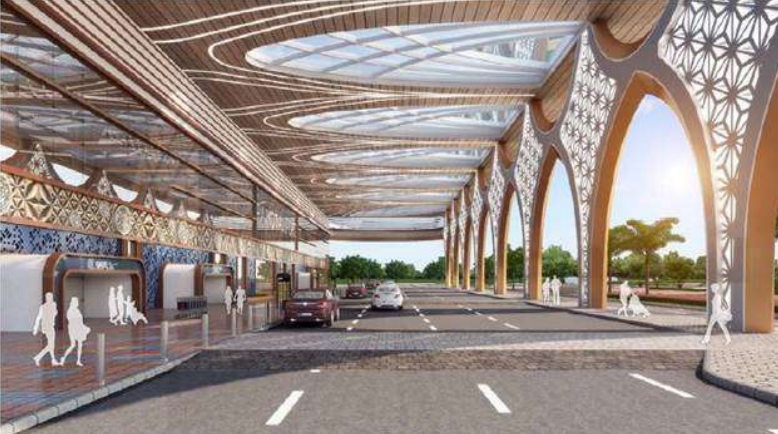 Some of Rajkot's existing palaces, such the Ranjit Vilas Palace, served as inspiration for building the terminal's front. Runway and related pavement projects have all been completed and around 82% of the earthwork is done. The ATC Tower and the new terminal building are both now undergoing construction. The present progress of the total project is 45%. By March 2023, the new airport should be operational.
Additional Advantages:
Apart from a comfortable and fast commute, air connectivity to the international market will boost industrial growth, which in turn will generate new employment opportunities. The new airport leads to the growth of large number of commercial developments. This will in turn stimulate the travel logistics, hotel and restaurant industries, warehouse-cargo handling and clearing business, and many other industries.
The National Highway NH-27 connects to the Hirasar Airport owing to PM Gati Shakti's initiative for inclusive multimodal connectivity. The route should have a clover-leaf flyover to make commuting easy to the airport. The ceramic industry in Morbi and other industries of Jamnagar depends on Rajkot for air connectivity.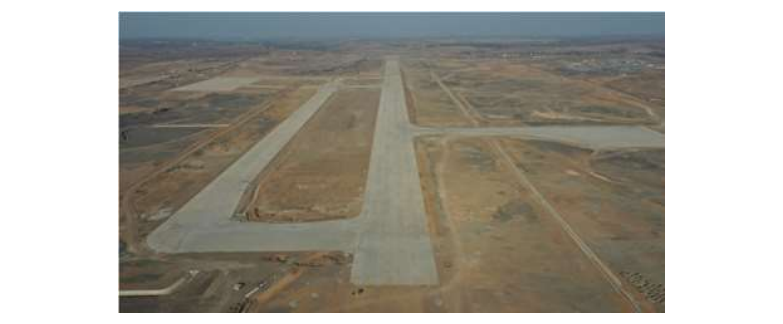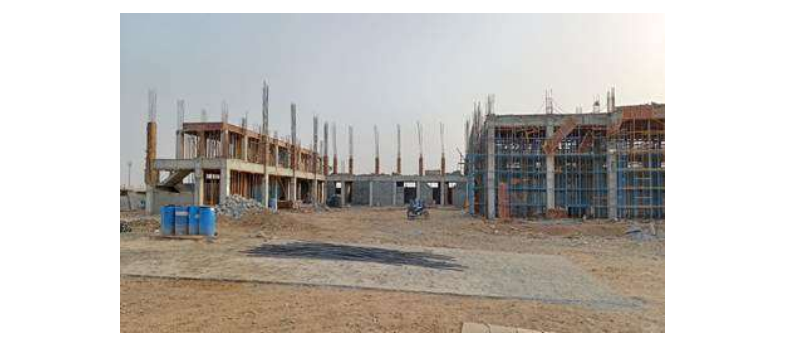 About:
Airports Authority of India, or AAI is owned by the Ministry of Civil Aviation, which is part of the Indian Government. It is in charge of developing, enhancing, controlling, and overseeing India's civil aviation infrastructure. Over Indian airspace and surrounding marine regions, it offers Communication Navigation Surveillance/Air Traffic Management services.
About us:
Biltrax Construction Data is tracking 20000+ projects on their technology platform for their clients. Visit www.biltrax.com or email us at contact@biltrax.com to become a subscriber and generate new leads.
Disclaimer: The information contained has been compiled or arrived at, based upon information got in good faith from sources believed to be reliable. All such information and opinions can be subject to change. The image featured in this article is for representation only and does not represent the project. To have the article removed or edited, please email editor@biltrax.com.