In the fiercely competitive world of construction, companies strive to maximize their sales and business growth. Traditionally, the approach has been to expand sales teams, hire more sales representatives, and increase the overall workforce. While a great salesperson is invaluable, it's important to maximize the potential of your existing team. By empowering and supporting your sales teams alongside market intelligence, you can unleash their capabilities and drive exceptional results.
Get ready to grow your sales using India's most comprehensive construction market intelligence platform – Biltrax Construction Data
Ask yourself, are your current resources generating enough qualified leads for your sales teams to work with? Are they spending endless hours prospecting, only to end up with mediocre opportunities? It's time to break free from the cycle of uncertainty and level up your lead generation game. Our market intelligence solutions deliver targeted insights and data-driven strategies from a team of construction industry experts. This ensures your sales teams have a steady stream of qualified leads to work with.
Biltrax Construction Data empowers your teams to focus on what truly matters—building relationships and closing deals.
Get Access to Quality Leads
Are your resources generating enough high-quality leads for your sales force to work with? Biltrax Construction Data excels at delivering targeted, verified leads tailored to your specific requirements. Our smart specification tagging, coupled with our industry relationships, ensures that you gain access to a vast network of architects, consultants, contractors, and project owners who are actively seeking your services or products. Say goodbye to cold calling and hello to a steady stream of qualified leads.
Market Intelligence at Your Fingertips
Biltrax Construction Data equips you with comprehensive insights and analytics to guide your business development and sales initiatives. Our extensive database covers a wide range of parameters, including project type, geographies, construction area, and more. With our intuitive interface, you can easily access top lists and identify lucrative opportunities to target.
Unlock Key Project Information
Understanding project details is pivotal to crafting winning sales strategies. Biltrax Construction Data goes beyond surface-level information, providing you with key project documents, such as approval documents, RERA declarations, project brochures, and contract conditions. Uncover valuable insights into project timelines, awarded contracts, and the leading companies involved. Armed with this knowledge, you can tailor your pitches and proposals to resonate with project owners and decision-makers.
Discover Brand Profiles that Connect You to Success
Biltrax Construction Data's construction product modules offer in-depth brand profiles for over 12,000 industry leaders. Our analytics reveal where these leading brands are specified, and their relationships with buyers, specifiers, consultants, owners, and contractors. Leverage this information to identify potential partnerships and gain a competitive advantage.
Together, let's grow your sales, not your sales teams.
By leveraging our platform features including smart specification tagging, extensive project documents, industry relationships, tender opportunities, and awarded contracts, you can make informed decisions, build strong relationships, and close deals with confidence.
Don't burden your sales teams with mundane tasks or waste their time on unqualified leads. Instead, equip them with the actionable insights and analytics that Biltrax Construction Data provides. Our platform allows you to focus on what truly matters – building meaningful connections, delivering exceptional value, and growing your business.
Also Read : How Architects Influence the Building Material Market (biltrax.com)
---
Looking for deeper insights and comprehensive data on these construction projects? Biltrax Construction Data is the one-stop solution for detailed project insights, real-time updates, complete insights on project status, in-depth data analysis, and much more. Subscribe today and stay ahead of the game. Book a demo today!
E-mail – contact@biltrax.com
WhatsApp for business enquiries – 9324385230 (https://wa.me/9324385230)
---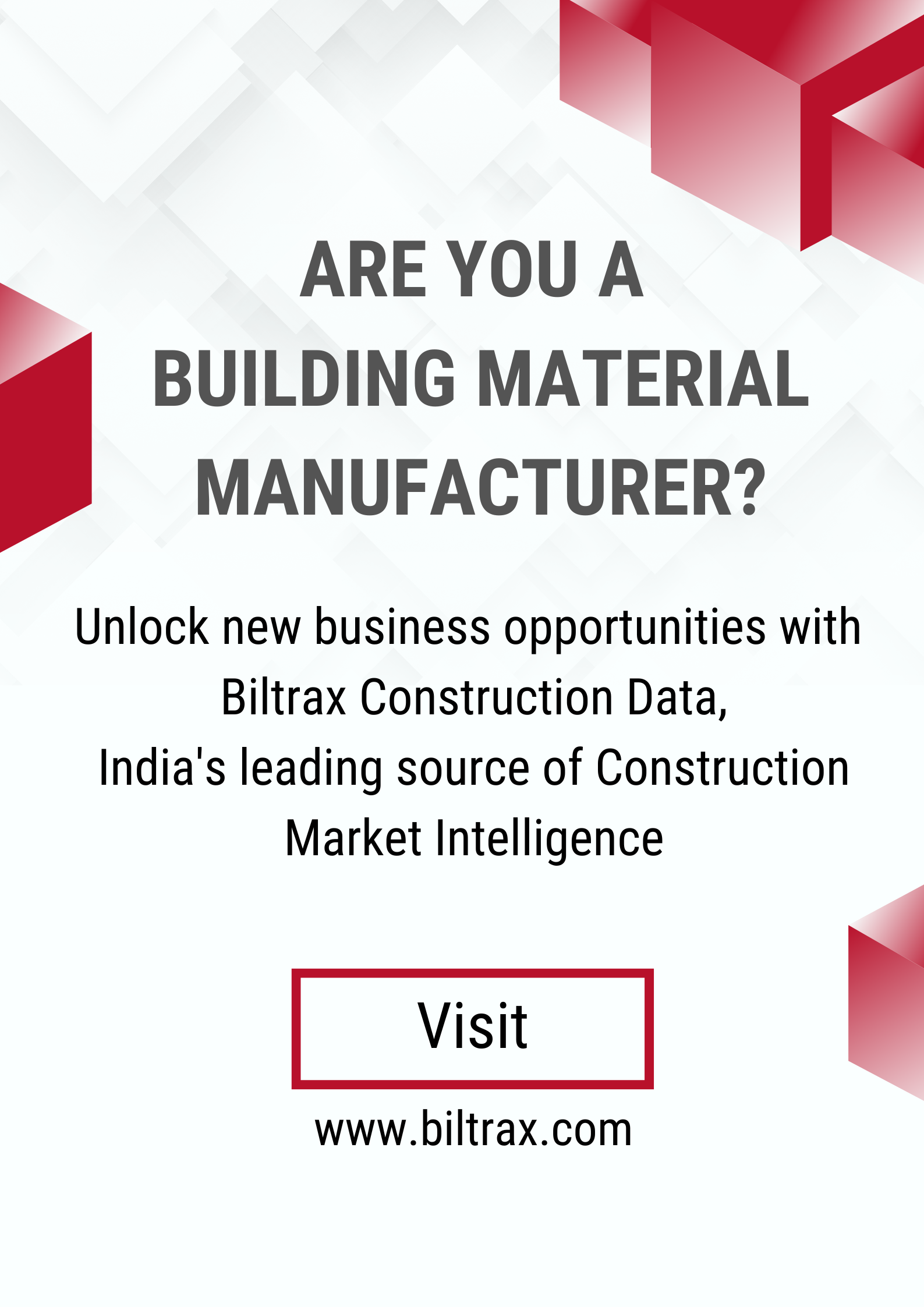 Biltrax Construction Data is tracking 24,000+ projects on their technology platform for their clients.
Get exclusive access to upcoming projects in India with actionable insights and gain a competitive advantage for your products in the Indian Construction Market.
Visit www.biltrax.com or email us at contact@biltrax.com to become a subscriber and generate leads.