HL Residency, Bahadurgarh is an upcoming affordable housing project in Jhajjar by the HL Group that is both luxurious and affordable. To develop an international standards', affordable and self-sufficient township, well-connected with Delhi, the HL Group incorporated H L Residency Private Limited in November–2010. Incorporated as a special purpose vehicle (SPV), the HL Group plans to develop HL City, in Sector 37, Bahadurgarh. The HL group employed the best architects in the field to design strong yet aesthetically beautiful residential and commercial buildings.
HL Residency, Bahadurgarh
HL Group proposed a residential project, HL Residency, Bahadurgarh, at Sector-37, Bahadurgarh. This is an affordable housing township project located in Jhajjar city, NCR, Haryana. The developers will build the project on a land parcel of 11.36 acres and the project's total construction area will be 15, 81, 105 sq. ft. The project's construction cost is INR 400 crores. This project comprises 1 building having a basement, a ground floor, and 14 upper floors. It has 1 building with a basement, a ground floor, and 13 upper floors and 2 buildings with a basement, a ground floor, and 9 upper floors. The project also has a retail block with a basement, a ground floor and 5 upper floors. The total number of residential units within this project is 1604. Construction work will begin in 2023 and finish in 2026.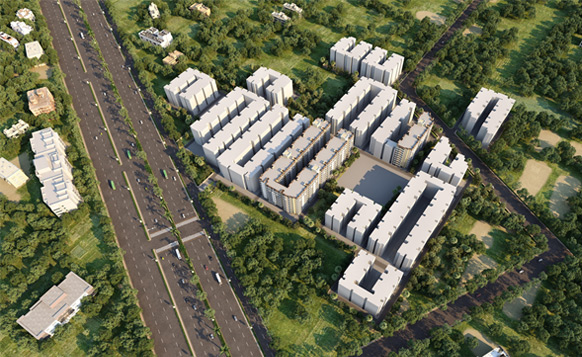 HL Residency, Bahadurgarh – Key Project Highlights
| | |
| --- | --- |
| Name of the Project | HL Residency, Bahadurgarh |
| Latest Status | Under Construction |
| Owner/Developer | HL Group |
| Design Architect | Vikas Ahlawat Architects |
| Location | Jhajjar, Haryana |
| Pin Code | 124507 |
| Region | National Capital Region (NCR) |
| Latitude | 28.670048 (28° 40′ 12.1728″ N) |
| Longitude | 76.890448 (76° 53′ 25.6128″ E) |
| Land Area (in acres) | 11.36 acres |
| Construction Area (in sq. ft.) | 15,81,105 sq. ft. |
| Construction Cost (in INR) | INR 400 crores |
| Building Use | Residential |
| Category | Affordable Housing, Township |
| Sector | Private |
| Project Start Date | 2023 |
| Project Completion Date | 2026 |
HL Group, founded by Mr Suresh Anand, bears faith and trust of NCR residents for over three decades. The group is known for its benchmark quality, customer-centric approach, on-time delivery and sound business ethics. HL Group envisions developing a township model providing a world-class living experience with all amenities. Such townships will have a vibrant, secure, and sound environment. This will thus change the landscape of NCR while simultaneously building trust and confidence of potential residents.
Biltrax Construction Data is tracking 20000+ projects on their technology platform for their clients. Visit https:/www.biltrax.com/or email us at contact@biltrax.com to become a subscriber and generate new leads.Disclaimer: The information contained has been compiled or arrived at, based upon information got in good faith from sources believed to be reliable. All such information and opinions can be subject to change. The image featured in this article is for representation only and does not represent the project. To have the article removed or edited, please email editor@biltrax.com.