Founded by Ar. Rajkumar Kumawat, in association with partners Ar. Amit Goswamy and Ar. Ruby Goswamy, Design Square has established itself as a leading player in the industry. From its humble beginnings to becoming a leading player in the industry, Design Square Architects' journey showcases the power of passion and expertise. Combining academic knowledge with practical experience, the firm swiftly gained a reputation for delivering impeccable designs that seamlessly blend aesthetics, functionality, and sustainability.
But it is their steadfast vision that truly sets Design Square Architects apart. Their philosophy is rooted in the idea that a home should be more than just a structure—it should be a living, breathing extension of the people who inhabit it. By carefully considering factors such as durability, sustainability, and aesthetic appeal, the firm handpicks materials that enhance the overall design and create a unique architectural experience. From the captivating Rajasthani granite that adorns the floors and walls to the exquisite Italian marble that adds an air of luxury, each material is chosen with precision and purpose.
Biltrax Media delves into their inspiring journey, exploring their visionary approach, signature design philosophy, and the remarkable projects that have solidified their position as trailblazers in the industry.
1. As the founder of Design Square Architects, what was your vision or mission in establishing the firm? How does it align with your personal values and design philosophy?
After completing my Diploma in Architecture in 1997, the journey into the field of architecture began swiftly with the establishment of Design Square Architects. Practical experience at an Architect's office was gained alongside academic pursuits, providing invaluable knowledge that complimented my education. Immersed in such exposure, essential proficiencies were acquired for undertaking projects, leading to the securing of two residential ventures through parental connections. This marked a pivotal milestone in my professional trajectory, instilling the confidence to expand horizons and specialise in luxury residential design. Throughout my career, I have consistently held the belief that every residence should exude a distinctive character that reflects the individuality of its occupants.
2. Can you tell us about the inspiration behind The Buoyant Outhouse project? What were the fundamental design principles or concepts that influenced its creation?
The central idea of this project revolved around the establishment of an ambience akin to a weekend retreat tailored for the purpose of hosting sophisticated gatherings. Furthermore, given the client's ownership of a fashion boutique, our objective was to craft a space that could effortlessly accommodate intimate fashion shows. The ultimate aim was to curate an atmosphere that seamlessly embraced the allure of the outdoors while upholding a sense of refined elegance and contemporary flair.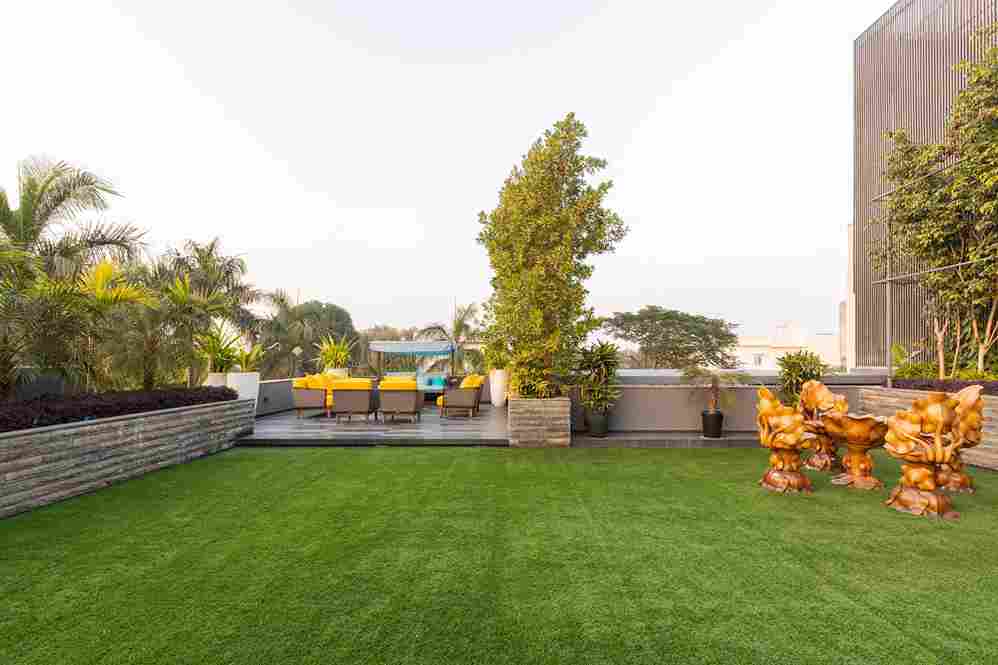 3. How did the project evolve from its initial concept as a potential skating rink to the remarkable structure it is today? What were the main factors that led to this transformation?
At the outset, the client's initial intention for the designated plot entailed the construction of a skating rink. However, upon comprehending the inherent worth of the land, we recognised the significance of leveraging it in a more strategic and purposeful manner. Taking into account the existence of a preexisting structure, an alternative concept was presented by the team at Design Square: A meticulously designed outhouse that would serve as an idyllic venue for hosting an array of memorable gatherings and events. Enthusiastically embracing this vision, the client wholeheartedly endorsed the proposition, thus culminating in the realisation of this versatile and enchanting outhouse.
4. What are some key considerations you take into account when designing residential projects, particularly in terms of functionality, aesthetics, and creating a comfortable living environment?
In the design of residential projects, multiple factors are considered to ensure functionality, aesthetics, and a comfortable living environment. This includes effective space planning, prioritising ergonomics and natural light, providing proper ventilation, selecting suitable materials, maintaining privacy, integrating natural elements, and incorporating sustainable design principles. These considerations are necessary to ensure that the design meets the needs of the occupants while adhering to a desired aesthetic and style.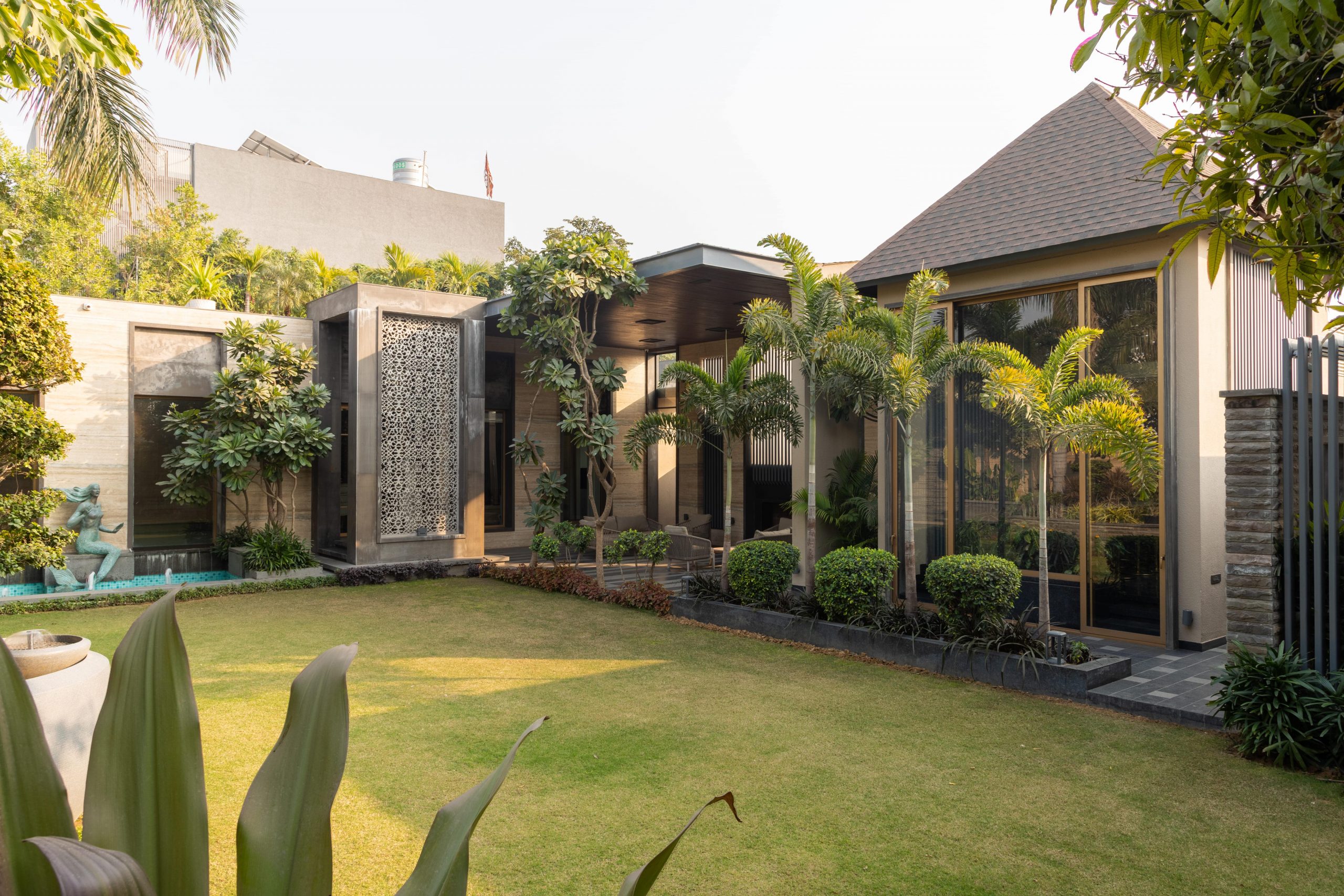 5. Material selection plays a crucial role in the overall design and feel of residential space. How do you approach the process of selecting materials for your projects? What factors do you consider, such as durability, sustainability, and aesthetic appeal?
When choosing materials for residential projects, I take a comprehensive approach, considering durability, sustainability, and aesthetic appeal. Durability is important for long-lasting performance, assessing factors like strength, resilience, and resistance to moisture and fading. Sustainability is prioritised by selecting responsibly sourced, renewable, or recycled materials with energy efficiency in mind. Aesthetic appeal is crucial, considering texture, colour, and pattern to align with the desired style and complement the overall design. Taking into account durability, sustainability, and aesthetic appeal, I always strive to opt for materials that simultaneously focus functionality.
6. Could you share some examples of materials you frequently incorporate into your residential designs and explain why you find them particularly suitable or interesting for creating a unique architectural experience?
While the choice of materials may vary in each project, we consistently adhere to the design grammar of creating spaces that exude subtle luxury and timeless appeal. In the Buoyant Outhouse, indigenous resources from Rajasthan have been meticulously utilised. The stunning Rajasthani granite permeates the space, showcasing its captivating hues as it adorns both the flooring and cladding. The interior is further enhanced with a tasteful incorporation of Italian marble, adding an exquisite touch to the overall ambience. These elements are strategically combined to achieve a rustic yet elegant interior aesthetic.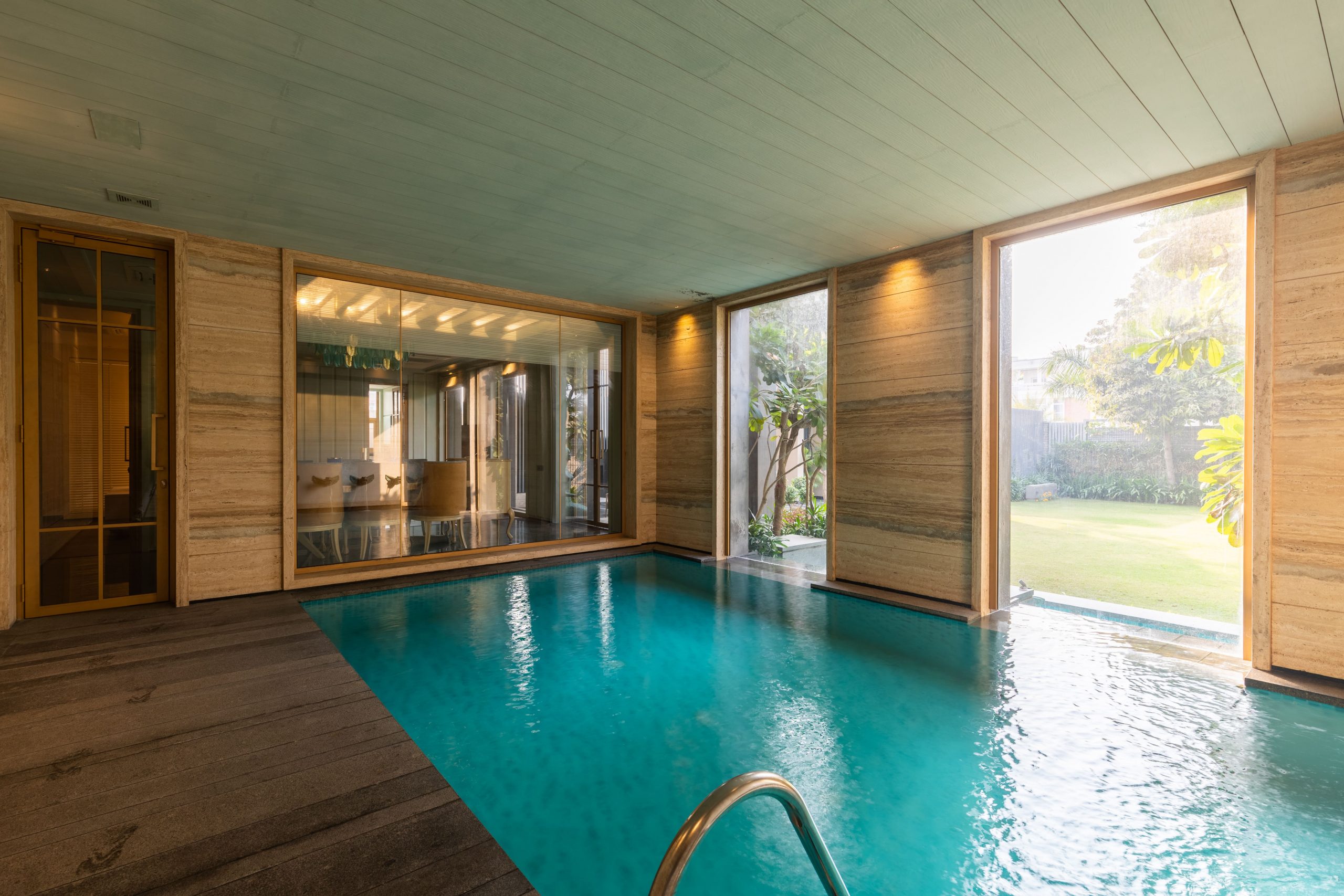 7. In your experience, what are the benefits or advantages of building material manufacturers approaching architects at the right stage of a project? How does early engagement with manufacturers influence the design process and final outcomes?
Engaging with building material manufacturers at the right stage of a project offers numerous benefits. Early collaboration enables us to access manufacturers' expertise and exploration of innovative design possibilities. Manufacturers can provide technical guidance, ensuring seamless integration of materials and avoiding conflicts during construction. Also, we can optimise budgets and enhance project efficiency by understanding material costs and availability. Moreover, early engagement with manufacturers facilitates the exploration of sustainable solutions, contributing to environmentally friendly design practices. Overall, this collaborative approach significantly influences the design process and final outcomes, leading to successful and innovative architectural projects.
8. In your opinion, what makes a successful architectural project?
In my perspective, a successful architectural project combines crucial elements such as functionality, aesthetics, sustainability, user experience, contextual responsiveness, and collaboration. By balancing these factors, the project achieves its goals and can be considered a triumph.
Ar. Rajkumar Kumawat
---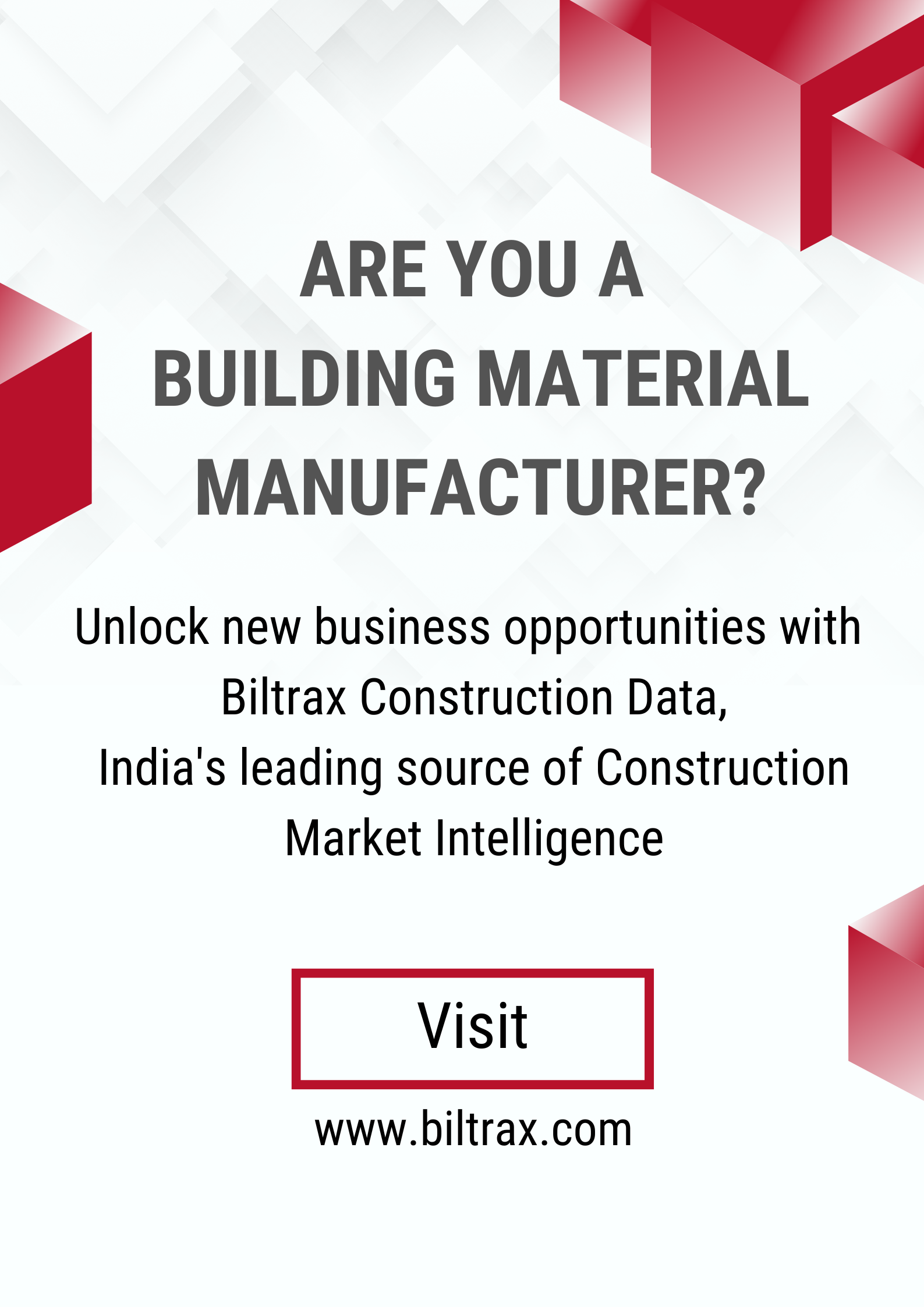 Biltrax Construction Data is tracking 25,000+ projects on their technology platform for their clients.
Get exclusive access to upcoming projects in India with actionable insights and gain a competitive advantage for your products in the Indian Construction Market.
Visit www.biltrax.com or email us at contact@biltrax.com to become a subscriber and generate leads.
Disclaimer: The information contained herein has been compiled or arrived at, based upon information obtained in good faith from sources believed to be reliable. All such information and opinions can be subject to change. The image featured in this article is for representation purposes only and does not in any way represent the project. If you wish the article to be removed or edited, please email editor@biltrax.com.