Leading the way: A green-certified public building that's shaping Lucknow's cityscape
In the bustling heart of Lucknow, where the past gracefully intersects with the present and where the urban landscape constantly evolves, the IT Headquarters for the Lucknow government, a striking architectural landmark, stands as a testament to innovation and sustainability. In envisaging this government building that challenges conventional design methods, STHAPATI defies standards and redefines the very essence of contemporary office buildings by setting the precedent for a greener cityscape.
Situated on an irregular plot, the structure has been developed as a complete, pre-engineered steel marvel that stands as one of the pioneering designs of its kind in India. This architectural marvel boldly showcases unwavering lines on its facade, creating a visually striking presence in the cityscape. True sustainability lies in the response to the local context and responds to the surroundings in two significant ways. Firstly, it meticulously follows the contours of its irregular site, reducing the negative impact on the environment. Secondly, it boasts of a distinctive facade that doesn't vie for attention with the existing urban fabric; rather, it complements the climate and the surroundings and aspires to bring homogeneity to the existing landscape.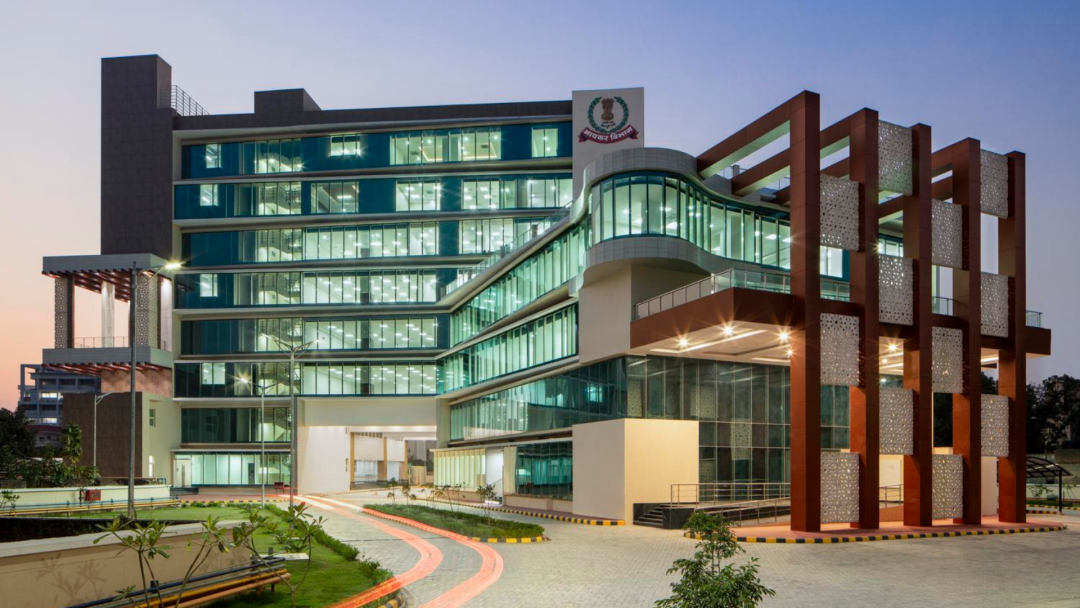 The project stands as a testament to engineering ingenuity pioneering a centrally air-conditioned building concept with two basements, all supported by a pre-engineered steel structure. The columns and beams, manufactured entirely off-site, were carefully erected in a phased and precise manner. The basements, constructed with reinforced concrete, form a robust foundation for the hybrid and composite structure that rises from the ground level, facilitating the steel structures above. This innovation translates to massive time savings during construction.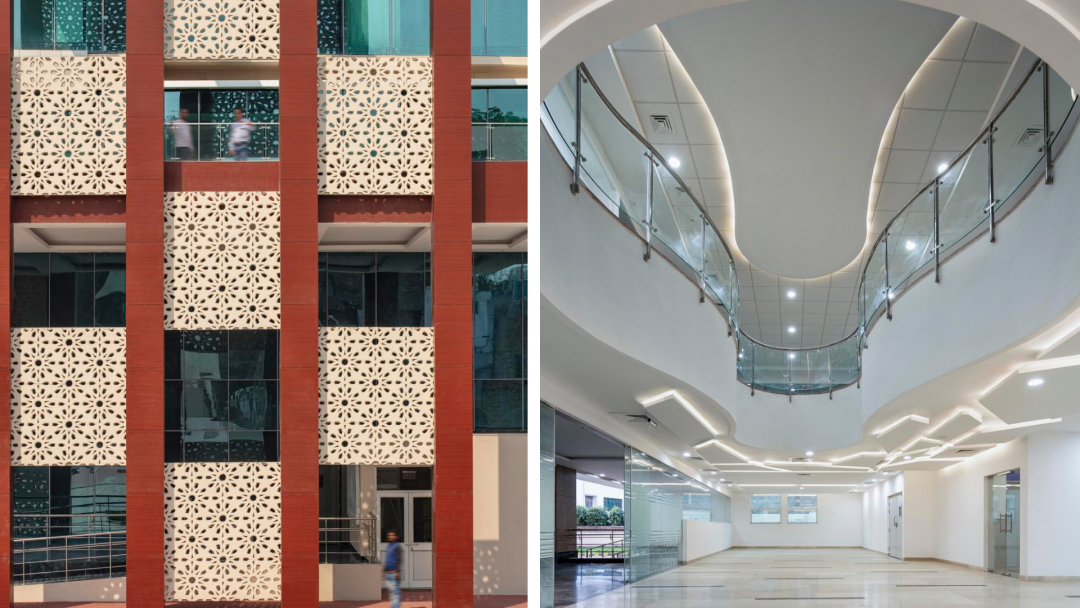 With sustainability at its core, the Income Tax Headquarters has the prestigious GRIHA 4-star certification, making it a frontrunner in environmental design. During the construction phase, measures were taken to protect existing trees on-site and ensure dust mitigation, cementing the commitment to energy efficiency with a design that reduces pollution in multiple ways. Off-site steel manufacturing, enabled by pre-engineered technology, minimizes human intervention, bolsters precision, and expedites construction while reducing environmental impact. Post-construction, the building embraces passive design elements on its facade. Extended slab protections mitigate direct solar heat gain, diminishing the need for air conditioning and consequently reducing carbon emissions, and energy-efficient double-glazed units enhance the building's overall energy efficiency.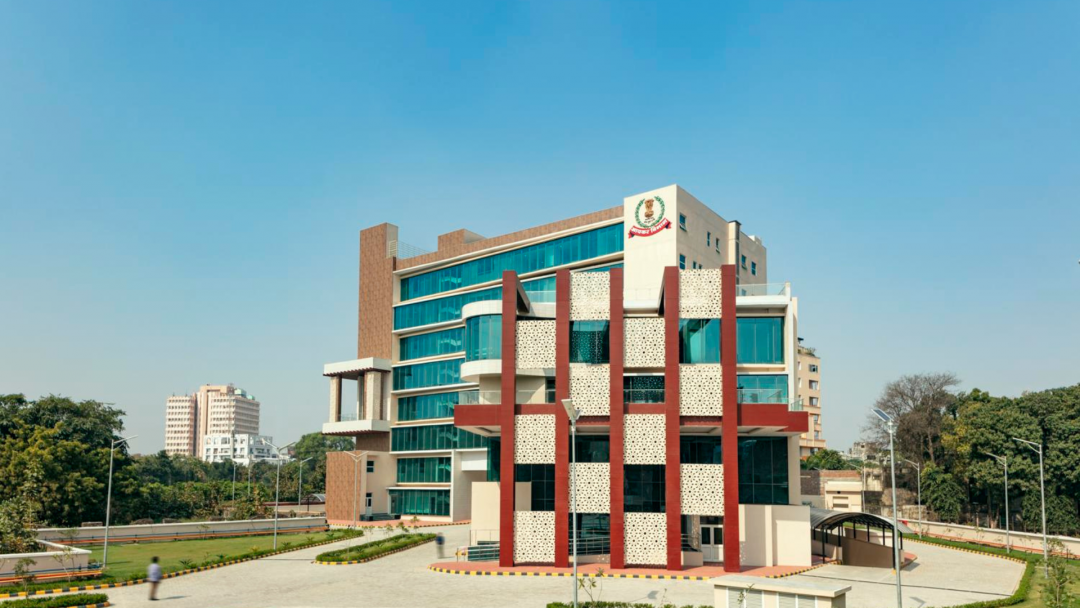 With durability and ease of maintenance being paramount in a public government, building material choices play a crucial role in ensuring longevity and resilience. Stone finish high-pressure laminates grace the exterior facade, reducing the need for stone quarrying and preserving nature. These laminates, known for their endurance, facilitate wet cleaning of the facade, ensuring it remains pristine at all times. Within the building, internal walls constructed with dry walls in gypsum and glass wool insulation replace conventional block and brick construction. This innovative addition has not only guaranteed high precision and faster delivery but also improved the quality of the end product.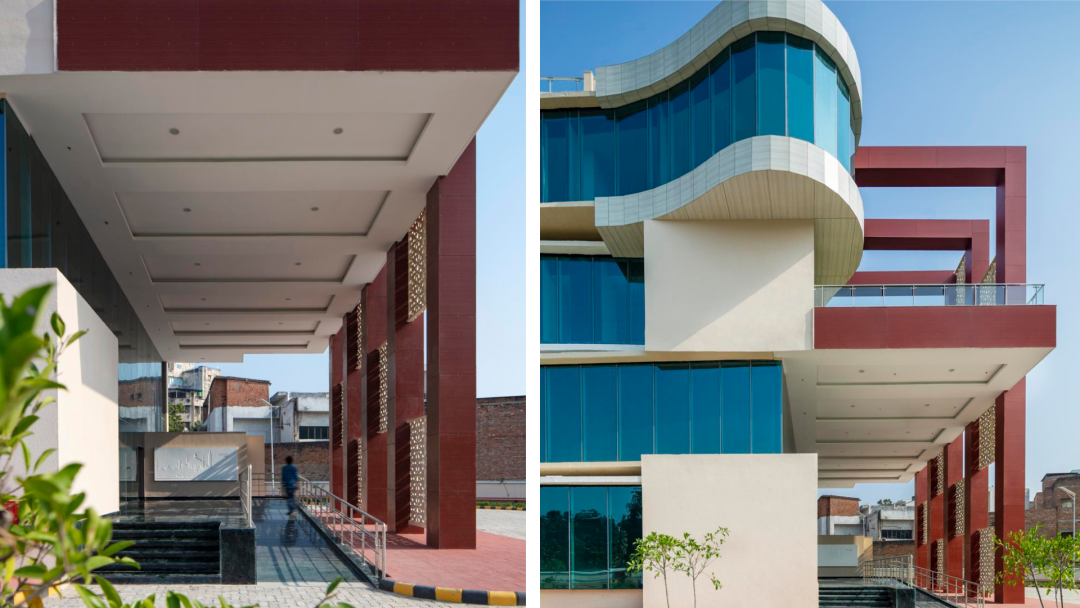 The interior spaces are meticulously crafted to provide a functional and aesthetically pleasing workspace, fostering productivity and comfort for occupants. The building's services, including heating, ventilation, and air conditioning systems, are engineered with precision to ensure occupant comfort and environmental sustainability. These systems work cohesively to provide an ideal indoor environment, optimizing energy efficiency. The project's landscape design contributes to its charm by offering an inviting outdoor space within the heart of the city. This green oasis complements the architectural beauty, intertwining nature along the building.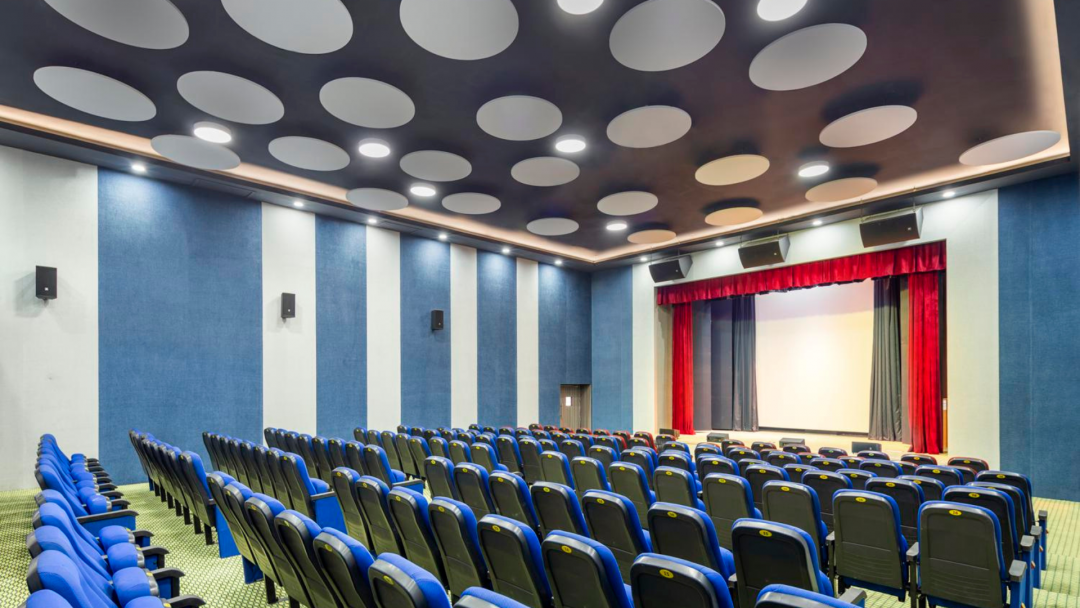 The culmination of these architectural and engineering efforts is a symbol of progress in architecture, a beacon of sustainability, and a blueprint for future public/ government. projects. This urban oasis, where function meets aesthetics and tradition meets innovation, not only redefines office spaces but also sets a new standard for contemporary urban architecture in India. Notably, this structure represents one of India's pioneering forays into pre-engineered steel technology for office buildings, marking a milestone in the nation's architectural landscape. As the structure rises, it defies convention with sweeping bold lines on its facade, making a profound statement amidst the dense urban fabric.
Also Read: CDA | Northern Railway Diagnostic Center
Project details:
Project Name
Office building for Income Tax
Typology
Commercial / Institutional
Location
Lucknow, Uttar Pradesh
Client
Income tax / NBCC India Ltd
Completion date
June 2020
Built-up Area
 2,58,000 SqFt
Credentials
Principal Architect
Harsh Varshneya

Design team:
Harsh Varshneya, Khushboo Bansal, Anuj Varshneya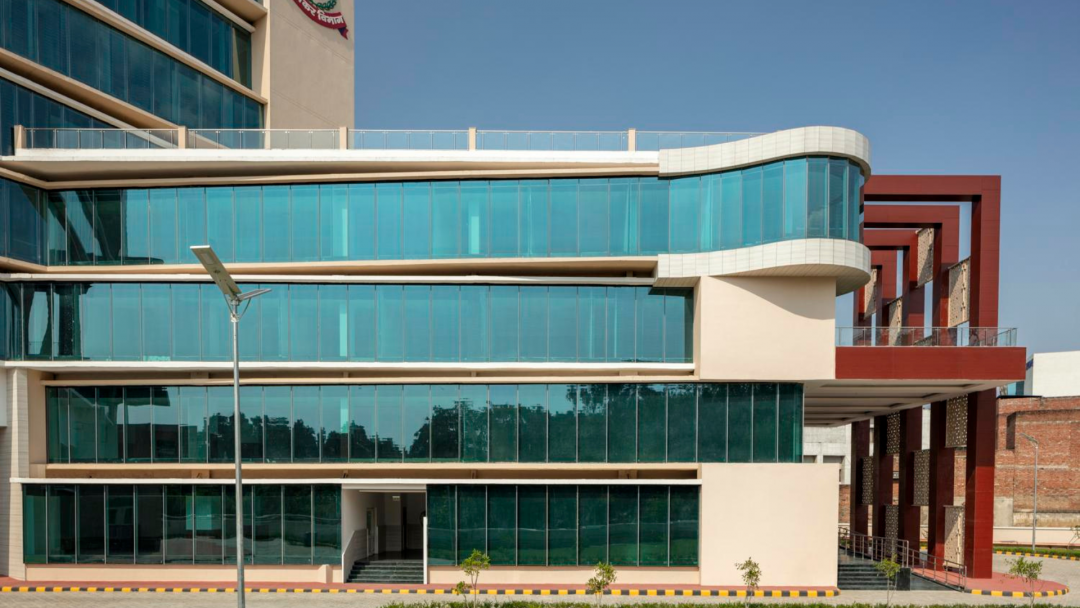 ---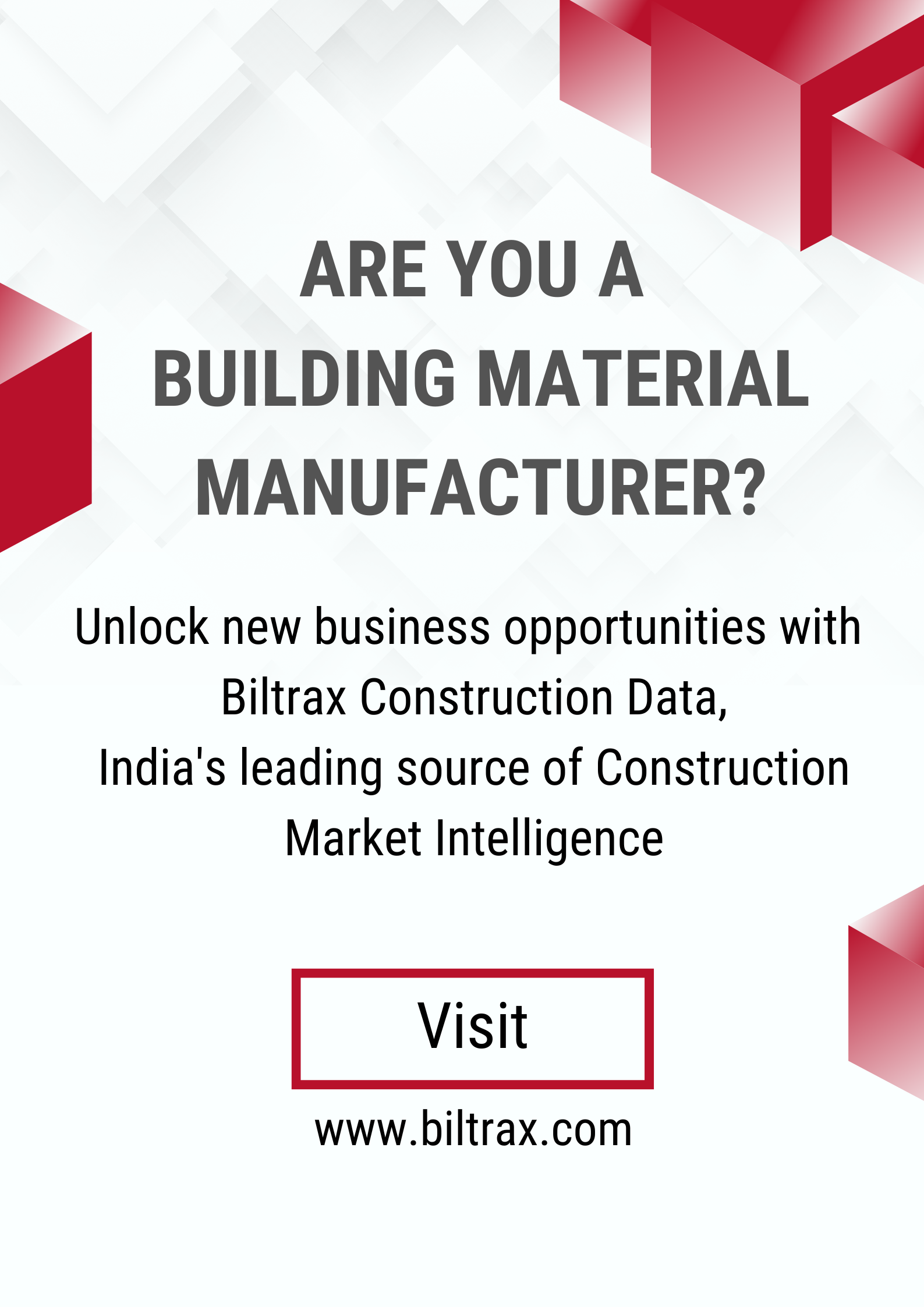 Biltrax Construction Data is tracking 27,000+ projects on their technology platform for their clients.
Get exclusive access to upcoming projects in India with actionable insights and gain a competitive advantage for your products in the Indian Construction Market.
Visit www.biltrax.com or email us at contact@biltrax.com to become a subscriber and generate leads.
Disclaimer: The information contained herein has been compiled or arrived at, based upon information obtained in good faith from sources believed to be reliable. All such information and opinions can be subject to change. The image featured in this article is for representation purposes only and does not in any way represent the project. If you wish the article to be removed or edited, please email editor@biltrax.com.