Ingrain Architects is a full-service architecture firm with a team of experienced professionals dedicated to each stage of the design and construction process. The founders, Kiran Kale, Abhay Bhonsale, Ashwini Bhonsale, and Ashlesha Kale aim to develop sustainable, and functional models that enrich the lives of those who use them and make the city a more meaningful place. For them, each project is an opportunity to learn, unlearn and re-establish new points of reference for the fraternity. In an immersive conversation with Biltrax Media, the partners at Ingrain touch on diverse principles of the subject matter – the ins and outs, the do's and don'ts, and the popular and unpopular ideas.
How did you lay the foundation for Ingrain? Could you elaborate on the process that enables you to practice in various streams of architecture?
We think of architecture as a source of endless possibilities not only to create good quality spatial experience but also as a problem-solving mechanism for uplifting the built environment. The end product of architecture is the by-product of excellent teamwork. This enables us to bring significant changes in the social infrastructure and behavioural patterns of society. From a larger perspective, architecture fulfils the next-generation world which is technologically advanced, dynamic, and fluid. The inventions in technology fascinate us everyday. We strongly believe that integrating them with architecture can cater to the future world.
Unlike self-centred design professions such as fine artists, our practice addresses a wider range of technical issues in the public realm. We believe that with the way India is growing and changing, the country is expecting architects to play a bigger role in solving its pressing challenges. These include problems such as the lack of adequate housing, and social and physical infrastructure for creating better public places.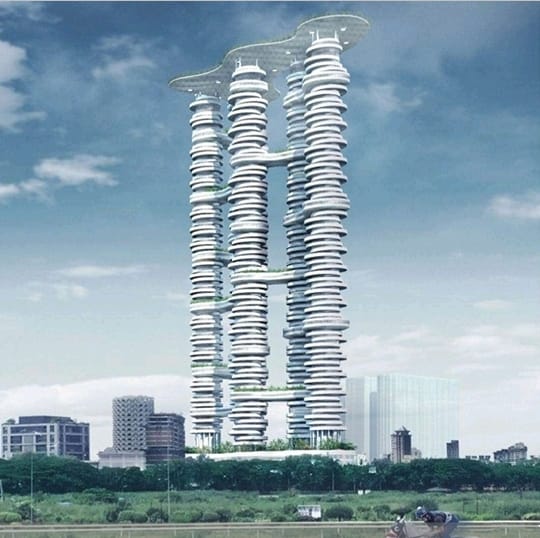 An average employer works 8.3 hours per day. How can an architect optimise a corporate building to facilitate maximum comfort?
The definition of offices has changed in the past 2 years because of the COVID-19 pandemic. Remote working has become exceedingly popular. The idea of workspaces is changing from being regimented to being comforting. The demand for "in-home offices" has increased in the residential segment which is luring people to invest in bigger houses.
Speaking specifically of commercial spaces, we think the architect needs to focus on creating high-yielding work environments. Offices should prioritise increasing productivity over increasing the number of work hours. An inspiring work environment with break-out spaces can encourage informal discussions and the exchange of ideas affecting people to produce quality output. Flexible and nature-inclusive spaces with efficient supporting facilities and abundant sunlight are vital for office spaces.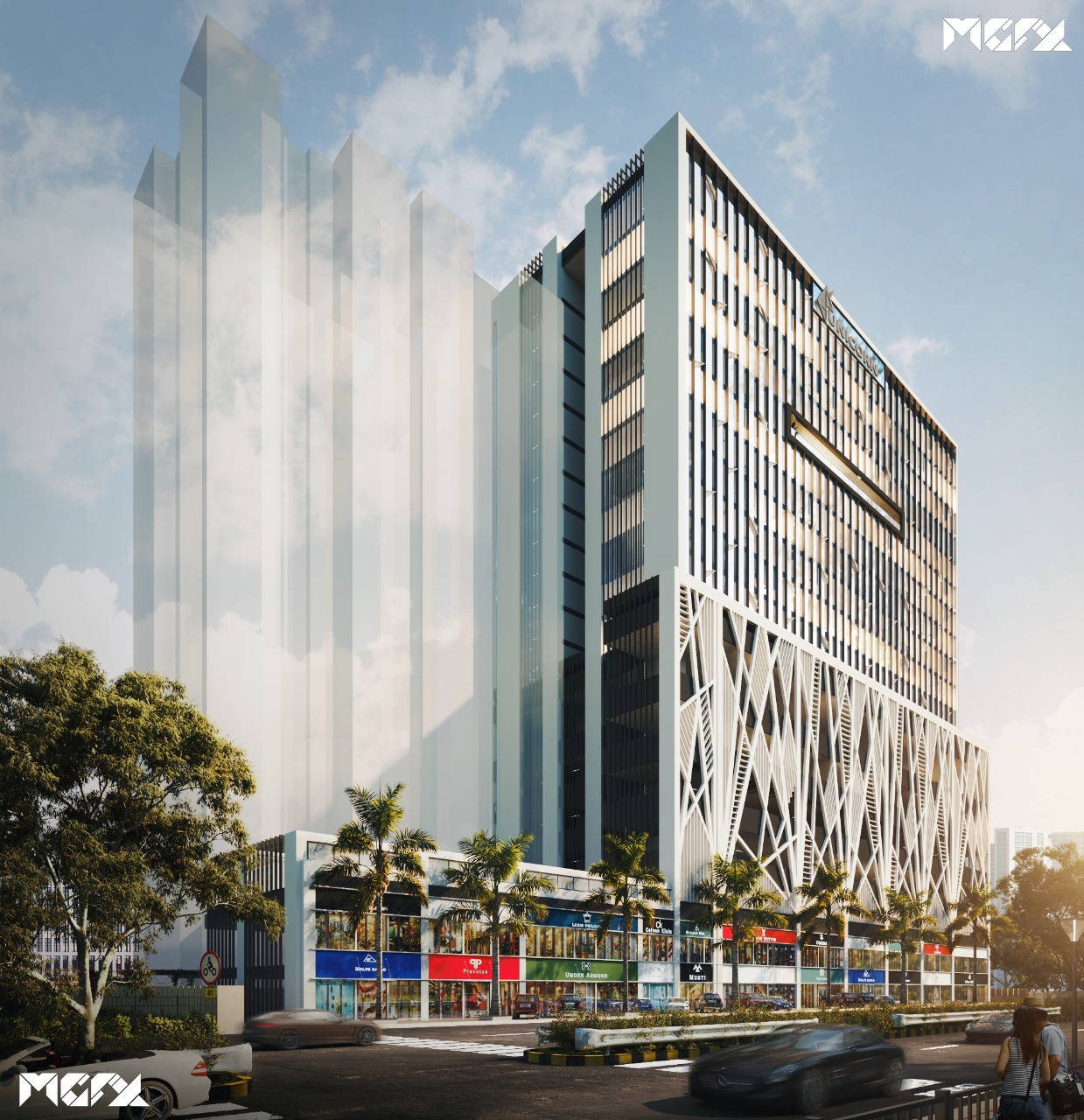 High-rise residential towers provide privacy but often lead to seclusion. What measures can an architect adopt to integrate community interaction and development regarding residential spaces?
To understand the concept of high-rise buildings, imagine a large horizontal building layout with green open spaces, amenities, and a frontal garden accommodated in a tall building. The roads are replaced with lifts and staircases. The apartments are made more windy and sunny. The amenities are equally distributed through the provision of intermediate gardens or green lungs.
This vertical composition is so designed to provide better views which otherwise, no horizontal layout would ever achieve. High-rise buildings can open many other avenues of advantages over horizontally planned layouts. Witnessing the increase in population, the efficiency of horizontal layouts is fast-expiring. To achieve holistic development, we need to think about safeguarding the natural ecology, habitat, and environment while developing adequate infrastructure. As a result, high-density and compact cities have become an excellent solution to achieving the balance between these two worlds. At Ingrain, we not only look at high-rise buildings as individual architectural projects but as governing parts of a compact urban fabric.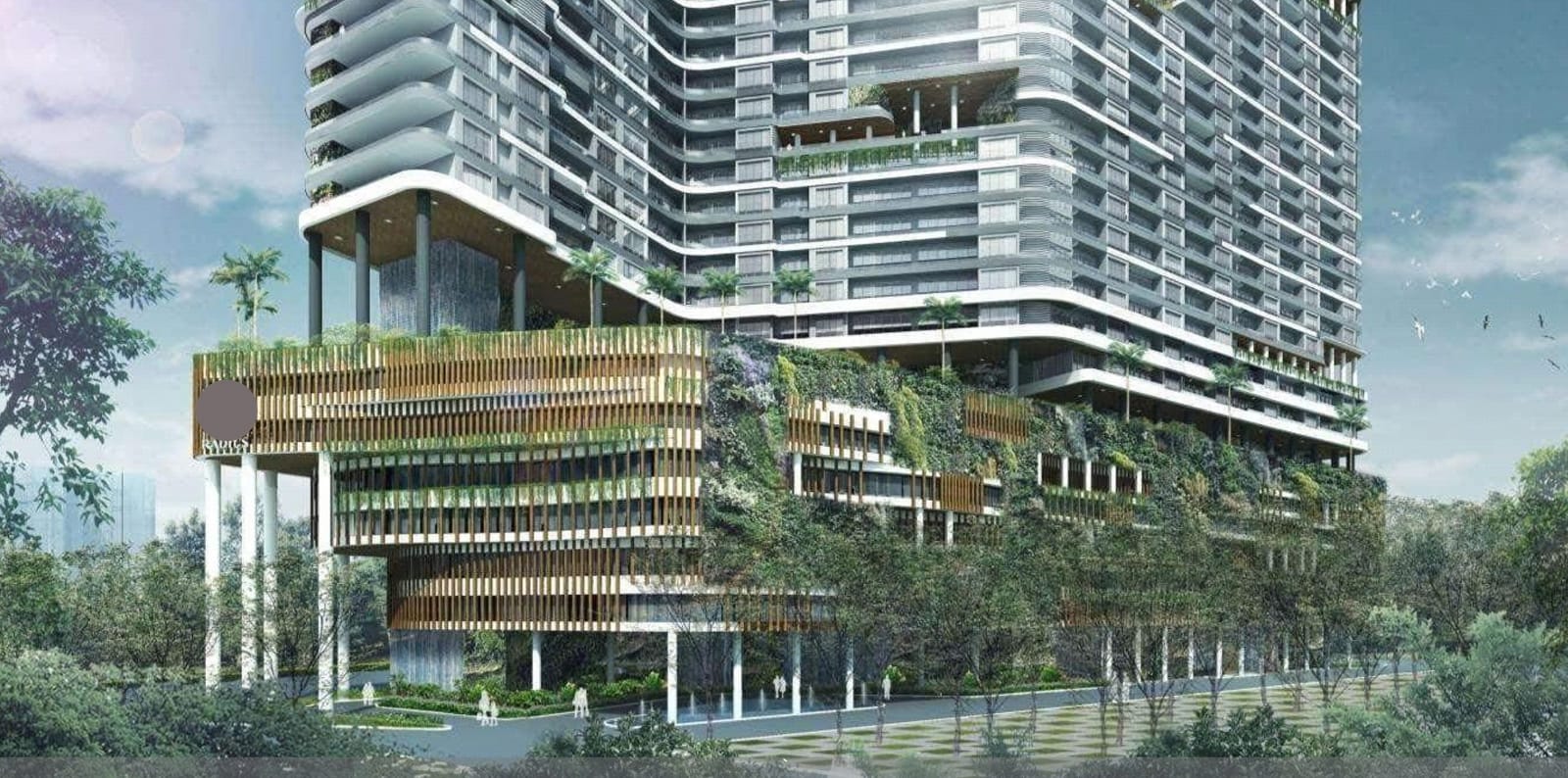 High-density skyscrapers offer great advantages for urban lifestyles which technically provide the best possible solution for efficient city infrastructure. We think that high-rise buildings present the best opportunity to create sustainable and self-sufficient living systems. Contrary to popular belief, high density does not mean congestion. It rather means a systematic organisation of open and built spaces that make a city more workable where residents can enjoy the same lifestyle, infrastructure, and amenities efficiently through high-density planning and transit-oriented development.
In one of our upcoming high-rise residential projects, we are introducing vegetable plantations as an element of urban farming providing both home and health together. This helps residents to avail fresh and organic vegetables right from their shared terrace farm.
Designing energy-efficient buildings is a must in today's time. What design strategies have you incorporated into your projects to facilitate sustainability?
We strongly believe that sustainability is about much more than achieving gold and platinum ratings and certification. It is primarily about two aspects – self-sufficiency and nature. Inherently, the design of buildings should be such that every square foot of the project is sustainable. By building in correlation with nature, one plans according to the site's local climatic conditions, as per the sun's path and wind direction.
We think buildings should essentially be like a tree- "giving in nature." For instance, a building facade plays not only the role of the outer skin but can also help to generate water, carry MEP and structure, and absorb pollution from the environment. The aim should be to minimise solar gain and the greenhouse effect by reducing the carbon footprint of the building.
Master planning is about connecting buildings, social settings, and their surrounding environments. What are the key factors an architect should follow or be strategic about?
We approach master planning as small-scale city planning because every element of the environment is interdependent. In urban communities, you will witness people from various backgrounds and cultures living together in a neighbourhood. Hence, a master plan should be versatile enough for catering to the needs of every urban setting.
A master plan should encourage community interaction by creating a hierarchy of spaces that is children-friendly and senior citizen-friendly. A point in case would be a garden where adequate provision is made for every visitor irrespective of age, gender, or income as playing areas, jogging tracks, cycling tracks, slides, and benches.
Today societies are opting for redevelopment over repair. What challenges do you face while executing such projects?
The requirement for housing in cities is undeniable for which redevelopment is a must. According to the new age trends, the infrastructure needs to be updated. The only concern in this update is that we as architects should bring about the change in a more sensitive way. Typically, residential societies can consider redevelopment after 30 years of construction. Redevelopment facilitates change by creating resilient and relevant built spaces.
However, what's missing in contemporary redevelopment projects is that they lack a sense of space. When people have lived in a neighbourhood or a building for a prolonged period, certain places become the hub for community interaction and engagement. The legacy, memories, and experiences of old spaces become a part of the social fabric. Ruthlessly, wiping out this fabric to create the space for something new through redevelopment is like invading a society. Such changes have to be respectfully addressed, and the newly developed space has to make sure that it welcomes nostalgic memories with great love and respect. It has to blend with the surroundings like sugar dissolves in milk.
Government policies ensure economic growth or meet social development goals. Could you elaborate on some of the projects you have or are going to execute?
All projects whether government-initiated ensure either economic growth or have room for social development. What makes government projects unique is that people who are deprived of necessities are duly provided with them.
In most cases, housing projects by the government are meant for poor homeless families. Unfortunately, these houses are designed as housing for poor homeless people with substandard infrastructure, design, negligence of long-term maintenance, and construction quality which is the primary reason for the failure of these projects in India. Housing projects with this design approach fail to contribute enough, what otherwise an ideal housing should provide to a family and hence to a society. In India, housing is directly related to fundamental family values, respect, hope, identity, and long-term stability.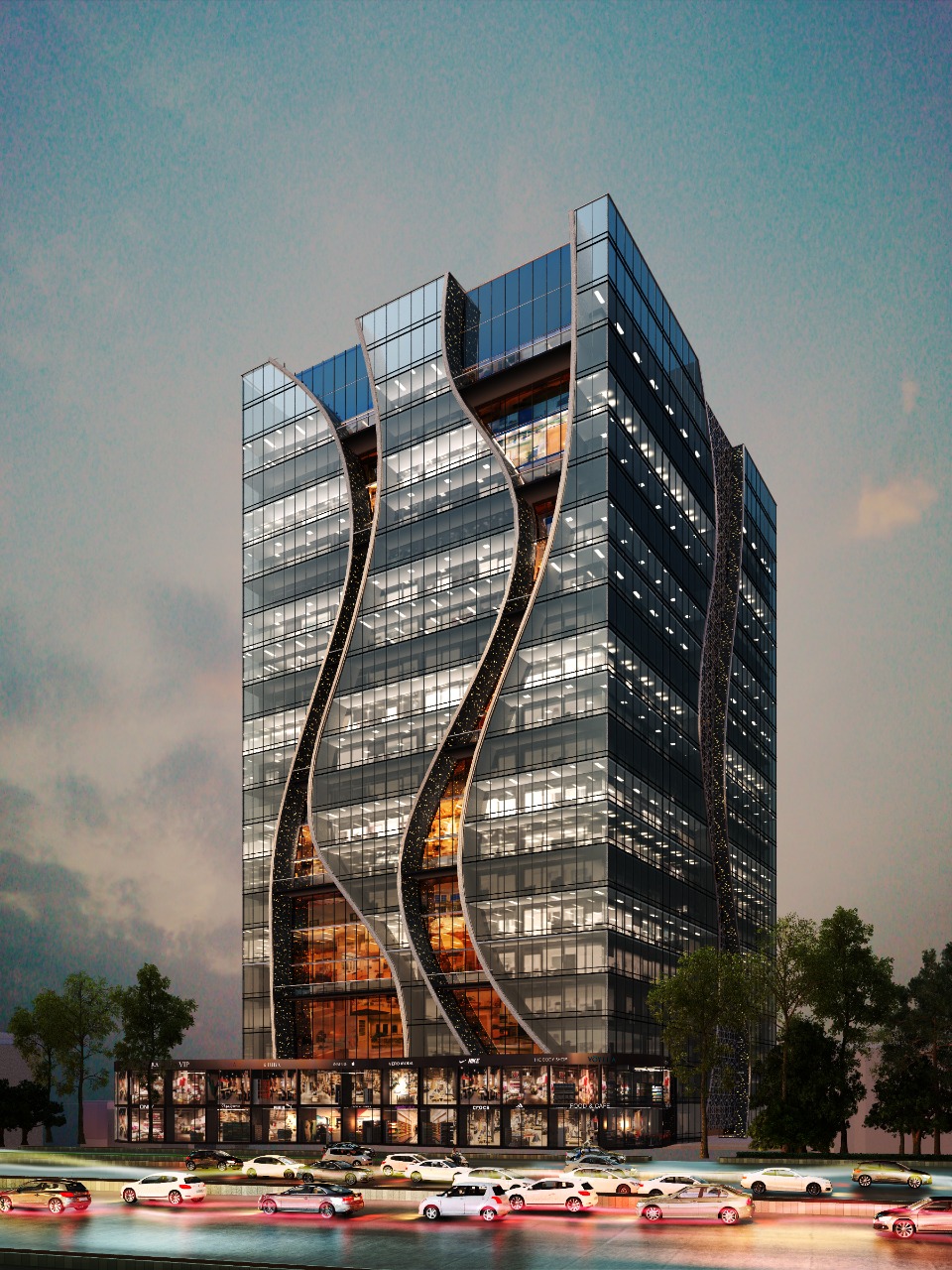 Providing housing is much more than merely providing shelter. As soon as one hears the word "affordable housing" they can only imagine "matchbox-like homes" with poor light and ventilation, no open spaces, and deteriorated construction quality. This perception of affordable housing needs to change. Good quality housing has the potential to create value-oriented families, responsible individuals, hopeful youth, and societies full of culture and opportunities. We can achieve this only by understanding the context, time, family, and societal structure of the urban community. As architects, we should look beyond labels and use our creativity to design meaningful spaces that have the best-in-class social and physical infrastructure.
The government is coming up with enormous opportunities for developing India with many physical and social infrastructure projects, government offices, sports facilities, and housing projects. We think the budget has nothing to do with design albeit it has much to do with specifications. Hence, the budget should not restrain you from providing a good quality design.
We are also working on a lot of government housing and railway station projects for MHADA, Maha Housing, and Pimpri Chinchwad Municipal Corporation. Our proposal for railway stations is top-notch where we are providing state-of-the-art infrastructure by creating spaces for rejuvenation and lounging.
Lastly, what are some upcoming trajectories in terms of work undertaken?
On the work front, we are glad to have projects across various segments. In the residential sector, we are working on a couple of housing, redevelopment, elite housing, and township projects. There are also quite a few projects in the hospitality domain. We are going full-speed into infrastructure projects with multiple proposals for railway stations and bus terminals. There are a few commercial office projects along with amusement theme parks in the pipeline. Some urban design projects with revolutionary ideas are also in progress. In each of our projects, we are focussing on developing efficient spaces with no compromise on quality- all while avoiding wastage and making the building sustainable in the long run.
Email: ingrain@ingrainarchitects.com
Contact: 022 49701442