"If a place can make you happy, can it also make you well?", has been rightly quoted by Esther Sternberg, a renowned American health and wellness professor. This is because a hospital building is a place that cures, heals. Thus, one needs to design them with utmost attention to detail and purposefulness. However, the design of hospital buildings has been largely functional and practical to aid in diagnosis and curing. Designing for wellness and recreational healing is often brushed aside.
In India, the idea of holistically designing healthcare spaces has been undervalued for the longest time. Conventional design of healthcare buildings includes long corridors, sterile wards, and unorganized lobbies. In this traditional approach to design, many concepts of healing such as interaction and movement are ignored. The benefits of the outdoorsy environment on healing have been overlooked which has made hospital plans very introverted. Moreover, centrally-air conditioning hospitals have further increased the gap for landscape-integrated designs.
Planning Healing Spaces In The Contemporary World
In the past decade, there has been a shift in this lopsided approach to design. With medical tourism gaining impetus in India, the need for designing restorative spaces in hospitals has been felt. Thus, designers are aiming to create state-of-the-art hospitals that cater to international standards. Architects are introducing break-out spaces through courtyards and gardens to encourage interaction and have better air circulation.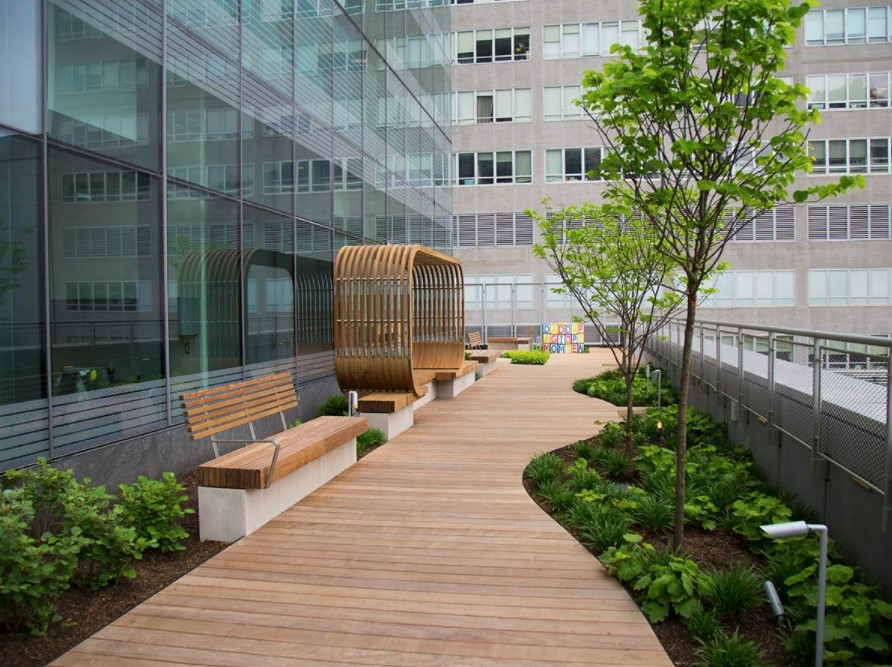 This approach has been further elevated with the social distancing, isolation and sanitization norms enforced by the Covid-19 pandemic. The coronavirus outbreak has mandated people to think beyond the regular. Therefore, along with improving the medical infrastructure in terms of equipment and machinery, there has been a common need felt for spatial improvement of healing centres.
The Indian government has made advancements in this regard with the Pradhan Mantri Jan Arogya Yojana. This scheme aims to undertake revolutionary measures to make holistic healthcare available for all. As an extension of this mission, the government in 2018 proposed to build 1,50,000 Health and Wellness Centres (HWCs) across the country. Under this initiative, the existing Primary Healthcare Centres and Sub Centres would be transformed to provide for an expanded range of healthcare services.
Why Is Landscape Different For Healing Spaces
The inherent connection between humans and nature is palpable. According to a 2019 Harvard Health research, nature is the greatest stress-buster and healer. It has the power to instil the right emotions for healing. The colour and sounds of nature accelerate the rejuvenation process. The physically tiring experience of being ill can be toned down by allowing patients to interact with nature. Thus, landscape design is of significance while planning a healthcare building.
The flora and fauna of a healing landscape are different from that of a garden in a residential vicinity. This is because certain plants have healing properties and their fragrance can assist in rejuvenation. Popular in the West, therapeutic gardens are an excellent example of healthcare landscaping. Apart from these, hospitals are now being planned with courtyards, atriums, terrace gardens, meditation areas, and water bodies to invite nature indoors. They are so designed to boost the patient's recovery and provide comfort in the stone-cold hospital environment.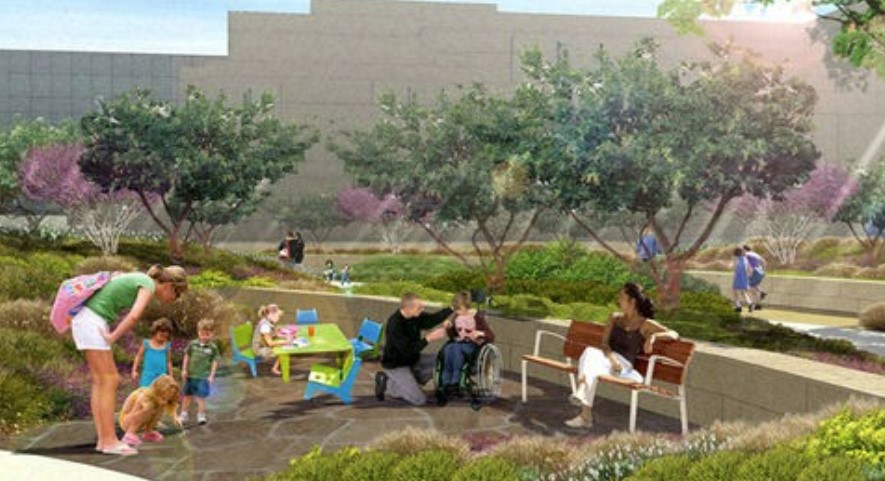 How To Plan Landscape For Healthcare Buildings
The landscape design for hospitals depends upon the kind of patients it is expected to cater to. Broadly categorized, there are two types of healing landscapes. The first one deals with providing less stimulative healing activities such as observing, listening, smelling, and strolling. It is suitable for people who require lower mental restoration. The second type deals with designing for highly stimulative activities such as gardening, planting, exercising, discussions etc. This is suitable for people who have high stress–levels or need rehabilitation. In both cases, the activities act as positive distractions for patients thereby enabling them to heal faster and better.
The primary goal of any hospital landscaping is to reduce stress, distract from physical pain, and improve a sense of well-being. With this as the expected outcome, a healing garden plays with all five human senses to create a therapeutic effect on the people. The sight, touch, smell, sound and taste are soothed to enhance wellness.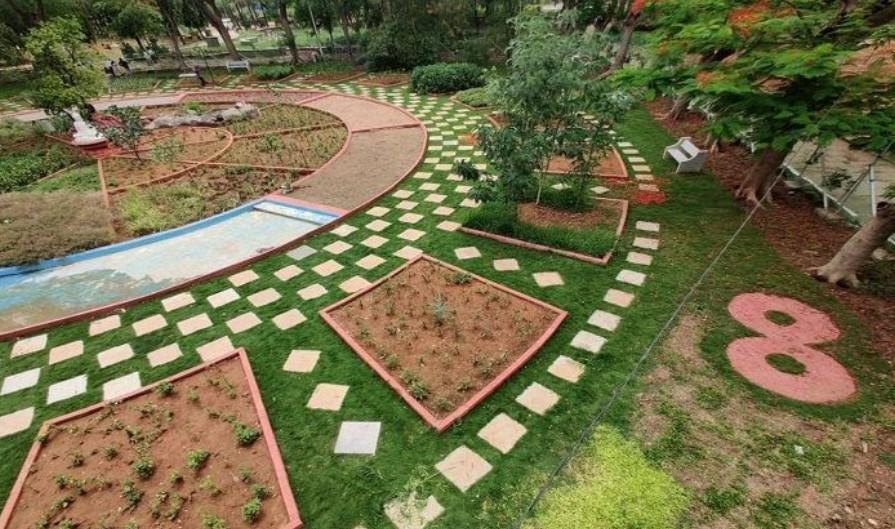 Most health conditions are psychosomatic. Thus, the vegetation in a healing landscape should be designed for the kind of psychological impact it wishes to have on the users. Therapeutic gardens are a form of "applied art" and can give their visitors a rich variety of experiences. The landscaping elements such as outdoor seating, pergolas and canopies, plants, pathways and physical barriers should be custom designed for its users. Therapeutic gardens have to be designed to increase feelings of control in visitors by providing a temporary escape. A temporary escape insinuates a degree of privacy where the patient's mind can wander away from the current situation. The sense of control also makes the patient feel confident and optimistic. The colours in nature can act as a medium to promote wellbeing and calming of the senses. Yellow and red provide warmth and energy that uplifts people's spirits. While blue and purple provide for a calming and royal effect. The colour pink invokes comfort and nurturing emotions in the spectator.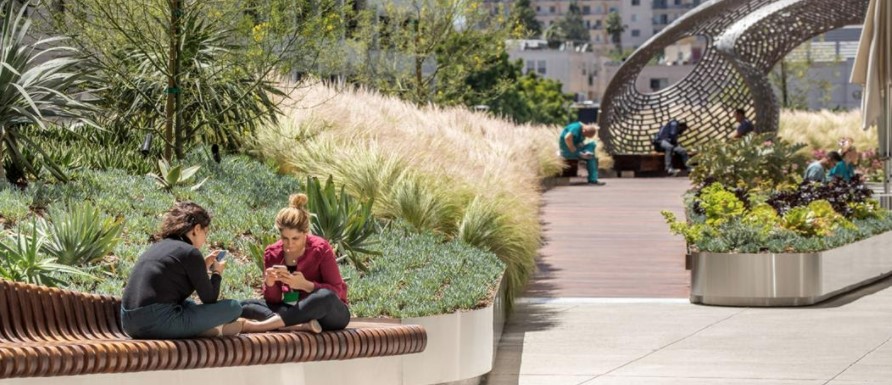 Medicinal and flowering plants, herbs and creepers are suitable choices for hospital landscaping. They provide the necessary visual aesthetics that one needs to relax. The play of light is also an interesting factor to touch upon. Planning for shaded walkways, gazebo sittings and skylights can help patients soak in the sun as needed. Even providing a view of the landscape through the room's window can prove beneficial for healing.
Revitalizing landscape as an integral part of healthcare design has now become crucial. Although landscaping in skyscraping city hospitals can be a challenge, vertical gardens and green walls are proving to be great solutions. Landscape architects can play a vital role in redefining healthcare buildings by identifying the scope for green pockets. It is certain that with the changing dynamics of healthcare designs globally, landscape-integrated plans will emerge as a solid contender for holistic healing.
Sources:
Disclaimer: The information contained herein have been compiled or arrived at, based upon information obtained in good faith from sources believed to be reliable. The opinions expressed within the content are solely the author's and can be subject to change. The image featured in this article is only for illustration purposes. If you wish the article to be removed or edited, please send an email to editor@biltrax.com