The development of cities causes an increase in the exploitation of natural resources more than environmental capacity. As the climate changes, green spaces of all types will be increasingly important in maintaining liveable communities. A type of green space common to suburban communities is residential open space.
The changing housing pattern demands a more intensively used, hardy, and more consciously designed landscape setting. This eventually extends to the creation of well-planned passive and active recreational areas on decks, podiums above car parks as well as the ground making imaginative use of levels and landscape elements.
The design has to be functional and sustainable, producing spaces with physical conditions with an elaboration of rich multi-tasking performance of urban green space for a modern urbanized society. It has to cater to the basic, recreational and social needs of the occupants, to suit their use such as comfort, shelter, protection and recreation.
Ideas begin with what nature has already provided — topography, soils, climate, water and indigenous vegetation. Then the landscape designer can intervene by manipulating what exists and by adding new elements – trees and shrubs, ground covers (plants or paving), walls and fences, architectural structures, water courses, pools and fountains, lighting, seating and sculptural forms. Dense plantations of trees and perennial shrubs are ideal as thickly vegetated areas are helpful in combating noise and air pollution. Thickets of vegetation add freshness to the air and also lower temperatures slightly. They form an oasis in the otherwise hard-concreted areas. Water adds life to the environment, but water being a limited resource, needs to be used judicially.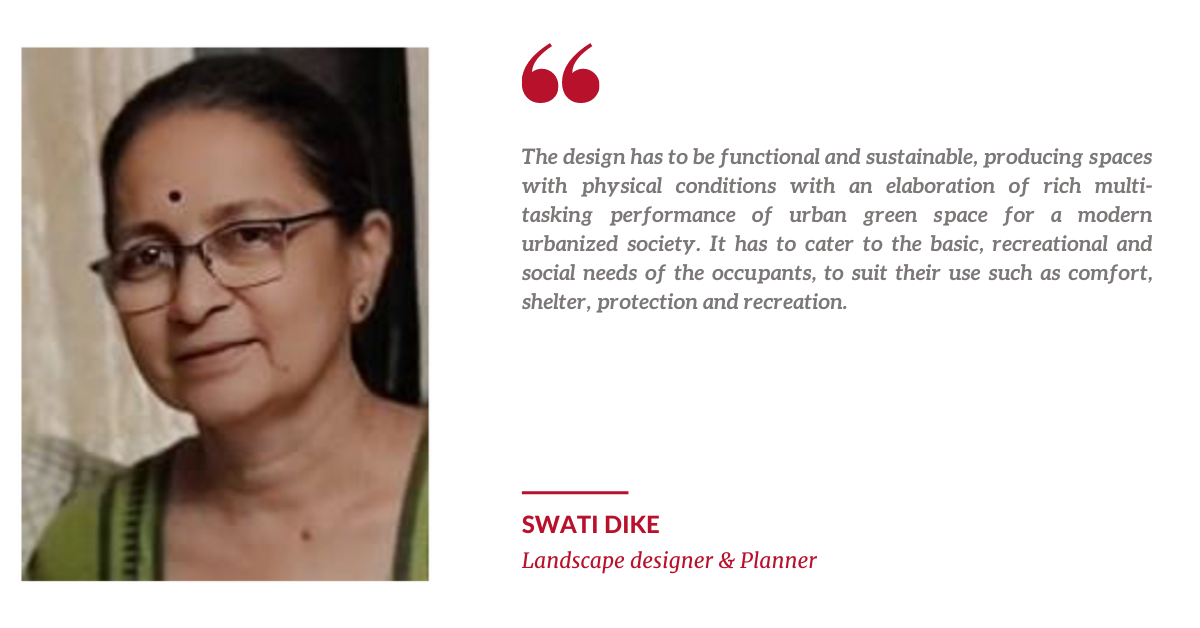 Swati Dike
Visit: https://swatidike.com/
Contact: 098212 65181