The building construction and infrastructure industry contribute to 78% of India's gross capital formation. This sector provides livelihood to 16% of the country's working population. It is also growing annually at a rate of 15.3% to meet India's rapid urbanization and development needs. Government initiatives such as the Smart Cities Mission have escalated construction activities to an all-time high. These facts establish the massive impact that the Architecture, Engineering, and Construction (AEC) domain has on India's growth. This is redefining the face of contemporary India by making it the third-largest construction market globally.
Along with the rapid developments, the construction sector also generates humongous waste in the form of materials and products. According to a Building Material & Technology Promotion Council (BMPTC) report, India's waste generation from construction and demolition activities is estimated to be 150 million tonnes annually. However, India's potential to recycle this waste is just about 1% of 150 million tonnes or 6,500 tonnes per day. The remaining 99% of the non-recyclable waste is dumped in landfills; never to be used again. These materials include concrete, glass, brick, metal, etc. which take sometimes millions of years to decompose.
Why is it Important to Recycle Building Materials?
The ever-increasing reliance on non-recyclable materials becomes an alarming concern for the AEC industry given its role as a growing contributor to the world economy. Switching to sustainable ways of building design such as passive cooling techniques, renewable energy resources, and recyclable materials becomes a feasible alternative approach. While passive cooling ideas are preferred by most architects for designing sustainable buildings, using recyclable materials is a close second. This is because using environment-friendly materials significantly reduces the carbon footprint of a building and saves construction costs. It also reduces the demand for new resources and eliminates the need of sending waste to landfills.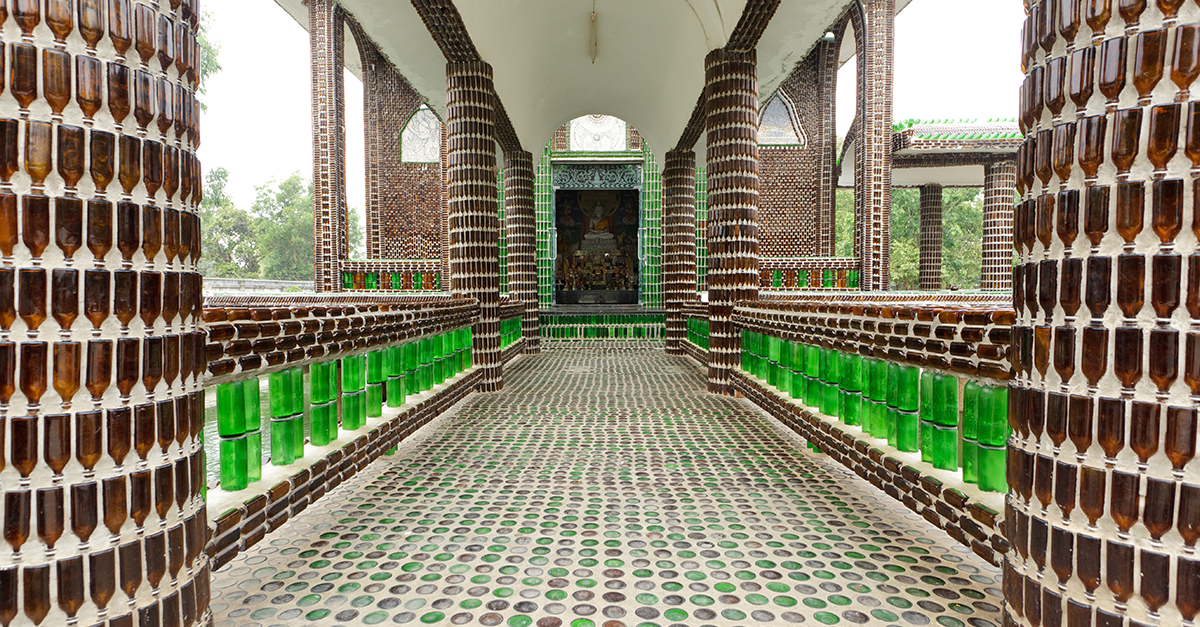 The beauty of recyclable materials lies in the fact that they can be broken down, processed, and molded into another form to be reused. Recyclable materials are eco-friendly and usually sourced from a location near the site. Earth and bamboo are examples of natural materials that can be recycled. But, many architects such as Anupama Kundoo and Yatin Pandya are exploring processed materials such as straws and metal cans to be used as recyclable materials.
Which Materials Can Be Recycled and Reused?
Every building material has a shelf life and can be recycled for use. Based on the structural stability a material can offer, it is repurposed for use. Conventional building materials such as concrete and asphalt can be used for building driveways, roads, and footpaths. Metal can be reformed in different ways by melting and remolding. Alongside these conventional ways, architects are exploring their creativity to devise fusion materials that suit contemporary building needs.
Ashcrete is a building material that is making its way to substitute traditional concrete. It is a byproduct of combining coal with cement. It also reduces the amount of flyash going to the landfill. Using ashcrete reduces permeability to water and aggressive chemicals. Since it is properly cured, Ashcrete has smaller pores and provides better structural strength.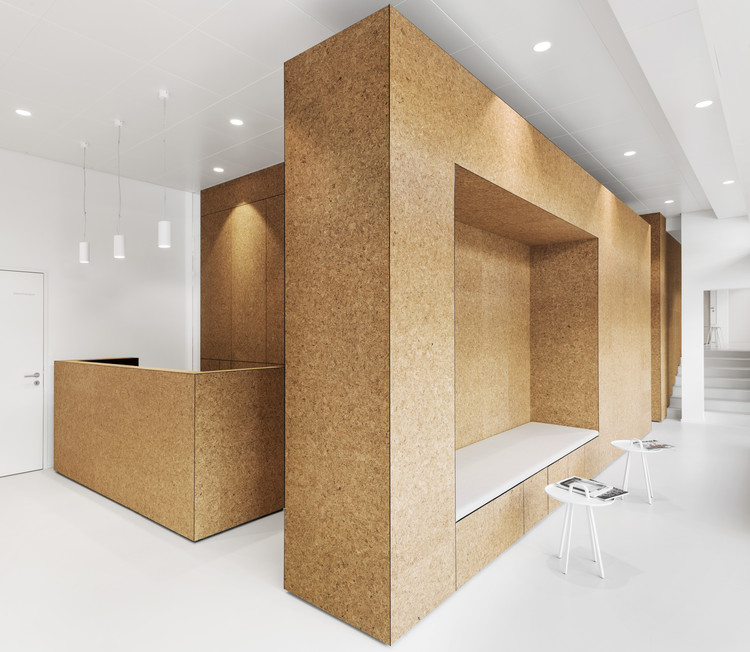 Cork is another popular material that finds wide application in construction as well as interior design. Its hard-wearing properties make cork the perfect fit for flooring and wall paneling materials. Its aesthetic qualities are coupled with functional values such as resistance to abrasion and fire resistance. The earthy tone and natural grains of cork make it a calm and soothing material to look at.
Plastic bricks are a relatively new sustainable material that is becoming the talk of the town. As the name suggests, this innovative building material compresses waste plastic into building blocks. These are also popular by the name EcoBrick. ByFusion is a company that is developing RePlast- a new material to produce an economical modular technology to produce recyclable plastic bricks. The use of carbon-neutral manufacturing practices to make the modules aims to lower the greenhouse gas emission by 95% as compared to concrete blocks.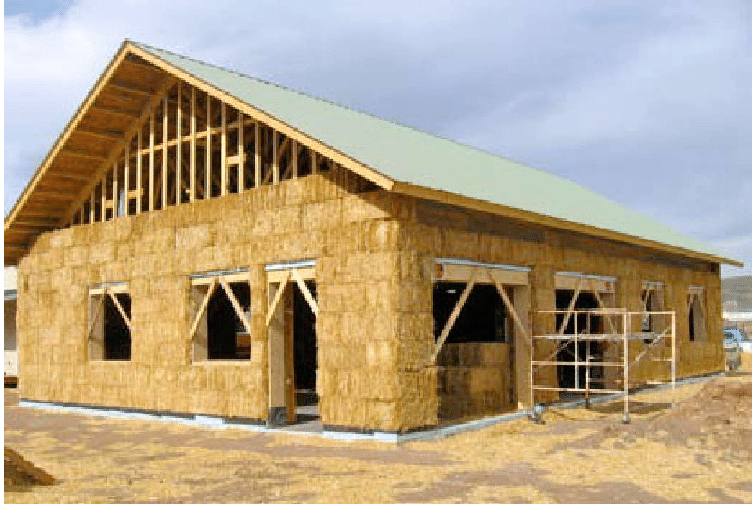 Another excellent example of recyclable material is straw bale. It is an organic building material and provides the benefits of thermal comfort and economical construction. Straw provides energy efficiency that exceeds the conventional brick and concrete masonry. They have an earthy tone and provide rustic and minimalistic aesthetics to a space.
The idea of recycling glass as a replacement for natural aggregates and cement is gaining attention. The property of being chemically inert, low gas permeability, and high intrinsic strength make recycled glass a viable building material alternative for cement. It is also a good replacement for granite sand and gravel used in landscaping.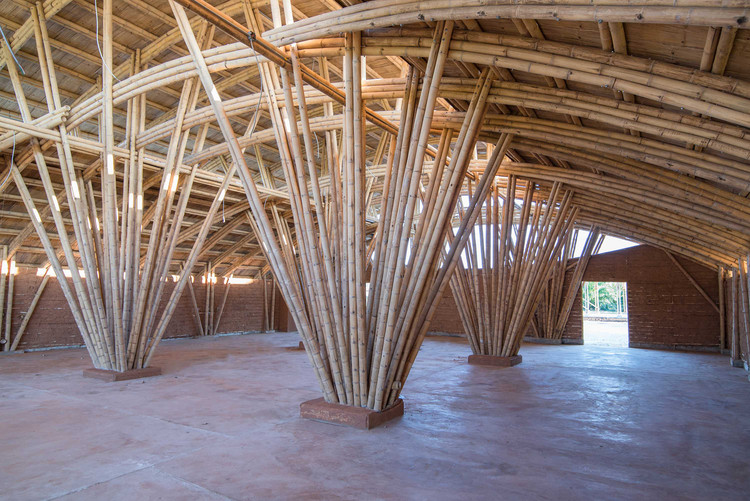 Bamboo is a great substitute for wood and steel. It is sustainable, economical, and widely available across India. It is a composite material that is versatile and can be used for interior and exterior use. Bamboo has immense structural strength and is even suitable for long-span structures and massive-sized buildings.
Using recyclable materials is a fashionable and sustainable movement in the AEC world. Architects are discovering innovative materials that will stand the test of time and define the way forward for sustainable building construction. Recyclable materials will reduce the stress on the demand for renewable energy resources. Technology and modern material testing techniques will also play a vital role in promoting recycled building materials.
Source: