Despite the COVID-19 pandemic, the real estate sector is projected to benefit from remote employment and a strengthened regulatory environment.
The real estate industry in India experienced significant setbacks during the first and second waves of the COVID-19 epidemic, but it is currently showing signs of gradual recovery. Experts predicted that the market will fully recover in 2021, since enquiries, site visits, and sales had begun to approach pre-COVID levels in most cities. The comeback of a new variant or strain of COVID-19 in a more fatal form by March 2021, on the other hand, caused significantly greater concern than 2020. With numerous cities, including Mumbai, Pune, and Delhi NCR, experiencing partial lockdowns and people trying to get healthcare, the real estate market had taken another hit.
The COVID-19 pandemic has defied practically every economic forecast since its inception. Stores, restaurants, and businesses emptied out in record time in March 2020. The stock market plummeted, and employment vanished overnight. The economy, as well as the real estate industry, recovered in record time. Output is now higher than it was before COVID-19, and jobs might return to pre-COVID-19 levels by early 2023.
To many, the real estate market may appear to remain relatively unchanged since the pandemic. However, that is not the case. Some marketplaces and industries may have irreversibly transformed. Other economic stumbling blocks include supply chain bottlenecks that impede or halt manufacturing. Fears of inflation, a key economic risk, are exacerbated by labour and goods shortages.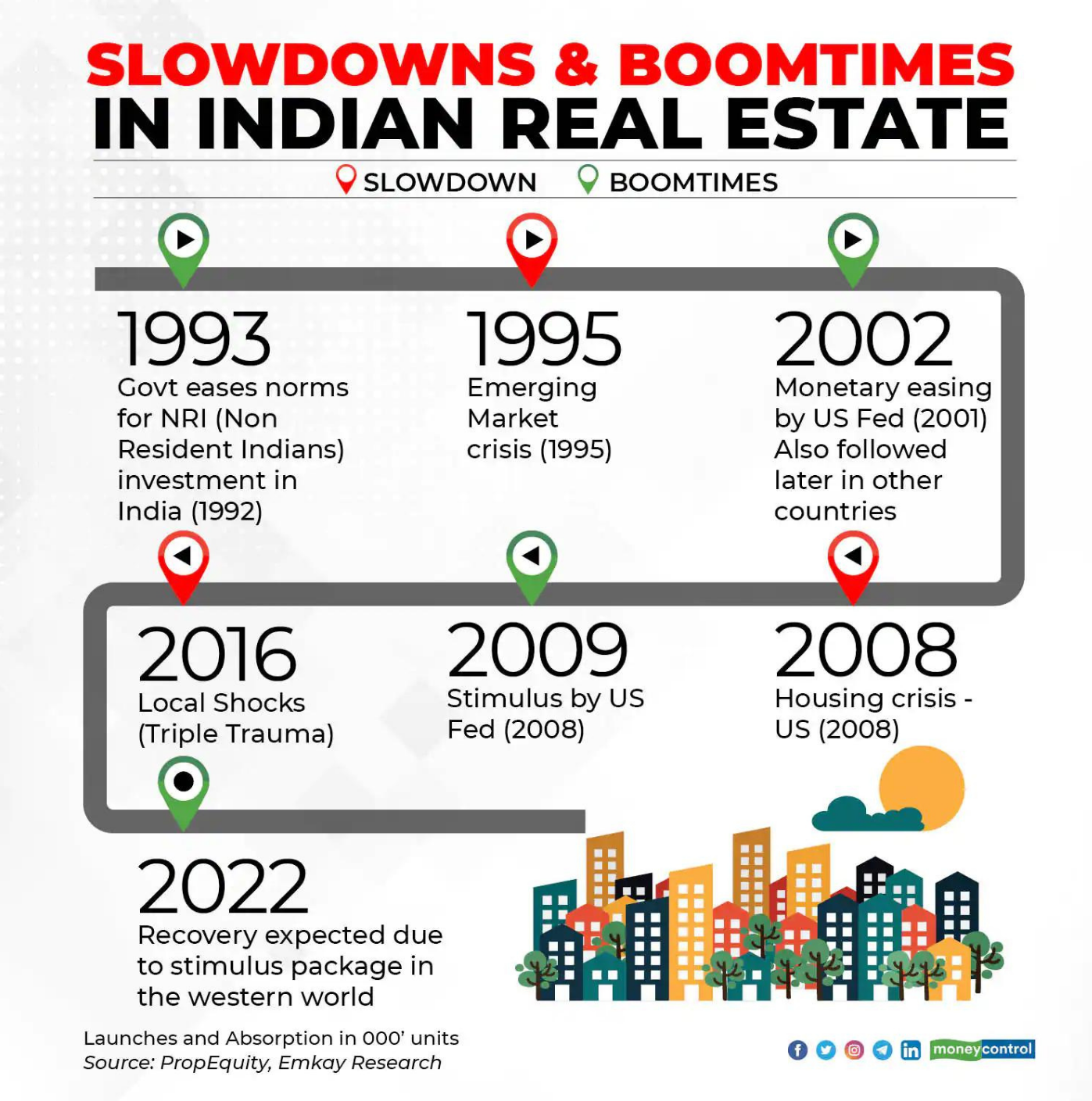 Early signs
Early warnings of the pandemic's dangers prompted governments to make critical decisions and propose relief efforts. The Prime Minister raised stakeholder morale by initiating the Atma Nirbhar Bharat campaign, which was bolstered by the RBI's imposition of loan moratoriums. Stamp duty reductions and loan rate reductions benefitted developers much during the tumultuous times. Strategies were soon re-envisioned by embracing technology and enjoying the benefits of developing ideas such as the work-from-home model, remote offices, second houses, large spaces, and so on. Easing investment prospects through REIT flexibility and tax breaks bolstered market sentiments, and the sector is now on the mend, with homebuyers and investors returning to the market.
The emergence of a pandemic, followed by a strict statewide lockdown, posed significant hurdles to the industry, bringing it to a halt. The same opinions were expressed in a study that stated just 19,038 units were sold across India's eight primary property markets during the second quarter of 2020. Similarly, just 12,564 units were introduced in the same markets over this same period. Residential property sales fell by 79 percent year-on-year in 2020, while new supply fell by 81 percent. Moreover, during the lockdown, there was a decrease in commercial space sales and supplies.
What can we anticipate now?
The virus will play a significant role in this. The Delta variety gained hold in early 2021, and COVID-19 infections skyrocketed. Many people cancelled their trip plans and were hesitant to dine inside a restaurant or go to the movies uncovered. Employers postponed their return-to-work plans. From March 2022 onwards, a majority of the states have opened everything up to its pre-pandemic state, however social distancing protocols are still in place. One thing is certain: businesses must have flexibility and the ability to adjust swiftly to market developments.
Despite pandemic challenges, the industry has shown resilience and consistent growth in 2022 and will be triggering growth with the impact of COVID-19 on decline. For a time, India's first wave of COVID-19 brought the sector to a halt. However, by the fourth quarter of 2020, the market had begun to pick up speed, thanks mostly to increased demand for residential spaces. The second wave of COVID-19 struck the industry just as it was reviving. Unlike the first wave, the second wave's ramifications were not as long or as visible. Vaccination campaigns and decreased infection rates boosted market confidence. Furthermore, the holiday season fuelled the sector's expansion.
The sector made a significant recovery as a result of these causes. The rise seen in Q3 2021 is expected to continue, and the year will close on a high note. According to a JLL research, residential sales increased by 65% sequentially in the third quarter of 2021. The sector will also benefit from a low-interest-rate system, duty exemptions (in some states), realistic property pricing, and appealing offers, all of which will lead to inexpensive synergies.
The real estate index has surged by 75% in the last year and is the second-best performing sector index, outperforming the benchmark index Nifty50. Real estate has not only made a return, but is likely to thrive in the coming year, thanks to record low lending rates and temporary stamp cuts.
Industrial investments totalling $1 billion
The industrial sector is expected to witness investments approaching $1 billion in 2021, led by significant multinational firms purchasing both ready and greenfield warehousing facilities. Aside from data centres, the life sciences industry is gaining traction. According to a recent Colliers poll, industrial and logistical assets would be the most sought-after assets in the APAC region in 2022, with more than 20% of investors forecasting capital value improvements of 10-20% in value-add assets, fuelled by tailwinds and large-scale economic transformation.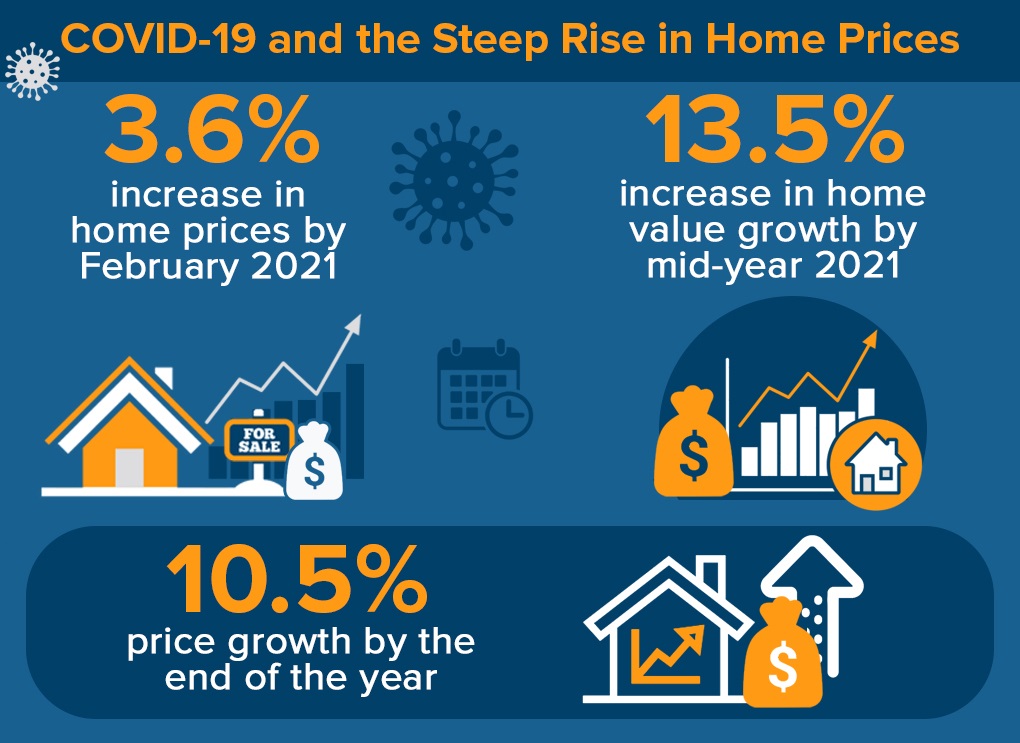 A combination of factors such as rising demand, cheap lending rates, improved household savings, and government assistance accelerated expansion. The top seven cities in the country made an excellent return after the shutdown last year. A recent survey also indicates that property sales in 7 cities climbed by 29 percent and new launches surged by 51 percent in this quarter compared to the same time in 2020. In the third quarter, Delhi NCR, Mumbai, Bengaluru, and Pune accounted for 83 percent of total sales. The performance of micro-markets in the Delhi-NCR area, including Noida and Gurgaon, saw a double-digit increase in property appreciation prices, with 11% and 13% rise, respectively.
Real estate has always been robust, and purchasers view the sector as a long-term investment. During this exceptional period, developers took advantage of the pent-up demand to clear the majority of the unsold inventory. Buyers came out to invest in homes as well, thanks to reasonable prices. Demand surged as a result of them stepping forward to capitalise on the lower demand and improved negotiating potential, as well as considerable interest from industries such as technology, banking, and financial services, among others. Tech-enabled systems, increasing operational momentum, demand for larger flat sizes and independent floors, and new trends are making the market appear good in the next quarters.
Cost Constraint
Price hikes are projected to be limited to the 5-15 percent range (at the end-user level) since developers do not want to disrupt demand, which is now predominantly driven by end-users. The September-quarter ending in 2021 saw a 3% increase due to an increase in raw material costs. According to reports, private equity investments climbed to $420 million (Rs 31.64 thousand crores) from January to September 2021, surpassing the total for the entire year of 2020. As work from home continues, average house sizes have increased by 26%.
Conclusion
Today, the impact of coronavirus has surely instilled anxiety in the business, resulting in a short halt, but developers are now better prepared and well-versed in pandemic know-hows. The Indian real estate market is currently a buyer's market, and the continuous immunisation campaign is bolstering homebuyers' confidence. The industry is expected to restart growth in the second quarter of fiscal year 2022-23. A consistent flow of capital will assure growth prospects with better returns. The pause will be temporary, and cheering and market confidence will resume as soon as we successfully bend the COVID-19 curve.
Source:
Disclaimer: The information contained herein have been compiled or arrived at, based upon information obtained in good faith from sources believed to be reliable. The opinions expressed within the content are solely the author's and can be subject to change. The image featured in this article is only for illustration purposes. If you wish the article to be removed or edited, please send an email to editor@biltrax.com