Sagarika Suri, founder and principal architect at Studio Tessera, Mumbai, is a versatile designer. She has an equal inclination towards exploring material and technology as much as planning and building design. An alumnus of CEPT, Ahmedabad, and MIT, USA, Sagarika has always geared towards creating and developing a sustainable ecology through the lens of architecture and urban design. The studio commits to an interesting sustainability motto–"Using waste material from construction sites by streamlining inventory, storage, transportation and re-assembly." Their material lab, "rockpaperscissors", researches materials like plywood, paper, resin, concrete, glass, and cloth in-depth and develops prototypes, both big and small, with their experiments.
Please familiarise us with your practice and its core values. What is the vision behind the practice? What were the initial projects like? Were there any challenges that shaped the studio into its current form?
We set up Studio Tessera in 2018. Since then, the studio has always executed projects of diverse scales, including planning, architecture, interior design, and furniture design. Material and technology enchant us as much as planning and building typology does. We believe that working at several scales enhances the project and the practice.
One of the first projects we undertook was refurbishing an existing hotel in Meerut as a part of the larger rebranding of the hotel. The client wanted a complete renewal of the hotel premises which required the design retrofit of a few amenities while adding some new ones. Throughout the project, we considered the idea of rebranding on program, space, material, and detail. The client was enthusiastic about exploring materials and prototyping, which encouraged bespoke design elements along with the larger spatial planning. This early project set a benchmark of sorts for material and detail explorations within the studio.
The practice has developed into a studio-workshop format, which is further enhanced by our material lab, "rockpaperscissors", set up to experiment with ideas and concepts at a smaller scale.
What are your most favoured materials for design? Could you cite a few examples from your portfolio?
Our core ideology is to understand common materials, their properties, and their potential to become sustainable. We strive to derive their optimal performance using them in the best possible way.
The Glass House, Meerut, was constructed with polycarbonate because it was a lightweight option that allowed natural light to filter into the interior. To optimise thermal and acoustic performance, we used a high-performance, multi-cell polycarbonate and detailed the roof with two layers of polycarbonate. For our project, "House on a Rock", we used basalt stone from the area and on the site to make the footings and retaining walls.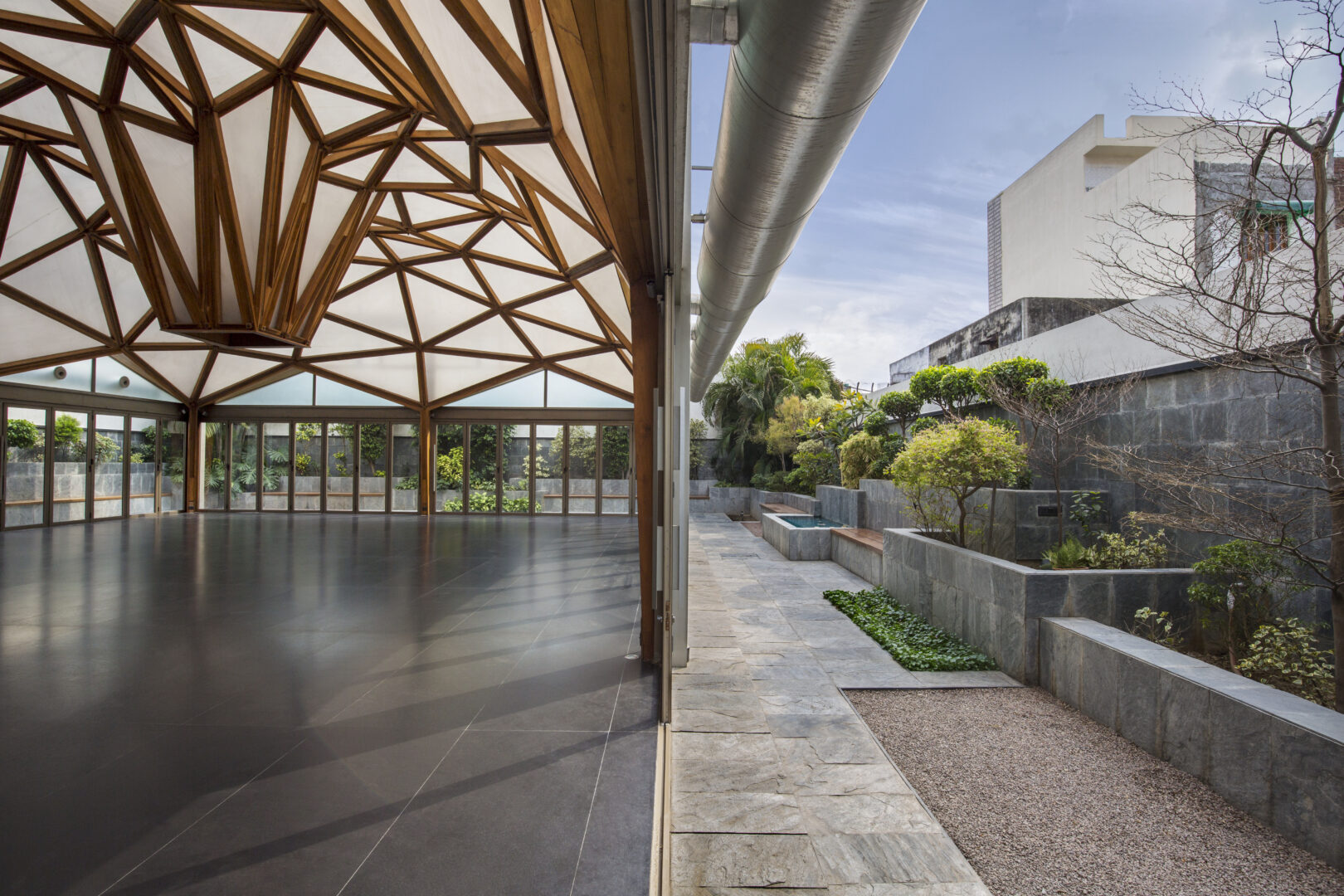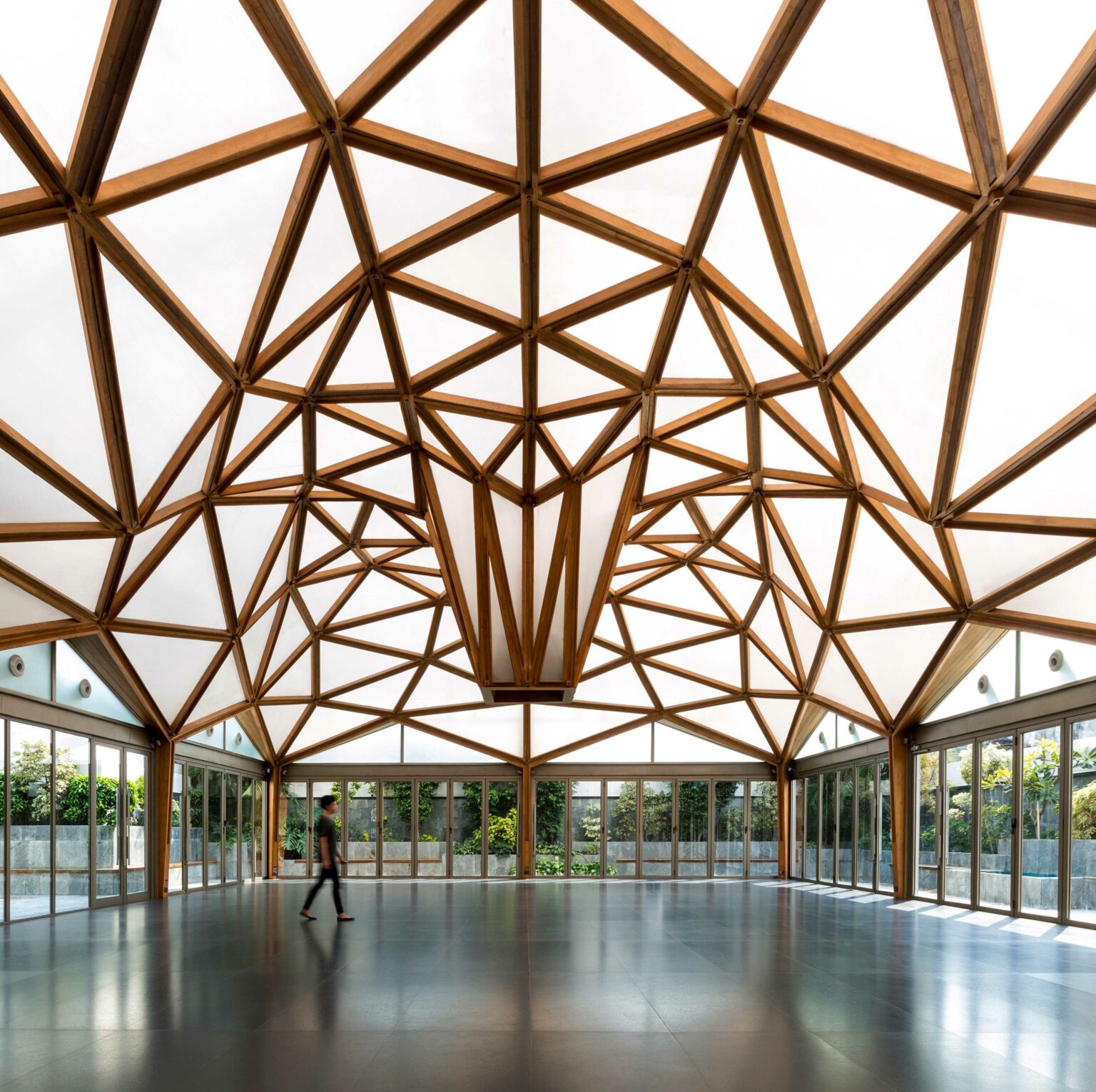 When creating smaller-scale objects, we are experimenting with the limits of commercial and marine plywood through different processes. We have been testing kaolin, rubber adhesives, and fibreglass reinforcements on a smaller scale to create durable concrete objects.
Do you feel opinions towards waste as a raw material are changing in the industry?
The main ethos that defines our world today is sustainability and resource consciousness. It permeates all aspects and all fields, including design. Waste management, processing, and design are intrinsic to the movement on several scales. Many of such practices and products get rewarded by the fraternity and consumers, whether in clothing, products, or buildings. Our studio has also found the repurposing of waste materials from our site very rewarding, and we hope to continue the experiments with other materials as well.
Could you tell us about your research and experiments at the material lab "rockpaperscissors"? How was the idea of Liquid Ply conceptualised?
We set up "rockpaperscissors" in 2018 as a counterpart to Studio Tessera. It is primarily a material lab to experiment with ideas and concepts on a smaller scale. The lab explores materials intimately, from assembling complete objects to developing isolated details, to gain a practical understanding of their physical properties, how they are created and altered, the breaking points, geometrical logic, and their potential as sustainable materials. This iterative process becomes the most important aspect of the experiment, as every product is largely an outcome of the overall trajectory of the experiment.
It all started with iterative experiments with waste wood and plywood from the sites, the first project being the design of a knob that went on the studio door. We developed the designs digitally, with an in-house team of carpenters crafted the knobs, and we outsourced the lathe work. Because the process was exceptionally productive, we made larger-scale and more ambitious plywood objects. Having an in-house team of carpenters and continual access to plywood waste has allowed us to continue our experimentation. In recent times, the studio has looked to explore one material more consciously at a time. We have so far worked with resin, acrylic, concrete, and paper in more hands-on experiments.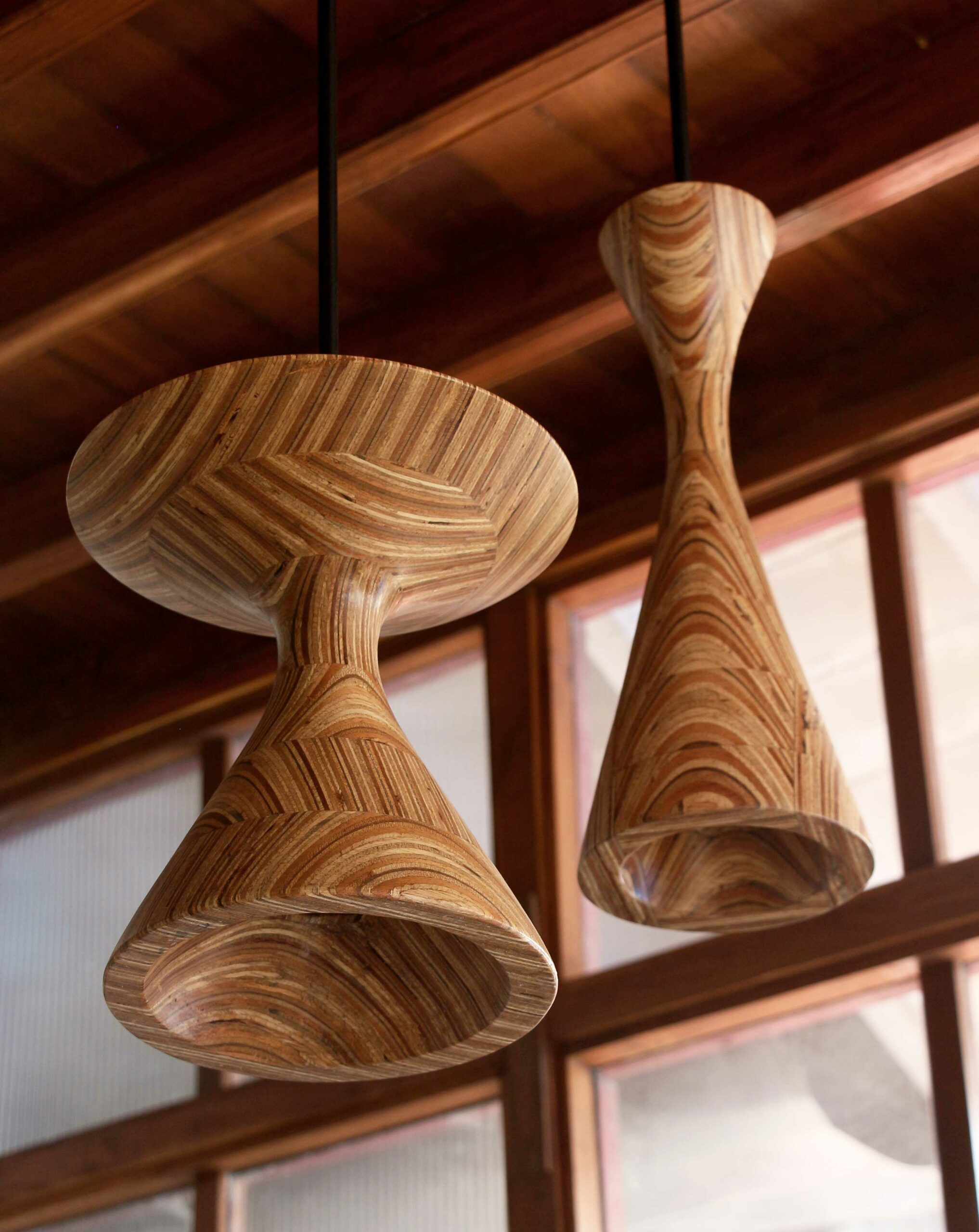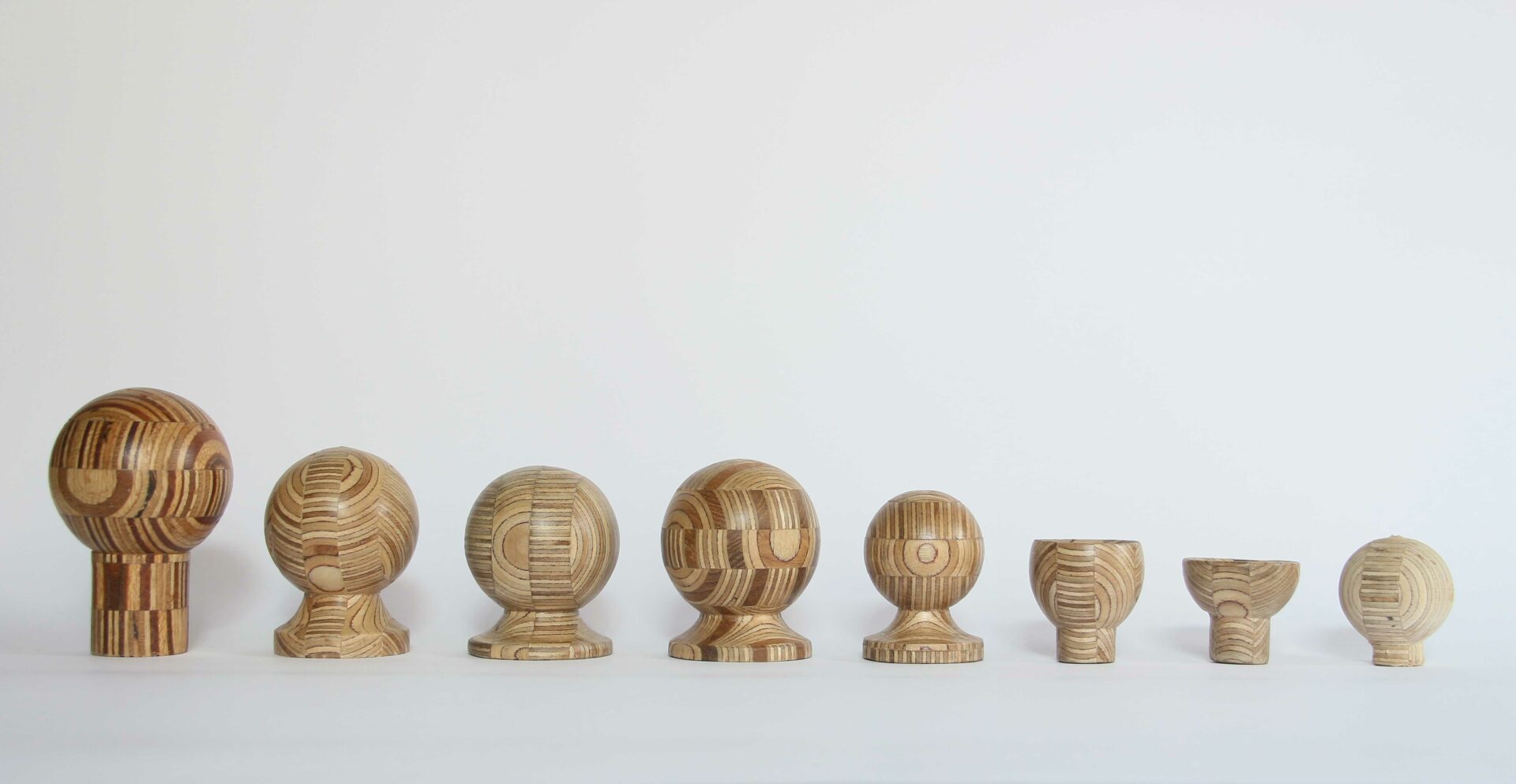 What is your viewpoint on attaining sustainability through waste? What is the role of embodied energy, and how can such carbon-intensive products drive the future of sustainability?
We use waste material from construction sites by streamlining inventories, storage, transportation, and reassembly. Waste material gets processed into products and material experiments instead of ending up in a landfill. These modest experiments using wood and plywood waste from our projects have immense potential to scale up and positively affect the environment. In dovetailing interior and product design practice and creating a closed-loop, "rockpaperscissors" is an experiment in reducing the overall footprint of design practice itself. We have our eyes set on waste laminate sheets, pre-laminated boards, stone chips, and slurries for the future.
We aim to tackle sustainability in two different ways. First, through 'environmental impact' and second, through the lens of 'transformation by design.' We intend to create inventories from various practices and sites in the city so that substantial waste material can be collected, catalogued, and re-assembled. Once reassembled, we explore various modes of emergence for these waste materials that are process-intensive; bringing finesse to the products and removing their associations with waste.
We have thus established that through intimate and hands-on iterations, waste can be effectively transformed. This completes the circle of sustainable design by addressing both the environment and design processes equally.
With recycled plywood, you have achieved an amazing range of products, including lamps, table legs, and doorknobs. What is coming next for Studio Tessera and "rockpaperscissors"? Can we expect more diversification from the product line?
We started with the design and fabrication of small door knobs with liquidply, and we have now scaled up to a collection of lamps and a few larger furniture pieces. We have used these lamps and knobs in interior design projects in Mumbai until now. Likewise, we also crafted a bespoke chandelier for a PR firm, which was inspired by the branding of the firm. The chandelier was an assembly of individual lamps from waste birch plywood and acrylic from two other sites. For yet another project, we could use the waste plywood from the site to craft a pendant lamp, which found its place within the project itself.
These experiments are ongoing and as we continue to learn, we have created a broad collection of lamps and furniture, which we feel is retail-ready. The process of assembly and turning can create custom objects, often using waste material from the same site. We feel that both retail and customisation can be a good way to subsidise further experiments and also help to expand infrastructure.
Physically, the scaled and shaped products are made based on the pieces of waste plywood, their properties, and the size that the lathe machine can support. The objects so far have ranged from small wall pegs to table legs. Scalability will arise from the concept of modularity and assembly, which allows large-scale chandeliers and furniture pieces to be assembled from smaller pieces, which are easy to fabricate because of raw material limitations and fabrication methods. Going ahead, we would therefore look at scalability by exploring newer processes, like a CNC machine and bigger lathe machines, which would inform the type of products.
Studio Tessera
Visit: www.studiotessera.in
Email: studiotesserabombay@gmail.com
Instagram: @tesseradesignstudio