Renowned worldwide for its exquisite mosaic creations that epitomize superior craftsmanship, design and technology, Sicis has unveiled its Amaretto Art Edition—available through Tessera India.
Sicis Amaretto Art Edition
This special edition was born from the desire to decline in a fresh and fun way the armchair and the seats that recall the shape of the famous Italian cookie. Originally, architect Massimiliano Raggi designed the Amaretto Armchair, but the new collection has been developed inside the Sicis Creative Lab. The collection is built around a single common thread: a creative universe that draws from art – abstract, conceptual lines, enveloping graphics – in a mix of geometries that know how to give a new look to the seat.
Some art movements have struck the industrial designers more than others and influenced their stylistic choices. These paradigms were transferred through the glass tesserae into original mosaics. In fact, for the Sicis Lab team, tesserae are a sort of language capable of impressing the plastic strength of material and colour and, like brushstrokes, form unique and fascinating works. Hence the transition to fabric to translate these works into exclusive textures. Like artistic and distinctive clothes for a playful elements such as Amaretto.
Art is, by its nature, temporary. It changes and adapts to the social will, but it helps to express ideas and currents of thought. Thus, while the tesserae in a continuous evolution of shapes and tones compose exclusive puzzles and investigate the plastic side of the material, on the other hand, it is explored the flexibility of the fabric on which to create fascinating patterns to decor the armchair.
The size of the armchair is 77x87x81and is made of plywood with polyurethane foam padding and covered with the Art Edition fabrics. The ring and feet are in metal with different finishings.
Highlights from the collection include:
Amaretto Art Edition Barstool
Amaretto Art Edition Stool
Amaretto Art Edition Chair
Amaretto Art Edition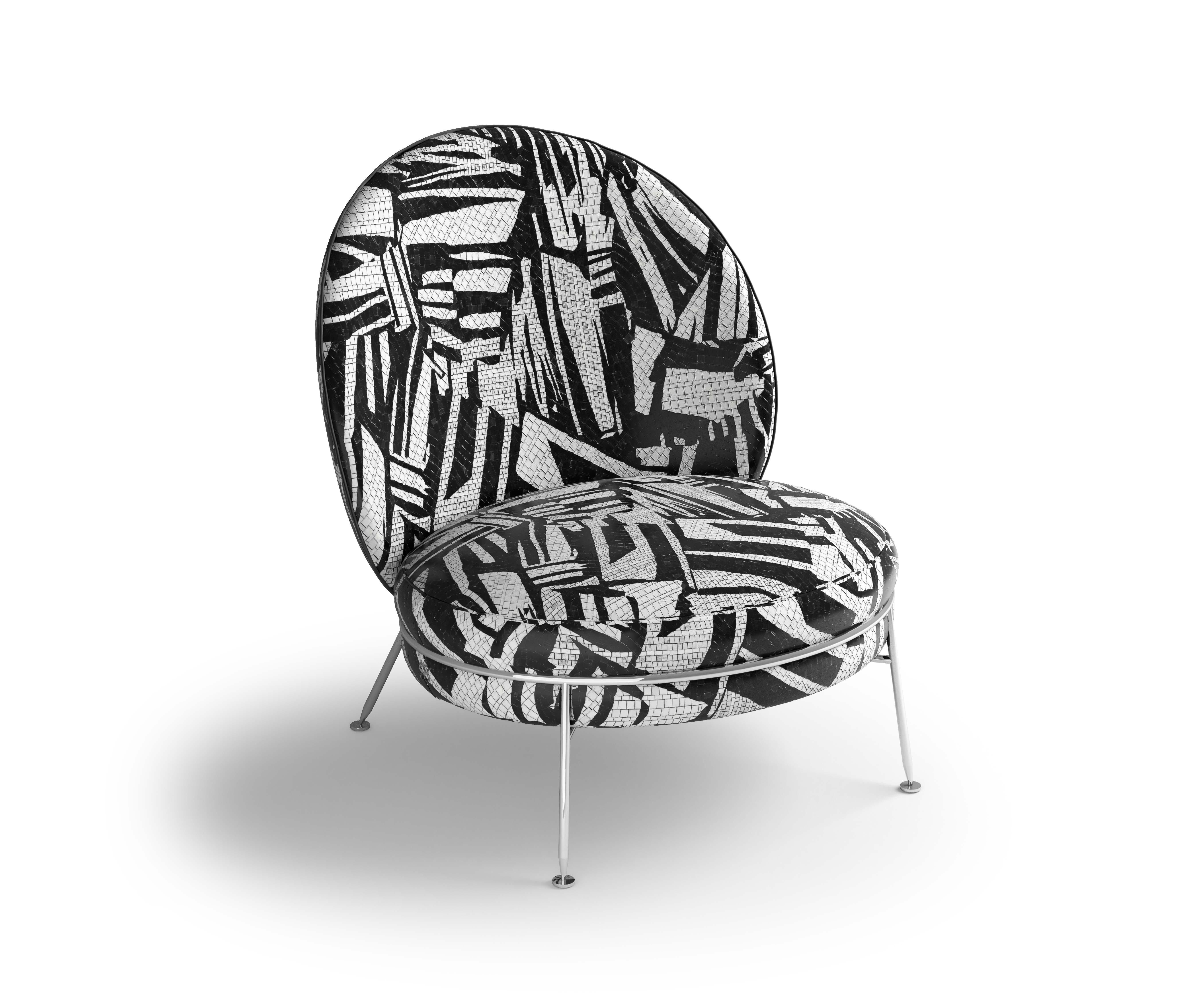 Amaretto Art Edition
About Tessera India
Born out of a passion for art, design and architecture, Tessera India is a collaborative effort of Kekin Shah, Falgun Shroff and Dhara Shroff. It combines the experience of more than two decades in the Indian design industry and the expertise of one of the country's most sought-after architects. Tessera's purpose is to curate experiences by introducing unique luxury design brands in India. They thus weave home collections that are personal, exclusive and tailor-made.
About Sicis
Sicis began its journey in 1987 in Ravenna, Italy, under the direction of Maurizio Leo Placuzzi. Since then, it has revolutionized the industry of mosaic through superior craftsmanship, design and technology. Through the age-old technique, each tessera is hand cut and made in Italy, by some of the most talented artisans.
Italy being a hub for traditional mosaic draws inspiration from design, fashion and art movements across the world. Sicis thus personifies this Italian eye for beauty, penchant for luxury and sense of pride in its rich heritage.
Diverse materials like stone, marble, Murano glass, wood, platinum, gold, come to life through a language that is unique and timeless.
Visit: www.tesseraindia.com
Email: info@tessera.com
Contact: +18001202249