Studio Bipolar is a boutique architecture studio in Delhi NCR and is led by Sanjana Mathur and Ujjwal Sagar. The designer duo also excels in branding commercial spaces rendering a unique identity to them. Their practice is rooted in balancing aesthetics with finances while providing the best client experience. Spaces designed by them incorporate experiential design intrinsically. They believe User Experience is not only digital but also physical. Their ability to craft inviting spaces and brand commercial undertakings strengthens their portfolio.
Boutique-style architecture practices, like yours, drive the project with state-of-the-art quality and devout details. What is the structure you follow to deliver such exquisite and personalised projects?
With all our projects, we follow roughly the same structure. The first thing is to talk to the client and get to know their vision for the space, not only in terms of functionality, colours, and styling but also in terms of materials and budget. Based on that we start creating mood boards for them. At first, we only work in terms of reference images and material samples and then figure out what we want to do with the space once the mood board is finalized. From there, we move on to creating 3D models and visualisations of the entire space and see how it looks. At the end of the day, no matter how big or small the project, it is very important to work alongside the clients so we are always on the same page.
What project in your portfolio was particularly challenging and which project are you most proud of?
White Balance, for us, was very challenging. It was an old building that hadn't been occupied for many years and was in a very dilapidated state. The roof was falling in, there was no drainage system to speak of and the previous tenant had installed an ugly mezzanine which had cut off the entire space into a series of small rooms with no natural light. Although the building had really good bones, we had to work to get it to a stage where we could restore the natural beauty of the space and create an open and airy look.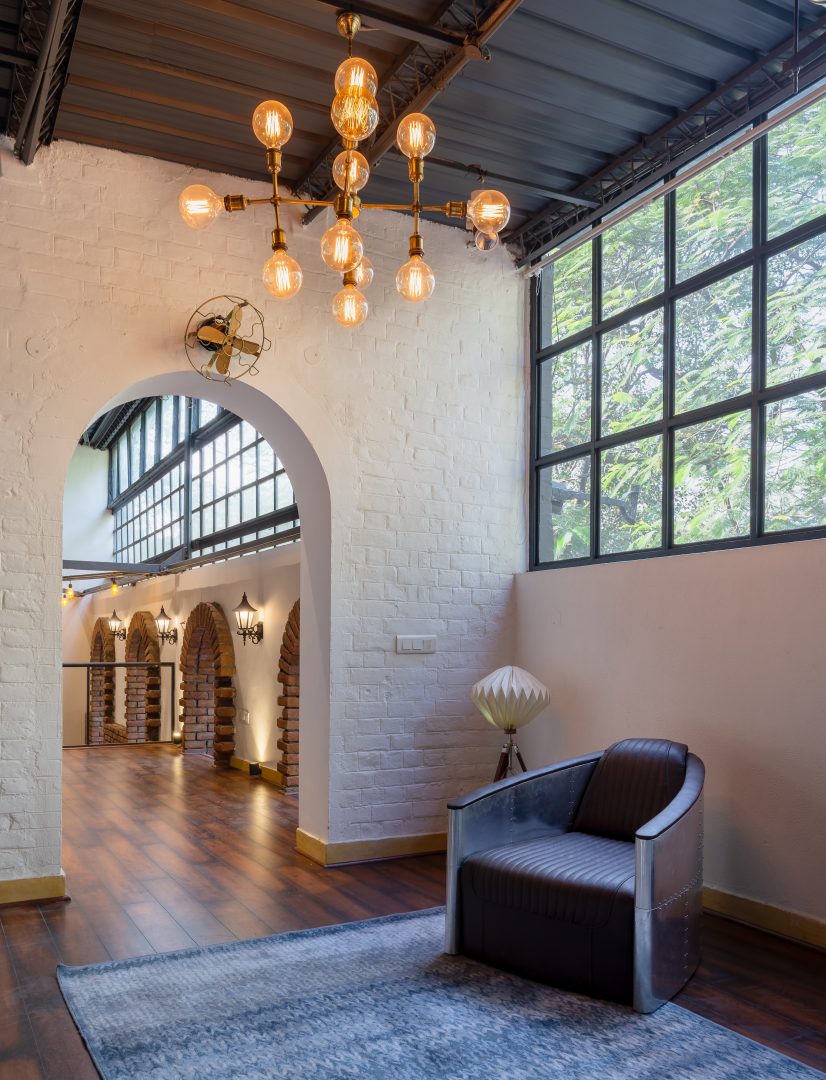 Interior design can elevate a brand's identity overtly. Could you explain why pairing interior design with a brand is important?
In today's day and age, branding the experience is everything. And it's not just limited to brick-and-mortar spaces for retail brands. Everything from their website design to Instagram feeds to the products being sold to the actual physical spaces, it all has to tie in with the overall experience they want the customer to have. In our spaces, we try to make that connection in new and interesting ways.
A good example is the series of visitor's lounges we created for Ashiana Builders across the country. Their entire customer demographic consists of young aspirational urban families who want to start building their lives in a good quality home and community. The lounges are fresh and energetic with international designs, drawing influences from Scandinavian, bohemian, and mid-century modern styles. We have imparted colour and playful accents throughout every space to help prospective buyers envision their lives in this community. This ties in with Ashiana Builders' efforts to inform clients about the philosophy and objectives behind the property. 
Many of your projects like Clovia, Whitebalance, and Esquire office employ experiential graphics that emphasize human experiential needs. What is experiential interior design and how can one create engaging spaces using it? Would you say experiential design has become the new run?
Experiential interior design is something that came naturally to us before we even knew that there is a word for it! For us, it is the art of looking at a space and composing it like an artist would compose their canvas. We have always tried to mix art with physical spaces and create something that is very visually impactful. This is because today more and more clients ask for spaces that are 'Instagrammable'. In this age of hyper branding and hyper curation, designing our spaces to become an experience rather than a collection of furniture is the new norm.
Could you spill any 3 secrets to success as a space designer?
Communicate with your client: It's super important to be on the same page and understand whether you have the same objectives as them. 
Trust the Process: It's important to have a set design process, one which helps you visualise the space better, but more importantly, one the client understands and can take part in.
Work smart not hard: You can never be too organized. It is crucial to manage your time and work efficiently. Often, I see designers fall into the trap of drafting endless drawings and details when one simple sketch could have done the trick. As important as it is to detail out everything and resolve every issue, time is money! And you need to think of ways to accomplish more in the easiest and least time-consuming way possible.
Colour is considered a tricky element to design. What aspect of colour is difficult and how can designers make the correct choice?
Today, most designers design on a computer screen. It's really important to connect that screen to real-life via a sampling process. The same colours you have in your mind might not even exist in any catalogue, or might be out of the budget, or might have too long of a timeline. So, you have to do your product research well and find the correct product with the right functionality, look, and texture. We always stay in a product research mode, even if we don't have an immediate requirement. Whenever we see an interesting product, we always reach out and ask to see samples or data sheets. 
With the economic downsides of the pandemic, people look up to spaces that are both aesthetically pleasing and economically viable. How can designers ensure that their spaces are financially informed?
It is important to set realistic expectations, both for yourself and your client. When we are talking about potentially working together we always give the client a broad range of what the project might cost. We are always clear that post the designing phase, this cost might go up or down, and we will be available to help them go through the design to cut or add items to arrive at a budget that suits them. At the end of the day, effective communication from the very beginning is the best choice. This has led us to lose several prospective clients, but we prefer to be honest up front.
White Balance.

White Balance.

White Balance.

White Balance.

Ashiana Umang Visitors Lounge.

Ashiana Umang Visitors Lounge.

Ashiana Umang Visitors Lounge.

Ashiana Umang Visitors Lounge.

Ashiana Umang Visitors Lounge.

Ashiana Umang Visitors Lounge.

Ashiana Umang Visitors Lounge.

Ashiana Umang Visitors Lounge.

Ashiana Anmols Photo Selection.

Ashiana Anmols Photo Selection.

Ashiana Anmols Photo Selection.

Ashiana Anmols Photo Selection.

Ashiana Anmols Photo Selection.

Ashiana Anmols Photo Selection.
Studio Bipolar
E-mail: hello@studiobipolar.in
Contact: 9711700104
Biltrax Construction Data is tracking 17000+ projects on its technology platform for its Clients. Email contact@biltrax.com to subscribe and generate business leads.