Architectural design of hospital facilities in the wake of the COVID-19 pandemic changed significantly. Many healthcare facilities needed immediate facelifts to ensure safer care delivery. The already sensitive hospital environments had a new set of challenges to address. Shree Designs, a Mumbai-based healthcare architecture firm, have designed and executed many efficient and safe healthcare setups in the middle of the pandemic. They are among the few who embraced the immediate changes required for infection control, patient safety, and smooth operations. Kshititi Nagarkar, the principal architect at Shree Designs explains, "COVID-19 has necessitated the consideration of "3 S Factors" while designing any healthcare facility.   These are Scanning, Sanitizing, and Social Distancing. All our works post-pandemic have particularly focused on these governing factors from a design perspective of spaces." Their projects are models that explain the most sought-after measures needed to provide solutions across, within, and beyond the pandemic.
Surgical Speciality Oncology, Mumbai
The Surgical Speciality Oncology is a project executed by Shree Designs in the middle of the pandemic following the norms of the country-wide lockdown. Impressing on how clients underpinned their design and execution efforts, Kshititi explains, "Client support was the main factor in getting the project executed in tough times as they made arrangements for separate space and supplies for labour so they could stay at the site to avoid external exposure."
This modern facility is designed with automated lights and blinds to personalize the use and avoid unnecessary exposure to surfaces. Separate tabs for each bed were provided instead of one common TV to enable access to a wider range of information and entertainment for the patient. The facility houses more single and twin sharing rooms rather than general wards because this allows lesser exposure of patients to one another, who already have a compromised immune system.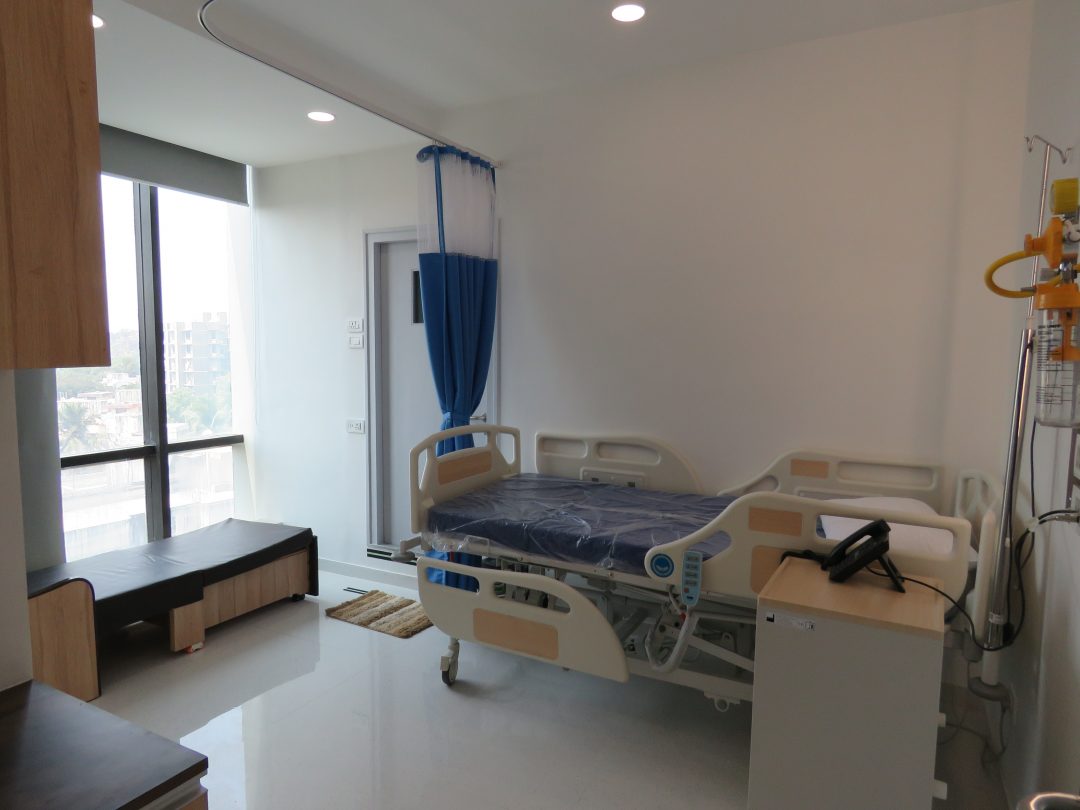 Symbiosis Speciality Hospital, Dadar, Mumbai
The pandemic triggered many healthcare officials the need to re-plan their facility in a way that enables flexibility, expansion, and infection control. Officials at Symbiosis Speciality Hospital also had a similar vision wherein high-end functionality, aesthetics, and sterile environments were their key focus. Clients' requirements, timelines, and safety protocols, by and large, became the governing points for Shree Designs. Therefore, the facility was designed with more provisions for private rooms ultimately decreasing the chances of patient-to-patient exposure.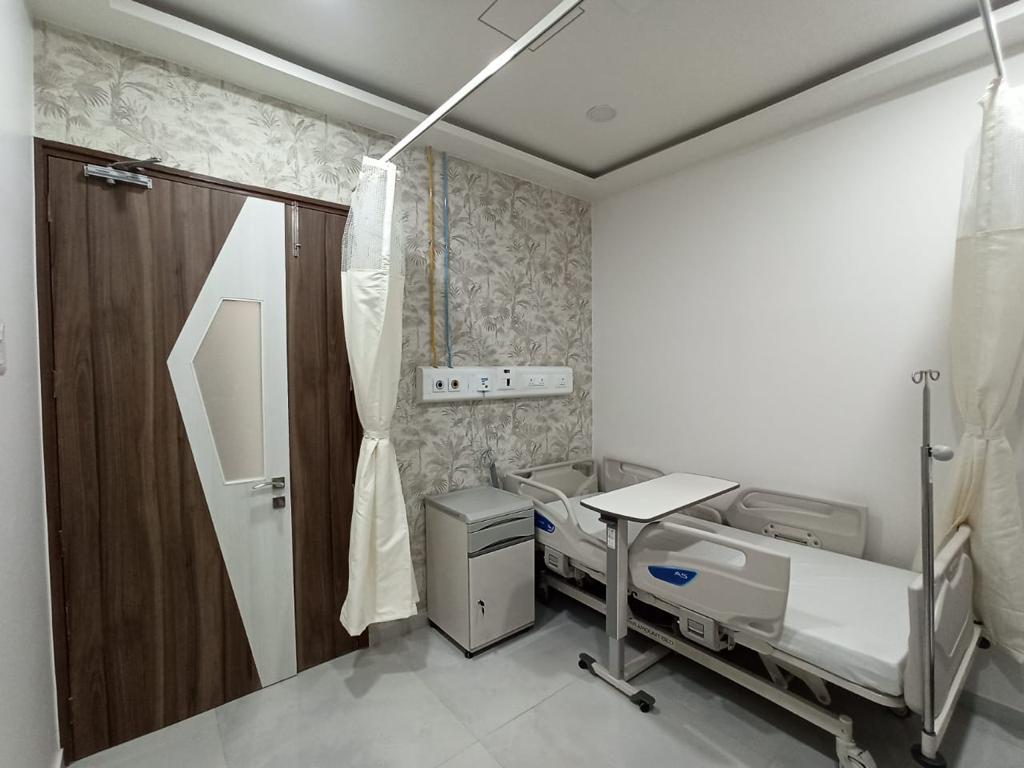 Spacious waiting areas and well-separated billing areas were provided. This thus allowed to disperse the crowd and avoid overcrowding. Diagnostics like Cath lab and USG Room were also designed and executed as it was difficult for regular patients to access other hospitals due to the risk of exposure to the virus. All such diagnostic labs incorporated healthcare grade vinyl flooring and wall solutions. Stretch ceilings were also introduced to reduce patient anxiety and enhance their healing process. 
Fortis Bone Marrow Transplant Facility, Mulund
Shree Designs also designed and executed the Fortis Bone Marrow Transplant Facility, Mulund during the pandemic in collaboration with Aarka Consultants. Since Bone Marrow Transplant Patients have the lowest immunity and longer isolation periods, maintaining germ-free and sterile environments became important.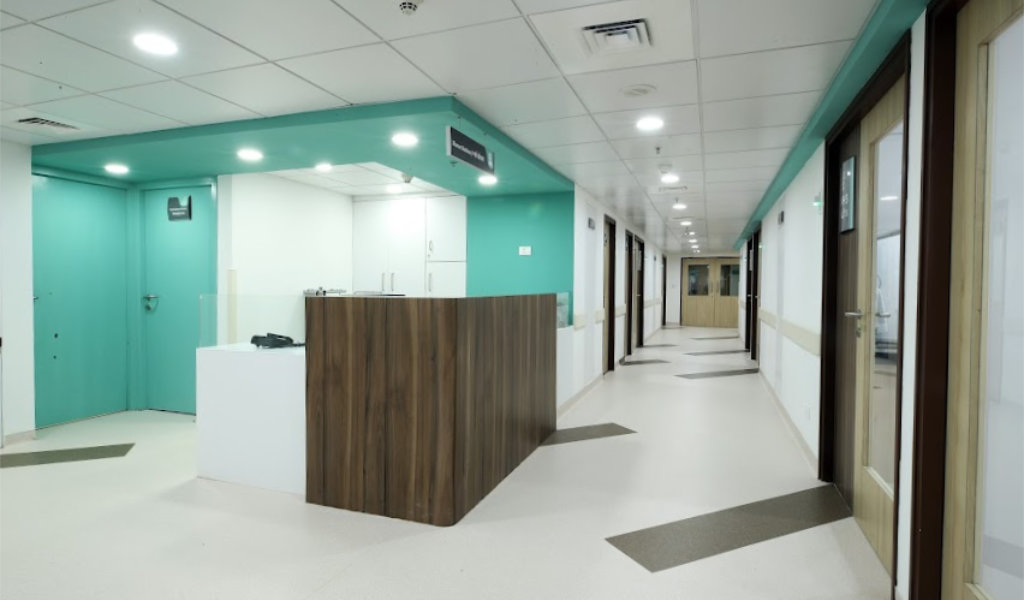 A ward facility consists of 6 Isolation Rooms, a Nurse station, and a separate service area for the ward. The system and design of BMT Isolation Rooms are therefore such that they can modify Isolation Rooms for Covid as well. Isolation rooms incorporate Hepa filters air system into the design. This along with positive pressure and an ante lobby between the main corridor and patient room maintains the air pressure and sterile environment.
Smaller, detailed design aspects include, creating coving between walls and floor/ceiling so that it is easier to clean and maintain sterility. The design includes a detailed furniture design layout in the isolation room in a manner that is easy to maintain and where dust can't settle. The materials used are antibacterial and antimicrobial laminates, vinyl flooring and paint.
NeoBliss New Born Care, Mumbai
Creating category-specific care facilities ultimately lowers the risk of viral exposure. Kshititi says, "After the pandemic hit, people understood the need to create niche healthcare infrastructure that allows only specific types of patients in a facility."
Shree Designs designed and executed one such neo-natal facility in Mumbai comprising an area of 750 sq. ft. The meticulous planning thus helped to create space for 9 NICU beds along with a consultation room, reception area and a waiting area. The ICU planning and design is as per NABH norms. The design introduces portable Air Filtration for the ICU beds due to on-site constraints of area and height.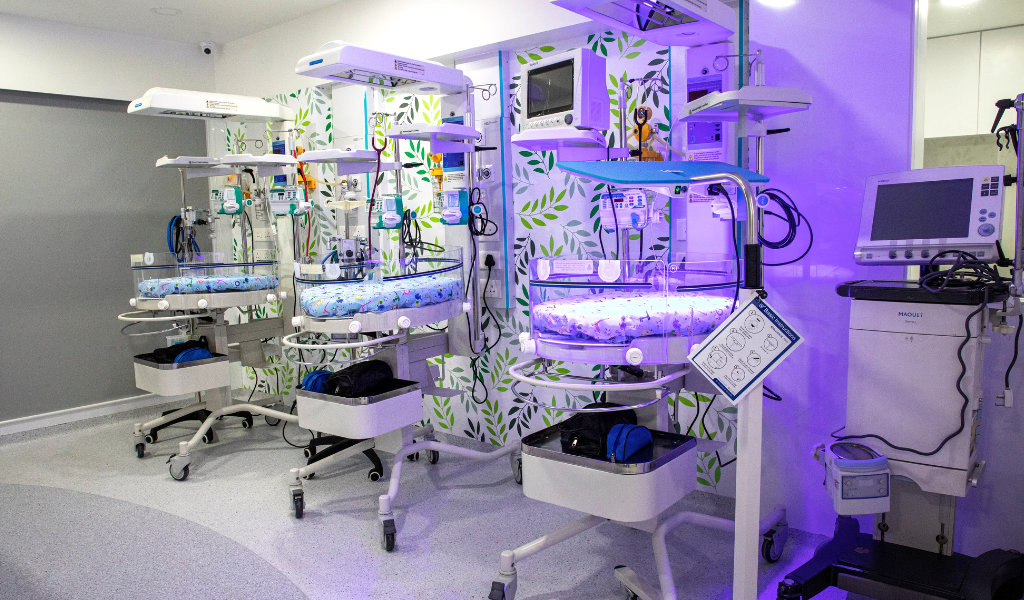 The ICU rooms use easy maintenance materials like HGPVC cladding. Such materials thus have advanced hygienic properties that incorporate silver ion antimicrobial technology. The flooring incorporates homogenous vinyl, a material that has chemical stain resistance with fewer VOCs. Such non-porous surfaces therefore have a water repellent effect. The entire facility is also painted with anti-bacterial paint.
Shree Designs
Email: info@shreedesigns.in
Contact: 9136181945
Fortis BMT Room

Fortis BMT Room – Utility Unit

Fortis – Nurse Station and Lobby

NeoBliss Newborn Care – NICU

NeoBliss Newborn Care – NICU Consulting Room

Surgical Speciality Oncology Hospital – ICU

Surgical Speciality Oncology Hospital – Lobby

Surgical Speciality Oncology Hospital – Single Room

Symbiosis Speciality Clinic – Cath Lab

Symbiosis Speciality Clinic – Cath Lab Stretch Ceiling

Symbiosis Speciality Clinic – Single Room
Biltrax Construction Data is tracking 17000+ projects on its technology platform for its Clients. Email contact@biltrax.com to subscribe and generate business leads.