The Nita Mukesh Ambani Cultural Centre (NMACC) is an awe-inspiring addition to Mumbai's cultural landscape. Located in the heart of the city's bustling business district, this newly opened multi-disciplinary exhibition and performing arts space promises to be a game-changer in the world of art and culture. The centre is founded by Nita Ambani, a visionary who has always been committed to positively impacting society, and the NMACC is a shining example of her vision. Inaugurated with great fanfare and attended by the crème de la crème of the Indian and international art scene, the NMACC promises to be a transformative force in the world of culture and the arts.
Imbued with a rich tapestry of cultural and spiritual influences, this cultural centre is a visual feast for the senses. Designed by renowned architect Richard Gluckman, the centre's lotus-inspired architecture pays homage to India's rich heritage while also embodying a modern, forward-thinking vision. Every detail of the centre has been thoughtfully crafted, from the intricate jaali work to the semi-precious stones, and jewel-tone colour palette. As visitors wander through its halls and marvel at its beauty, they are transported on a journey of discovery and wonder, immersing themselves in a world of art, culture, and creativity.
The Nita Mukesh Ambani Cultural Centre (NMACC) has been in development for nearly five years, and the end result is a stunning display of world-class facilities. Featuring a 2000-seat Grand Theatre, a four-story Art House, a Pavilion spanning over 52,000 SqFt that can be converted into a museum-like space for exhibitions, and a Studio Theatre, the centre offers a unique and unparalleled cultural experience.
Art House
At the Nita Mukesh Ambani Cultural Centre, the Art House stands tall as a hub of creativity and cultural exchange. Greeting visitors at the Cultural Centre's entrance, the Art House's facade, with its cuff bracelet design, pays homage to India's vibrant cultural heritage. While the Fountain of Joy draws crowds together, the Art House's unique architecture beckons them to explore deeper. Its expansive interior spaces, soaring ceilings, and ample natural light create an atmosphere of openness and warmth that inspires and stimulates the senses.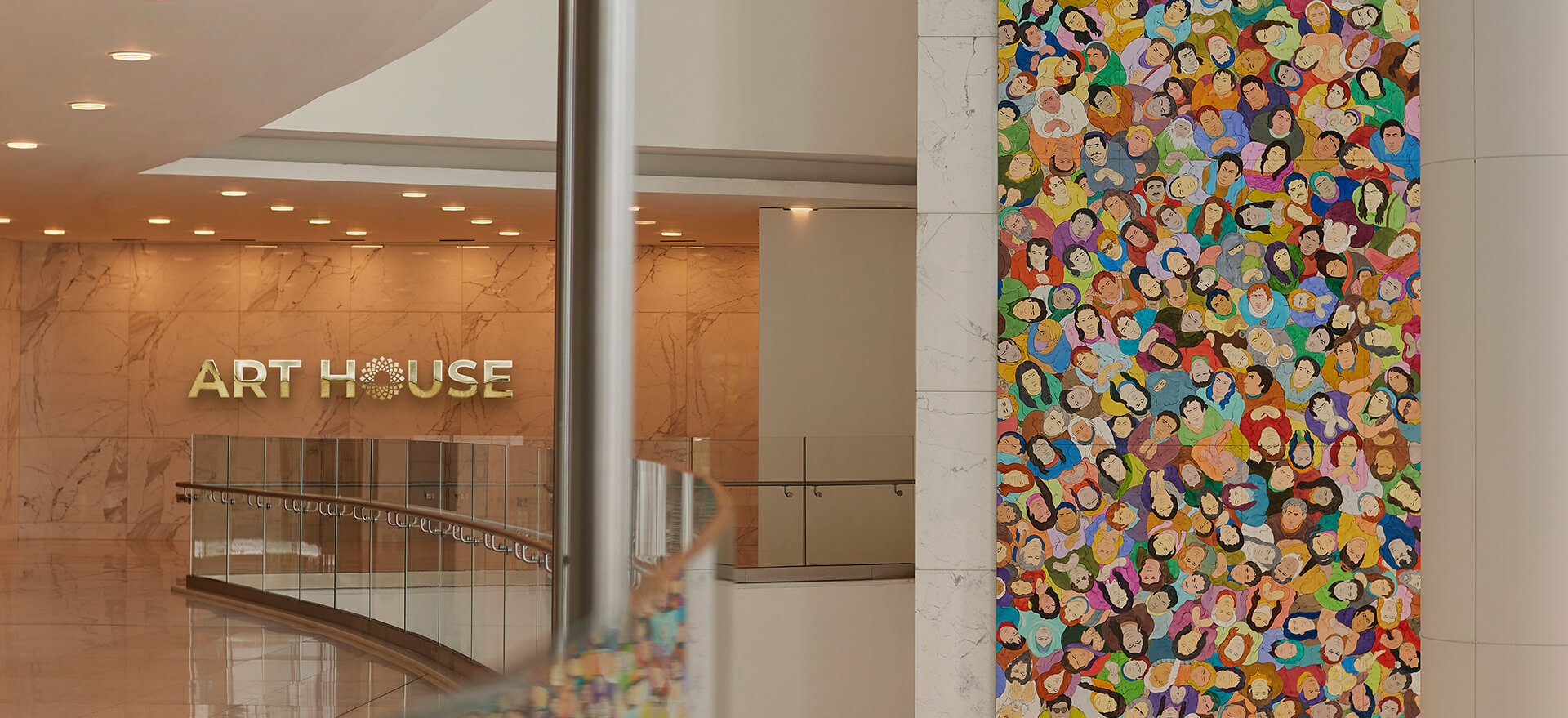 The Grand Theatre
If one is looking for an unforgettable experience that is sure to leave you in awe, The Grand Theatre is the place to be. The Grand Theatre is a remarkable architectural and interior design achievement, intended to deliver an immersive experience to its audience. With a seating capacity of over 2,000 people spread over three levels, the theatre is equipped with several distinctive features that distinguish it from other performance spaces.
The theatre's lighting system is a work of art, with over 8,400 Swarovski crystals adding a unique multi-dimensional element. The programmable lighting system creates an ever-changing atmosphere, adding to the immersive experience for the audience.
One of the theatre's most notable features is its state-of-the-art integrated Dolby Atmos Surround Sound System and Virtual Acoustic System. This technology creates an unparalleled soundscape, bringing performances to life with incredible clarity. In consideration of contemporary media consumption trends, The Grand Theatre has been designed with advanced recording and projection amenities, as well as exclusive translation booths. The theatre's most noteworthy attribute is the employment of special absorbent wood, which minimizes reverberations and elevates the stage as the focal point for auditory experiences as well.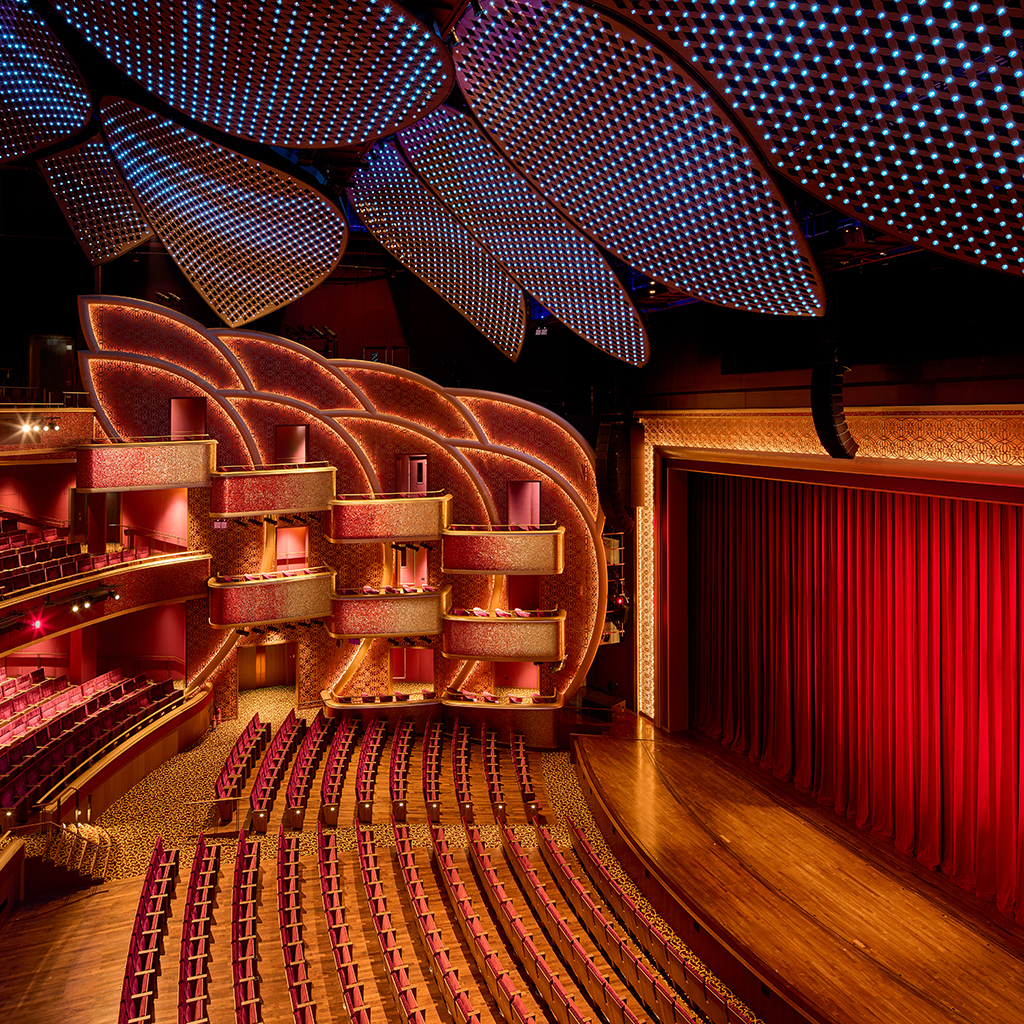 The Studio Theatre
The Studio Theatre is a captivating synthesis of cutting-edge technology and warm intimacy. Its advanced features, such as the Dolby Atmos Surround Sound System and the innovative tension wire grid, offer artists unparalleled creative possibilities. Yet, the theatre's inviting ambience, with its cosy seating arrangements and state-of-the-art soundproofing, creates an intimate atmosphere that envelops the audience in the performances. With a seating capacity of 250 and a telescopic seating system, the theatre provides artistic flexibility, making it suitable for a wide range of events.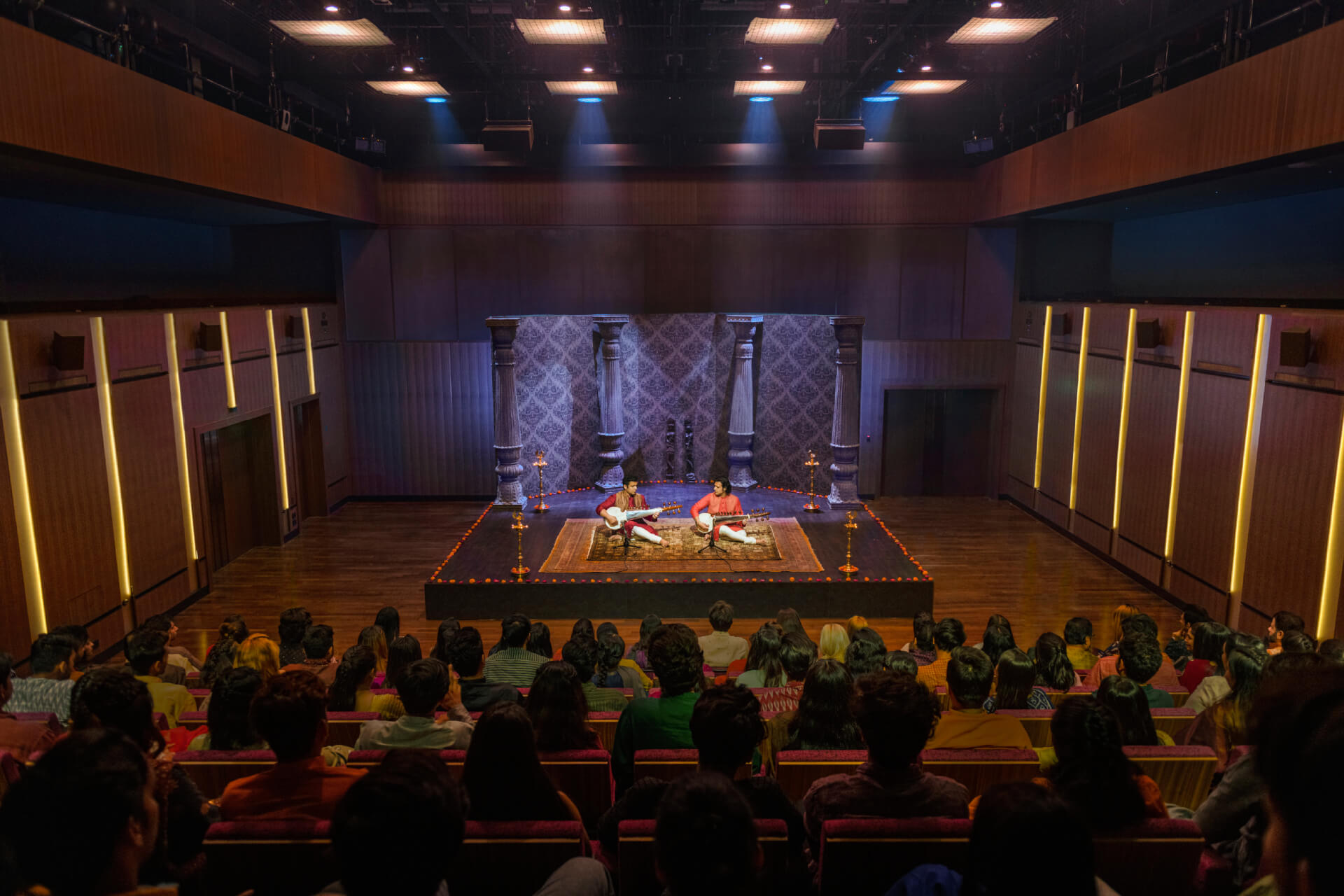 The Cube
The Cube is an extraordinary performance venue that supports and showcases emerging Indian artists in experimental theatre, spoken word, and music. The 125-seat space is highly adaptable, with a movable stage and seating that can be transformed to suit a diverse range of performances.
With its cutting-edge technologies, The Cube creates an immersive and surreal experience for audiences, featuring advanced systems such as the Panasonic Laser projection system and an Assisted Listening system that uses infrared emitters. The space is also equipped with a fully integrated video recording and production setup, as well as 5G connectivity, facilitating effortless filming and live streaming of performances.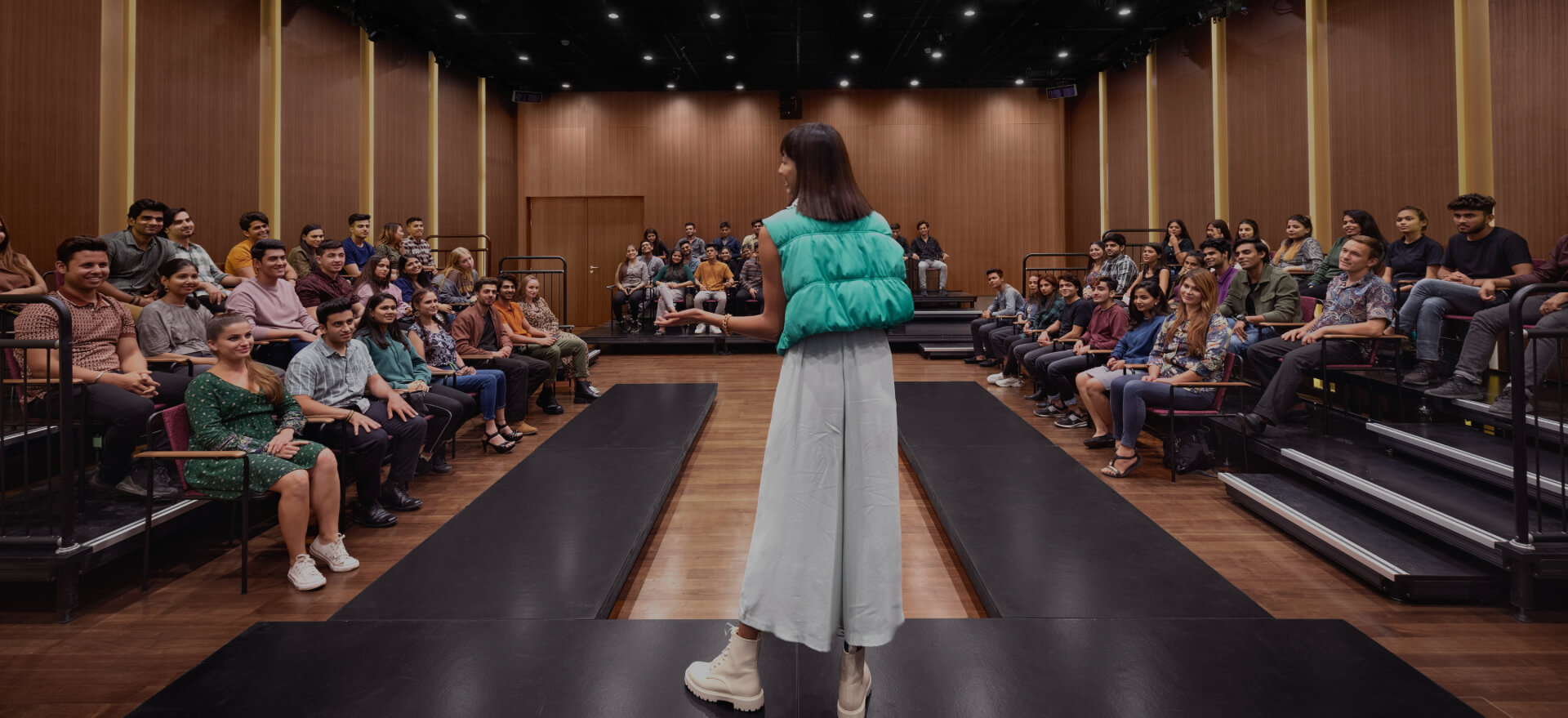 Fountain of Joy at Dhirubhai Ambani Square
The Fountain of Joy is a spectacular fusion of water, light, and music that showcases the vibrant spirit of Mumbai. Inspired by a lotus, the fountain features 392 nozzles and 664 LED lights that illuminate the water jets, creating a mesmerizing display of colour and movement. With water jets soaring 45 ft high, the fountain also features eight fire shooters and 200 mist emitters.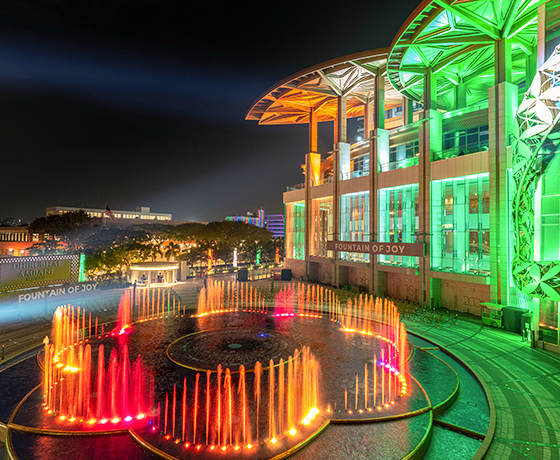 GLUCKMAN TANG ARCHITECTS
Visit: www.gluckmantang.com
Email: info@gluckmantang.com
Source –
Nita Mukesh Ambani Cultural Centre – Mumbai, India (nmacc.com)