Paint is a crucial element of the construction industry, serving both functional and aesthetic purposes in buildings and structures. In India, the paint industry is rapidly growing, with increasing demand for decorative and industrial paints. The Indian Paint Association (IPA) forecasts that the paints and coatings industry will expand to a INR 1 lakh crore market within the next five years, up from the current INR 62,000 crore.
Historically, the paint industry has exceeded India's GDP growth, with around 50% of the market held by a few large corporate companies, while the remaining 2500 small and medium-scale companies have regional footprints. Additionally, the "India Paint Industry Outlook 2025" report forecasts that the industry will grow at a CAGR of approximately 10% in value terms between 2021-22 and 2024-25. In this article, we will explore the top paint companies in India that are driving innovation, utilizing cutting-edge technology, and demonstrating a commitment to sustainability in this thriving industry.
---
Asian Paints is the largest paint company in India and the third largest in Asia, with a turnover of INR 193.50 billion. Established in 1942 as a partnership firm by four friends- Chimanlal Choksi, Champaklal Choksi, Suryakant Dani, and Arvind Vakil. Asian Paints has become a corporate force and market leader in paints since 1967.
The company manufactures a wide range of paints for decorative and industrial use, operates in 15 countries with 26 manufacturing facilities and services consumers in over 60 countries. It is no surprise that Asian Paints is double the size of any other paint company in India and is regarded as the largest paint company in India.
Year Founded – 1942
Net Sales – INR 25,188 crores
---
Berger Paints India Ltd, located in Kolkata, is India's second biggest paint manufacturer, having a track record of being one of the fastest expanding. The firm has 16 strategically positioned production sites across India, two in Nepal, one in Poland, and one in Russia, as well as about 162 stock locations.
Berger Paints India also has a global presence in four countries. They employ approximately 3450 workers (excluding subsidiaries) and have a national distribution network of over 25,000 dealers. Berger Paints India provides a wide range of products, including exterior and interior wall coatings, metal and wood paints, undercoats, express painting, and construction chemicals.
Year Founded – 1923
Net Sales – INR 7,740 crores
---
Kansai Nerolac Paints Ltd is a Mumbai-based company that manufactures industrial paints and decorative paints. A subsidiary of Kansai Paint of Japan, Goodlass Nerolac Paints Ltd. was originally known as Goodlass Nerolac Paints Ltd.
In addition to six manufacturing sites, the corporation uses 6-7 contract manufacturers. Kansai Nerolac Paints Ltd. has formed technological cooperation with industry heavyweights such as E.I. DuPont and is a key participant in the industrial paints area, with over 40% market share. Its paint techniques are utilised in finishing lines for electrical components, cycles, material handling equipment, bus bodies, and containers.
Year Founded – 1920
Net Sales – INR 5948 crores
---
AkzoNobel is a paint and coating company that has been a leader in color and protection since 1792. With a focus on the craft of making quality paints, their portfolio includes trusted brands such as Dulux, International, Sikkens, and Interpon. Operating in over 150 countries, their world-class products and services are trusted by customers worldwide.
AkzoNobel's talented workforce of approximately 33,000 people is passionate about delivering high-performance solutions that meet and exceed customer expectations. Their headquarters is located in the Netherlands.
Year Founded – 1994
Net Sales – INR 3,148 crores
---
Indigo Paints Limited, a Pune-based Indian paint company, operates three manufacturing plants located in Jodhpur, Kochi, and Pudukkottai. The company was founded by Hemant Jalan in 2000 to manufacture cement paint. In just over two decades, the company has become the fifth-largest player in the decorative paint industry in terms of revenue generation.
The company specializes in the manufacturing, selling, and distribution of decorative paints, enamels, emulsions, wood coatings, primers, putties, distemper, and cement paints.
Year Founded – 2000
Net Sales – INR 905 crores
---
Nippon Paint India Pvt Ltd is a renowned paint and product manufacturer headquartered in Osaka, Japan. With a rich history dating back to 1881, Nippon Paint has emerged as the world's seventh-largest paint maker, offering high-quality paints and coatings for automotive, industrial, and ornamental applications. The company also produces environmentally friendly goods such as marine coatings, automotive coatings, industrial coatings, and fine chemicals.
Year Founded – 1881
Net Sales – INR 500 crores
---
Headquartered in Gurgaon, Haryana, Shalimar Paints Ltd has a rich history dating back to 1902, when it was founded by AC Turner and AC Wright. The company has established itself as a major player in the manufacturing and distribution of both industrial coatings and decorative paints.
Shalimar Paints Ltd has contributed to the beauty of many of India's iconic structures, including the Rashtrapathi Bhavan, Howrah Bridge, Vidyasagar Setu, Salt Lake Stadium, and many others.
Year Founded – 1902
Net Sales – INR 358 crores
---
The company's journey began with a simple business model of importing PU products from Italy and Korea, repacking them, and selling them through their own dealer network. Over time, the company has grown into one of the leading providers of wood coatings in northern India and has expanded its network to southern and western India as well.
Sirca Paints India Limited takes pride in its products, which are backed by research-based knowledge and formulated to meet the market's varying needs.
Year Founded – 2006
Net Sales – INR 200 crore
---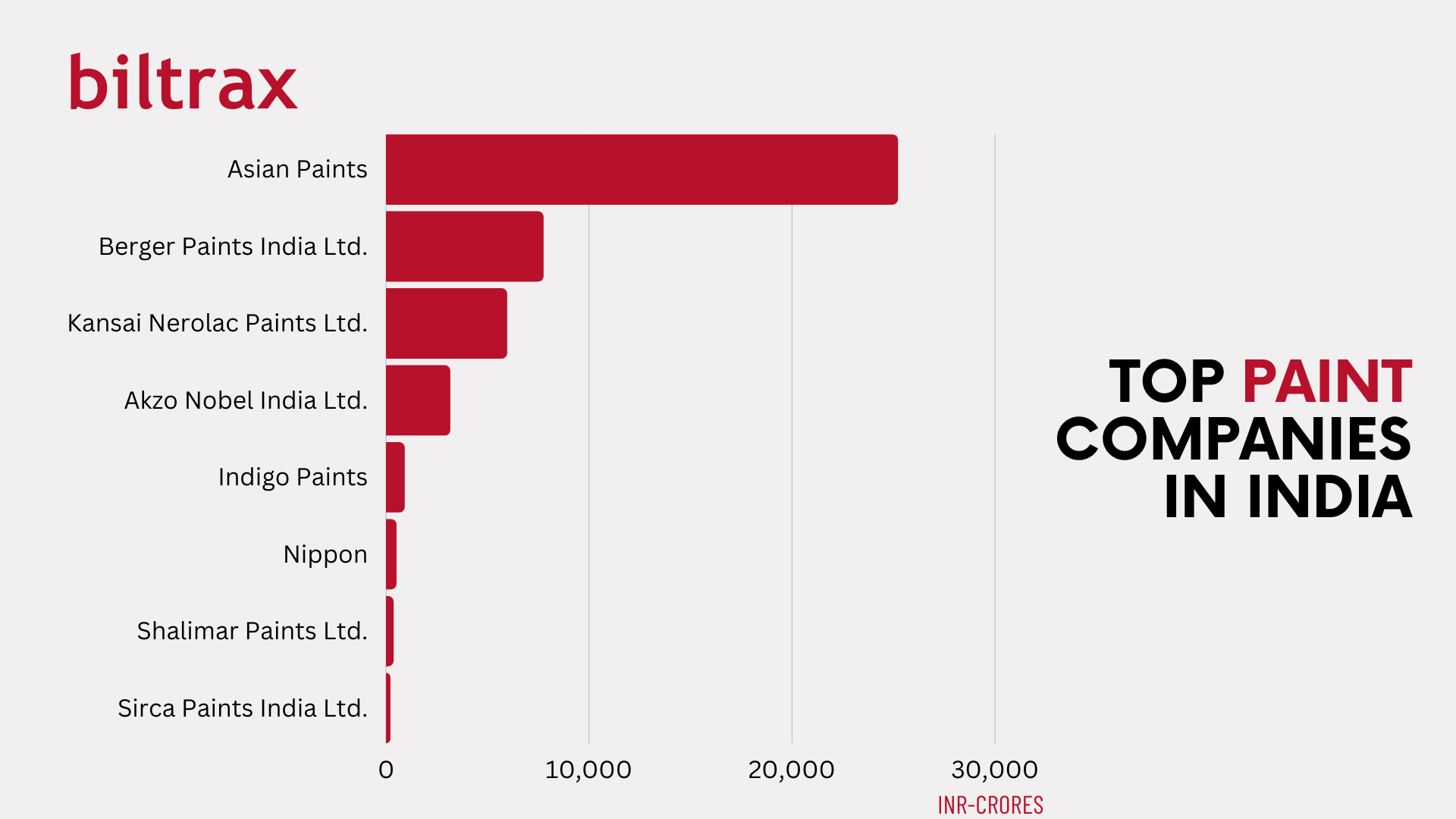 ---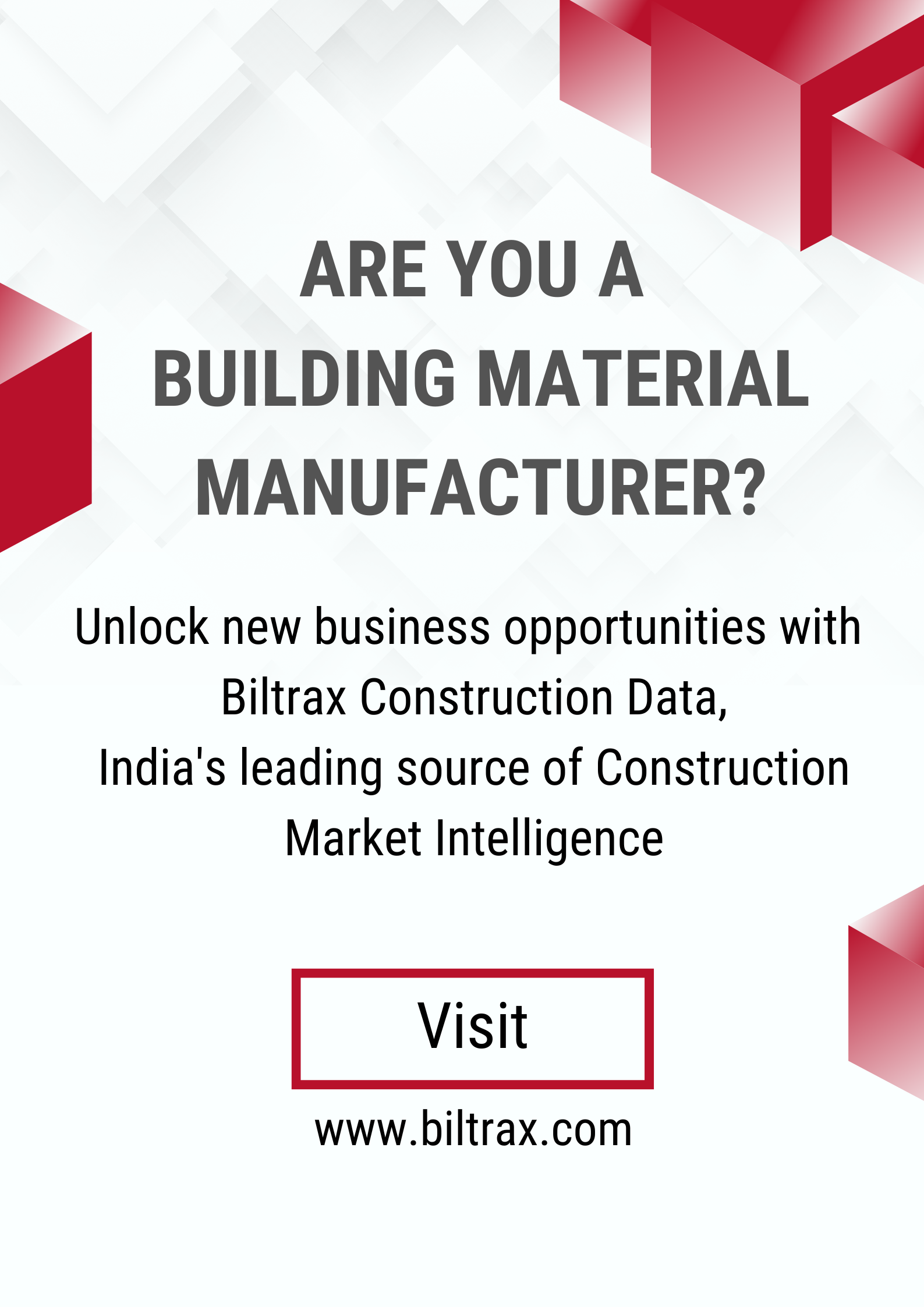 Biltrax Construction Data is tracking 23,000+ projects on their technology platform for their clients.
Get exclusive access to upcoming projects in India with actionable insights and gain a competitive advantage for your products in the Indian Construction Market.
Visit www.biltrax.com or email us at contact@biltrax.com to become a subscriber and generate leads.
Disclaimer
The information in this article is extracted using data insights from Biltrax Construction Data's proprietary platform. All such information and opinions can be subject to change. This article uses feature images that may not be representative of the project; they are merely for illustration purposes.