"Climate change. Urbanisation. Biotechnology. Those three narratives, still taking shape, are developing a long arc, likely to dominate this century" – Stewart Brand, American Writer.
Technological and infrastructure advancements in the modern world have resulted in the creation of more livelihood opportunities through rapid urbanisation. The "Information Age" that we live in has helped new urban developments to thrive. A report published by the United Nations Development Programme (UNDP) suggests that by 2050 two-third of the global population is expected to live in urban areas. Such an alarming projection suggests that complete urbanisation across the globe is an inevitable phenomenon. But, while urbanisation helps in improving the global standard of living and economy, it also impacts the ecological balance of the earth.
The Importance of Green Spaces in Urban Areas
The rising number of building construction activities in urban areas has resulted in the depletion of land for cultivation. Green vegetation forests are fast being replaced by concrete and glass jungles. In India, metropolitan cities such as Mumbai have green spaces as low as 1.8 square metres per capita as compared to the WHO prescribed 10 square metres per capita. The repercussions of such haphazard developments in the form of pollution and the urban heat island effect are being faced by cities worldwide. This can be inferred from the recent anecdote where WHO recognised New Delhi as the most polluted city in the world for the second time in a row.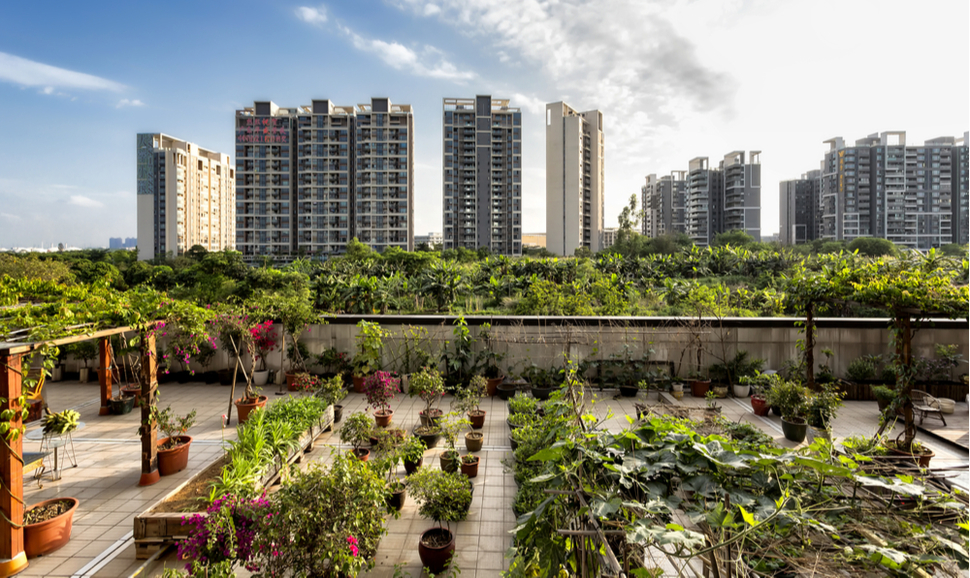 Hence, the significance of open green spaces in cities should be acknowledged, now more than ever. Especially with the onset of the COVID-19 pandemic, the need for fresh air, proximity to landscaped areas, and open spaces have been re-established. Architects and urban designers are rethinking the design of cities to create sustainable urban developments. But today, urban areas require much more than open spaces, playgrounds, and parks. This is because cities require a holistic approach to landscaping. Hence, many cities are exploring the idea of urban agriculture or urban gardening as the way forward.
What is Urban Gardening?
Urban gardening is the practice of cultivating, processing, and distributing food across urban communities. The crops are cultivated in urban areas using innovation and technology. Since the availability of land is questionable in urban areas, building rooftops and terraces are being repurposed for vegetative cultivation. The vegetation produced incorporates the cultivation of local fruits and vegetables. More so, as more and more people are making the shift to organic edibles and products, urban agriculture is gaining a wider acceptance.
Benefits of Urban Gardening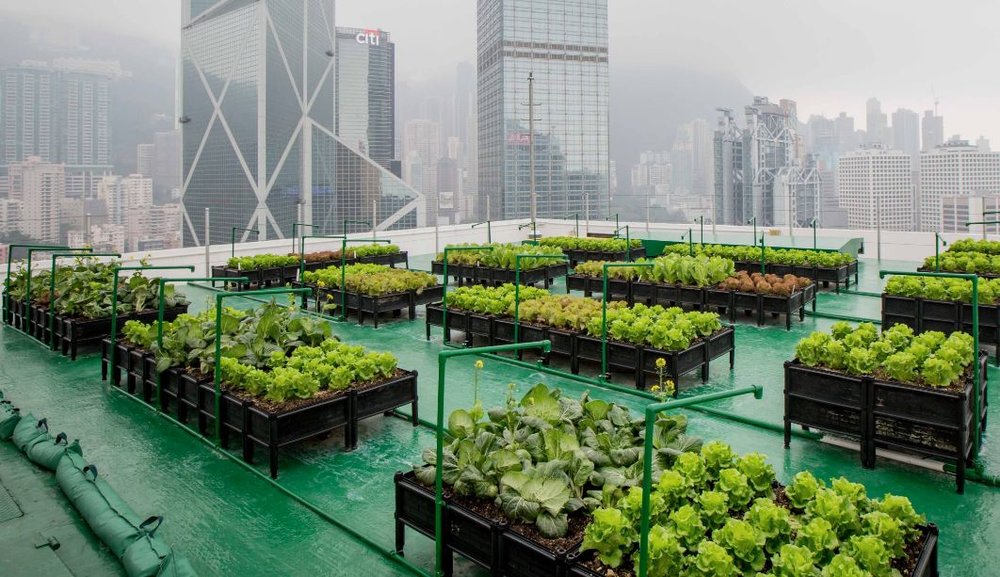 Urban gardening poses a win-win situation for all. It helps urban communities move towards a sustainable and self-reliant existence. Landscaping in any form helps reduce stress and anxiety. The landscape creates a serene environment that boosts productivity and calms the senses. Open landscaped areas encourage interaction and exercising for leading a healthier life. Urban gardening also serves as a source for employment generation, thus boosting the local economy. It also promotes the self-sufficiency of the urban population by catering to their food requirement locally.
In times of crisis such as the one posed by the COVID-19 pandemic, urban agriculture reduces the dependability of the outer world by creating food security. Growing vegetables and fruits in urban areas help in the creation of healthier cities that consume the right nutrients. Additionally, plants help in reducing pollution by absorbing carbon dioxide from the air. With urban agriculture, the temperature in cities can also be regulated at optimum levels. Incorporating landscape as an integral design element significantly helps in reducing the carbon footprint of the building.
Urban Gardening in Progress
Cities around the world have realised that urban agriculture is a luxury that needs to be necessitated for sustainable development. Hence, we can see an active involvement of administrative agencies, urban designers, town planners, and architects in developing built environments that are conducive to urban agriculture.
In Dubai, vertical urban agriculture has become an essential measure for future food security. The prototype involves plants being stacked one above the other, wherein the roots are submerged in nutrient-rich water. This reduces up to 99% demand for water in urban agriculture. The UAE government has allocated 7,6000 square feet (ca. 71 a) of land for creating 12 such vertical farms in urban areas. The project is being undertaken in collaboration with a local biotechnology firm that works towards providing farming infrastructure.  On similar lines, the catering partner of the UAE-owned Emirates Airlines is constructing an urban vertical city in partnership with another local biotech firm. They plan to convert 130,000 square feet (ca. 121 a) of land into farmland for leafy greens to support the requirement for in-flight meals.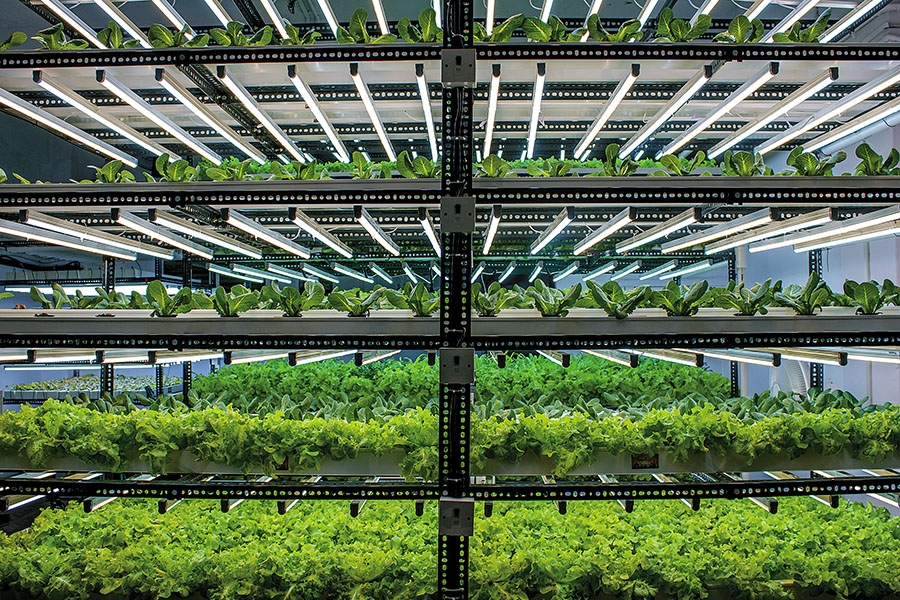 In India, the state of Bihar is encouraging rooftop farming in urban areas by undertaking initiatives. The central idea of the initiative was to increase the green cover in the urban pockets of Bihar, while also adding to the local economy. The state horticulture department has begun the identification of 230 appropriate rooftops and invited proposals for cultivation. The department is considered to be offering a 50% subsidy on the entire cost of rooftop farming as an incentive. This ambitious project will be executed phase-wise. The districts of Patna, Nalanda, Bhagalpur, and Gaya are considered to be transformed in the first bout.
Urban agriculture is a phenomenon that is having a far-reaching impact on society. It is guiding the global population towards a sustainable way of living where nature and many can co-exist. Urban agriculture provides the opportunity to rethink design in a co-dependent manner, thereby blurring the boundaries between built and unbuilt spaces. Beyond buildings, urban agriculture impacts society in a socio-cultural way by creating awareness through community participation.
Source:
Disclaimer: The information contained herein have been compiled or arrived at, based upon information obtained in good faith from sources believed to be reliable. The opinions expressed within the content are solely the author's and can be subject to change. The image featured in this article is only for illustration purposes. If you wish the article to be removed or edited, please send an email to editor@biltrax.com