Everything in the world after the pandemic is changing drastically. From homes to public transportation systems, nothing will ever be the same in a post-pandemic world. For instance, the Indian Railways announced that there must be sanitization stations, foot-operated soap dispensers, and surfaces made of antimicrobial material in all their trains. This was done to safeguard the passengers travelling by railways in a world where COVID-19 has become the ultimate reality. The bottom line is that the pandemic has changed all our lives in dramatic and unprecedented ways. While there is some experience that we have gained over the past few years, it can be seen that there is a need for more. In order to protect our family and loved ones, it is the need of the hour to adapt to the new normal by choosing smart and innovative solutions to convert our homes into safe havens that offer both comfort and safety. Abhishek Chadha, the Co-Founder and CEO of the luxurious interior design firm, is here to impart some insider tips and tricks that can lead to futuristic home interiors.
Automation will be the most prevalent game in home and office spaces. This entails the use of machinery to improve the quality of life. These days, almost every home has a Google Device or an Alexa that can control the ambient noise and dim the lighting when one enters the house. For instance, operating systems in a smart home are gaining traction. Long gone are the days when people needed to carry a physical piece of paper with a grocery list jotted down. A smart fridge today is capable of taking care of everything. By being connected to your phone, the need for a paper list can be eliminated. In fact, due to extensive technological advances today, it is possible that after a long day at work or after a particularly gruelling session at the gym; one can instruct the smart home to start the geyser for hot water or start preheating the oven to fast pace the overall dinner preparation time. In Prestige Lakeside Habitat, The KariGhars have imparted their signature style of having an automated kitchen so that their homes can be the epitome of cosiness and luxury. The kitchen in this residential design is fully automated and is equipped with state-of-the-art appliances, making for a seamless cooking experience.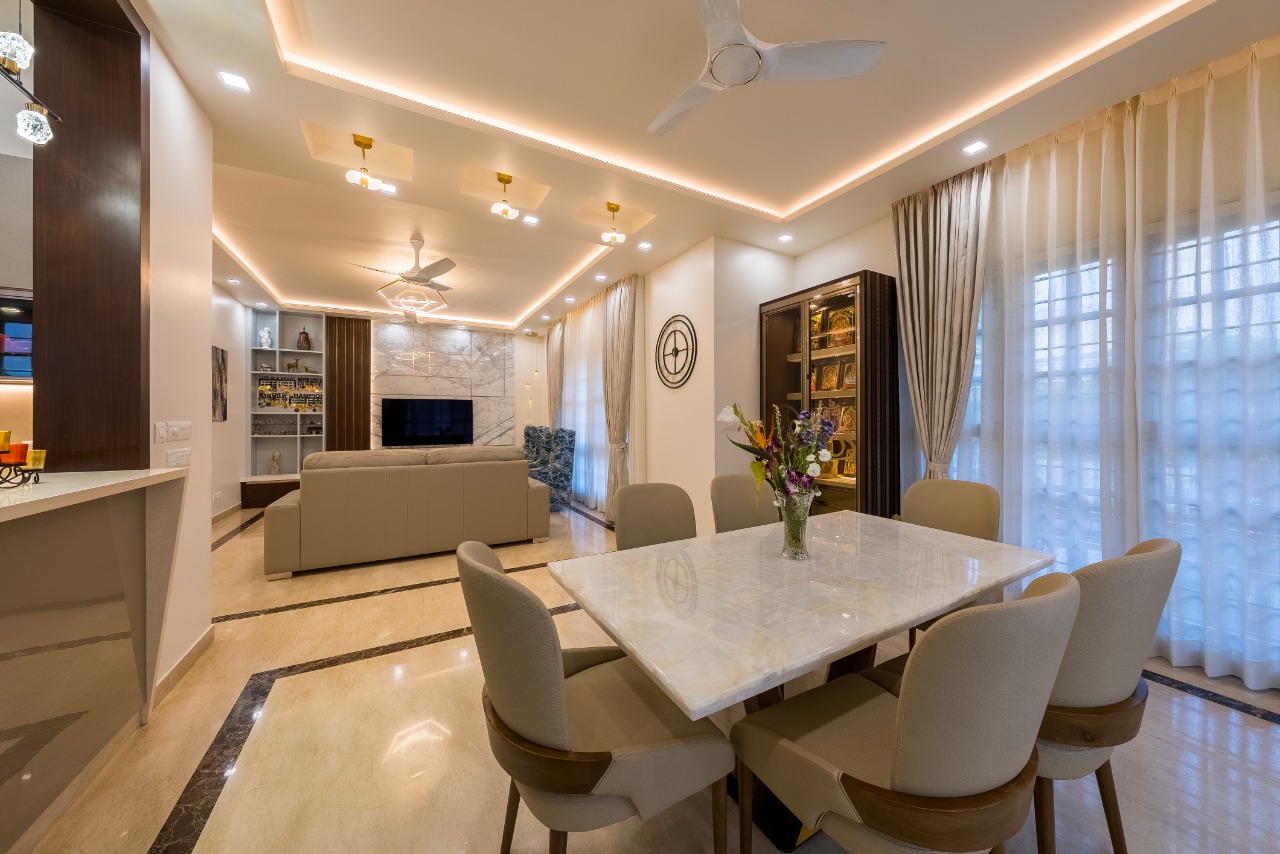 In the pursuit of safety, many families may also opt for professional air purifiers. It becomes a boon for any family with young toddlers, newborns, or geriatric parents who need care. The right kind of air conditioning system can change the quality of air one breathes. Air circulation also forms to be a crucial factor that needs to be addressed to curb the spread of COVID-19. The air purifier needs to be ionized to be the most effective in eliminating the minute virus particles. With the pandemic and the subsequent lockdowns, families are spending a lot more time with each other. Parents are working from home, and children are studying from home. A new trend that is already emerging in the world of interior design is the segregation of workspace and relaxation space. Many people these days are calling for a dedicated office space to be created where professionals can work from home. Children are also calling for a dedicated study space to learn undisturbed. Living rooms are being converted into family entertainment rooms where families can sit and bond over a movie or a board game.
Abhishek Chadha would also like to mention that all these changes and new needs can be addressed with the help of a team who comes together and makes a conscious effort to arrive at a stunning and miraculous end result. With the air of change upon us, it is high time we realize that our immediate environment needs to change to protect us from this widespread virus.
About 'The KariGhars'
Since its inception in 2009, 'The KariGhars' has revolutionized ordinary houses in Bangalore into warm & luxurious homes. With their efficient layouts, uplifting colour palettes, bespoke furniture, and strategic lighting schemes, they are the masters of creating ever-lasting impressions. From inception to execution, conceptualization to curation, they undertake complete turnkey projects for villas and apartments, hence bringing dreams to life. They have dominated the interior design industry for more than a decade now, making them the most sought-after name in the field of Luxury interiors in Bangalore. In the middle of this brilliantly guided organization are the founders, CEO Abhishek Chadha, CFO Aashita Chadha & the Managing Director Vinayak Chadha. The trio is responsible for taking this company to the zeniths of success by religiously focusing on the needs, passion & vision of their clients.
Abhishek graduated from Delhi University as a Bachelor of Science. Hardworking & tenacious, he aced all his subjects & topped the university. He started his career in 2001 as a lecturer in Indonesia, teaching IT. Later he moved to Bangalore as a senior software engineer & made his way forward as the VP where he worked on UX & UI. It was during this time that Abhishek & his better half, Aashita got the interiors of their home done. The whole experience left them exasperated & motivated with a desire to start their design firm. With the intent to bring a glorious customer experience & fresh design perspective to the table, they laid the foundation of 'The KariGhars'. Aashita Chadha, the CFO of 'The KariGhars' came up with the distinctive name of the firm & contributes inherently to the design ideology. An impeccable part of the whole design process is the artisans, carpenters, masons all categorized under 'skilled labor'. Hence, she coined the name that depicted proximity with ethnic Indian roots. Soon Abhishek realized his firm's tremendous potential & that's when he got his brother, Vinayak on board. Together, they are a force to reckon with!
'The KariGhars' proved to be a turning point in Abhishek's life. His source of inspiration has always been the needs & desires of his clients. He treats every project as a challenge & tries his best to meet their expectations. A learner & observer by nature, he absorbs information & tries to implement it in his designs. All his designs have a provision for storage and functionality but also come with his unique design style and an element of creativity. For his immense contribution in the field of Interior Design, he has been felicitated with a plethora of awards namely, 'Most Creative Interior Designing firm in Bangalore, 'Company of the Year Award by Silicon India', The Best Interior Design Services Award 2011 for Residential projects in Bangalore received from Dr. Shashi Tharoor', 'Entrepreneurship Excellence Awards 2012′ and the list is endless. Apart from being the most sought-after designer in Bangalore, Abhishek is a multi-faceted man with exemplary entrepreneurial skills. He is one of the Founding Members of 'The Bier Library', the finest microbrewery in Bangalore that serves as a paradise for all the connoisseurs of food & beer. He is also passionate about Wildlife Photography, ample example of which can be seen on his Instagram handle Abhishek wildlife photography. The KariGhars exponential growth is the testament of his exceptional talent, creativity, expertise & intent to make a positive contribution to their clients' lives.
Visit: thekarighars.com
Contact: 91 7022725656
Email id: support@thekarighars.com