BYJU's Office is a synchronistic intermix of an office and a study area.
Salankar Pashine & Associates have designed the Byju's office for Vidarbha Infotech Pvt Ltd, Byju's at VIPL I Park. The design was systematically schemed to be completed within 3 months, starting from mid-April and to be handed over in June. The designers best describe this project as a hybrid space, designed to fulfil both the needs, imparting education as well as carrying out smooth functioning at the back end.
Byju's Office: The Design Concept
One of the key requirements of the client was to have a space that could accommodate a large number of people, which meant the use of space had to be more economical. The project is a hybrid office space by the team of Salankar Pashine & Associates showcasing their architectural design prowess that aims to accommodate a large number of people. The design team planned the 20,000 sq.ft. space within a period of 3 months starting from mid-April to June. This project design supports both educational as well as office activities.
The Reception Area and the Offices
The reception table is placed right at the focal area and has gilded marble flooring which compliments the white ceiling. The offices abutting the reception area go in synchronization with the design. As one enters the office, it divides into two wings, the North and the South. Both of these wings lead to a spacious study area. The smartly colour-coded walls and pillars in the study area are in purple and yellow. They also have motivational quotes printed on them. The interior design of the office incorporates Byju's brand colours, yellow and purple. The grey and purple carpet complements the purple walls and the white ceiling. The combination of purple, yellow and grey, highlights the bright-coloured furniture.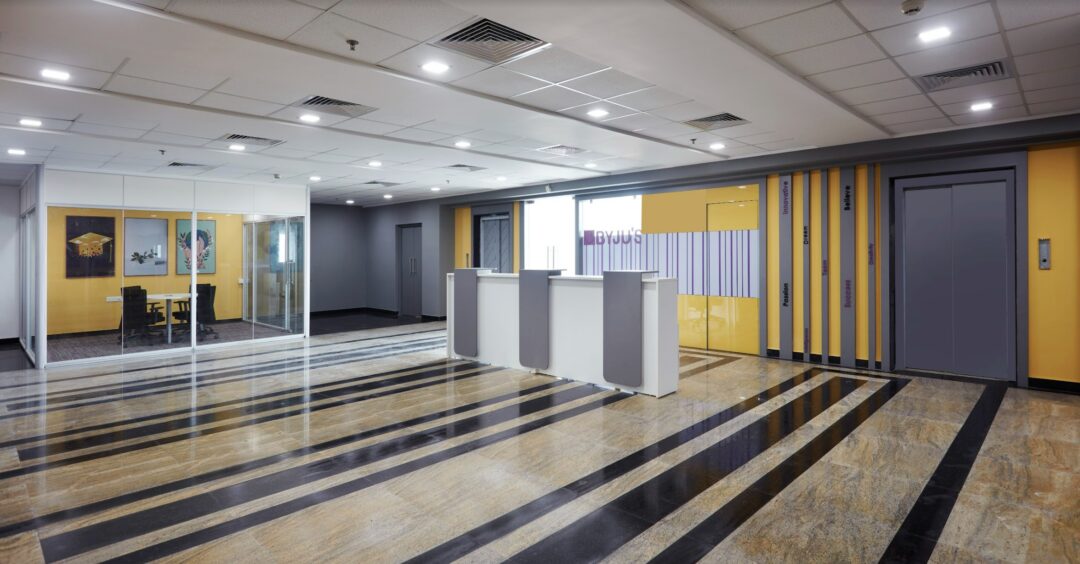 Diffused white light has been used extensively to support muted colour schemes of white, black, & grey that have been incorporated to blend with the brand colours.
The Classroom
According to the universal belief natural light improves focus and productivity. Floor-to-ceiling windows allow plenty of natural light into the space. A dedicated classroom has been placed behind the north wing in order to create a peaceful zone around the classroom. Adjoining the classroom there is a meeting room, fully equipped with a comprehensive projector system.  
The Cafeteria and Gaming Zone
Beyond the reception area and the offices, there is a cafeteria along with the gaming zone. The idea was to design a space that is lively and vibrant, so the designers placed abstract live art on the accent wall. Big, beautiful windows infuse ample sunlight in this section that boosts the natural serotonin in the users.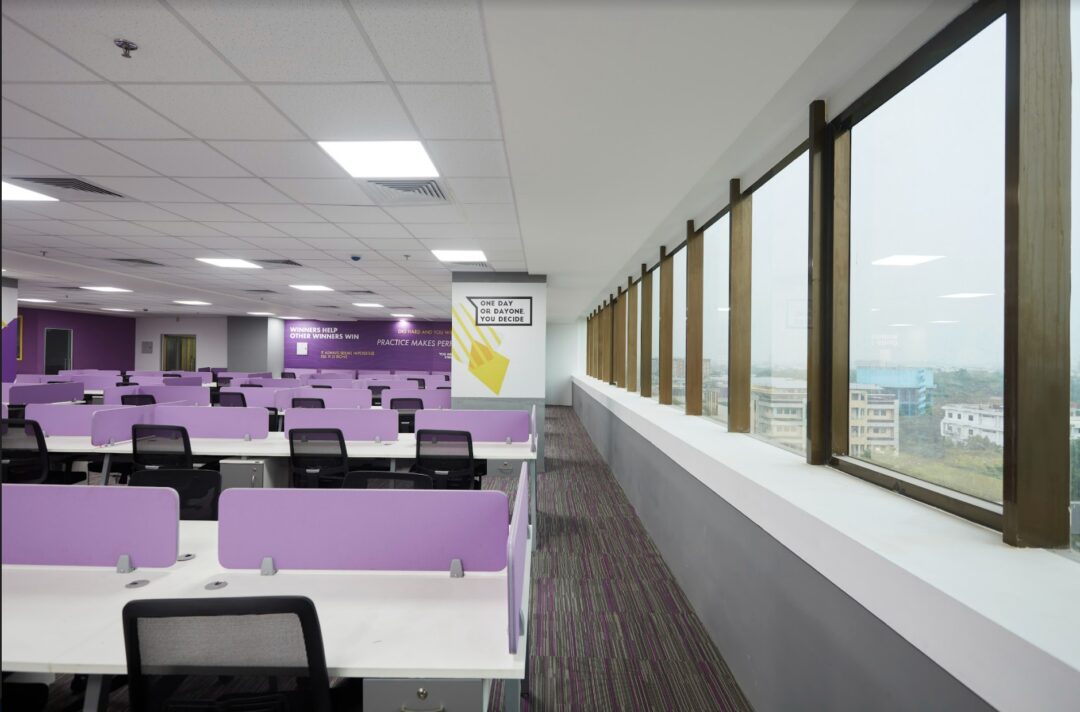 Glass partitions segregate the office spaces. The ceiling made of Armstrong, also has acoustic panelling. The additional lacquered glass has been used in the office as well. Different zones in the office take care of the circulation within the office.
The project is a hybrid office-study space that has been economically and innovatively captured by the team at Salankar Pashine & Associates while using the necessary essence of learning and growing as a student
Visit: https://salankar-pashine-asso.business.site/
Contact: 098225 71366, 0712 655 7246, 098222 22210
Photo Credits: Ashish Bhonde