MIGUA is one of Europe's leading suppliers involved in developing, manufacturing, distributing, and installing joint systems. Highly efficient, innovative, and sustainable, joint covers by MIGUA are used all around the world for large construction projects such as airports, stations, industrial plants, parking buildings, shopping centres, exhibition halls, and hospitals. MIGUA Engineering is on a drive to constantly innovate and develop new profiles with better characteristics. MIGUARCHITECT is a knowledge platform for architects and planners on the subject of joint cover systems. They are also the first movers to manufacture replaceable joint covers. For them, "replaceable is clever – and sustainable". Biltrax Media traces the trajectory of this innovative company in conversation with Dr Kapil Singh, the National Sales Manager, India at MIGUA.
Can you take us through the evolution of your company? What is your firm's core philosophy, and what anchors your practice to its values?
With more than 100 years of experience in the development, manufacturing, and distribution of joint systems, we offer our customers the unprecedented competence of an experienced partner. Innovation has been an integral part of our strategy from the very beginning, which is why we became what we are today – "The number one in joint profile systems in Germany." This is what our customers benefit from every day.
In 1920 MIGUA Hammerschmidt GmbH was founded as a technical trading house in Blankenburg in the Harz mountains in Germany. In 1960, we patented our first expansion joint systems and subsequently developed them to create more patented profile systems. By 1980, MIGUA set its distribution channels worldwide to spread its operations. In 2015, MIGUA set up its sales teams in India. In 2020, MIGUA celebrated its 100th anniversary as an internationally active and successful company.
Our Standards
We satisfy the most rigorous standards in quality and functionality. Our innovative capacity is path-breaking in the entire industry. Apart from our over 600 proven expansion joint covers, we are developing customized solutions for our customers on demand. Our consistent customer orientation sets standards; that's what our guiding principle "MIGUA – you first" stands for. The satisfaction of our customers is our top priority – thus, we contribute to their long-term success.
We are aware of our responsibility to our customers, business partners, and employees.
As an INDUS Holding AG company, we are committed to a joint Code of Conduct that is characterized by responsibility and accountability, sincerity, loyalty, and respect towards our fellow human beings and the environment.
Sustainability is also not just a general necessity for us, but a real affair of the heart. In doing so, we are aware of our social responsibility and equally want to make our contribution to environmental protection. Because we not only see these tasks as our social duty – we are also convinced that only with a sustainable corporate philosophy will we be just as successful in the long term as we have been in the past.
Quality is a game-changer. What does quality mean for MIGUA?
For MIGUA, quality implies optimum functionality and longevity.
MIGUA expansion joint covers are developed, manufactured, and tested in Germany in extensive test procedures. All new developments are subjected to a practical test first hand in our own testing facilities.
MIGUA quality management is based on the principle of customer satisfaction by means of clear organization and documented processes. Numerous patents and test certificates attest to this.
What's particularly interesting about products from MIGUA? What modern-day construction problems do they address?
MIGUA expansion joint systems serve to cover, close, and seal expansion joints. Our products satisfy the most rigorous standards in quality and safety and are widely used in large-scale construction projects. Every day, our experienced team does their utmost to ensure that our outstanding product quality and innovative approach make our customers' building projects successful. With five brands and a total of over 600 proven expansion joint systems, we've got the diverse structural needs of today's construction projects covered. We confront difficulties such as heavy traffic loads and meet exacting standards in water resistance or hygiene. Be it floors, walls, or roofs, MIGUA offers the perfect solution for any surface. Products of the highest quality are fundamental to our business, yet our ultimate priority is always customer satisfaction.
MIGUA's Range of Services
To guarantee the success of our customers' construction projects, we also provide a wide variety of services, ranging from expert consulting and technical guidance on site to full installation. Because we know that the requirements for expansion joints are just as unique as the buildings they support, we can also develop a customized expansion joint solution to suit our customers' needs.
Expert advice, individual product development, Exact on-site measurements, detailed drawings, assembly, construction briefing on-site, supervision or calculations with the finite element method, all that is necessary – we are aware that excellent service is a decisive factor to the success of a building project. This is why we are not satisfied until our customers are satisfied!
Replaceable Expansion Joint Covers by MIGUA are the first of their kind in the industry. How do they promote the idea of sustainability?
After long years of continuous use in highly frequented areas, the function and appearance of expansion joint cover systems may get compromised. However, replacing them then presents a challenge because they are firmly anchored in the floor by screws during installation. Hence, the adjacent floor covering must be completely removed during renovation, and the old joint cover has to be laboriously dismantled. This is time-consuming, cost-intensive and especially difficult to execute in high traffic buildings such as shopping malls and airports due to downtime during work hours.  Resources such as stainless steel, aluminium, or concrete need removal and renewal.
The solution – Our replaceable joint covers from the 100% water-tight MIGUTAN product series and our new patented Migutrans joint cover FSRX.
This is a joint cover that can be replaced quickly and economically during operation. To do this, only the visible part of the joint cover is unscrewed and replaced by a new one. This is a great thing, especially for sustainability reasons. This happens without any material wastage in disassembly and assembly. In addition, the vestigial part can be melted down again and thus returned to the material life cycle. 
All this saves time, costs and minimizes downtime, and thus offers real added value for investors, architects, and contractors. The FSRX also meets high design demands in building architecture with its clear formal idiom and smart design.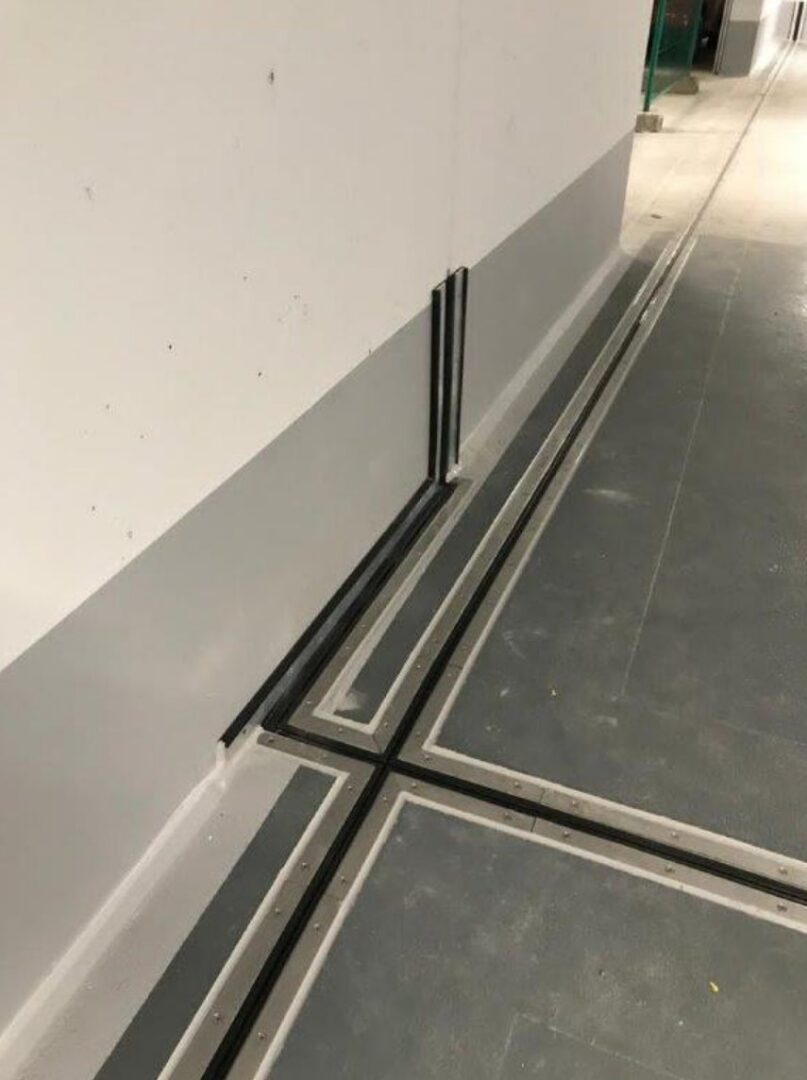 Could you explain how MIGUA joint configurator has transformed the workflow and resulted in better outcomes?
With our joint configurator, our customers can easily and quickly get an overview of the joint constructions that are suitable for their concerns. Based on various criteria, such as joint width, required water tightness, or load, our MIGUA configurator determines the right joint system for the special needs of their building. In the best case, the result is verified once again in a consultation with one of our employees, because sometimes other individual framework conditions play an important role in the decision. Especially for standard applications and for an initial overview, our joint configurator is very popular with our customers.
MIGUA recently listed amongst the top 100 innovators in the journey. What made you direct your energies towards innovation in expansion joint covers? 
MIGUA is constantly developing new expansion joint covers with improved properties. This is because innovative products and services are a must for meeting the growing demands of modern building architecture. Above all, it is critical for us to meet the increasing expectations of an attractive design in the field of joint sealing. It is our declared aim to optimally implement object-specific customer requirements.
"Move before you have to" is MIGUA's credo in terms of innovation. Our innovation team designs new products for very specific requirements in close cooperation with customers from the fields of architecture and design as well as construction. Our latest development is the exchangeable joint cover FSRX, which was even granted the European and U.S. patent.
MIGUA is also pioneering in the field of services. Our MIGUARCHITECTS page, a page especially for architects and planners, won the German Innovation Award in 2019.
In continuation to the previous answer, MIGUARCHITECT is an interesting undertaking to help architects and planners. Could you shed some light on the simplicity and efficiency of this website?
With MIGUARCHITECT, we have created a knowledge platform for architects and planners on the subject of joint cover systems. Here, interested parties can find out about extension joint systems quickly, easily, and in a targeted manner.
On one hand, they will find a wealth of information on when joints are provided in a structure, what types of joints there are and what criteria need to be taken into account when selecting the right joint cover. On the other hand, the reader receives further useful working aids for their current project, such as tender texts and downloadable BIM files. MIGUARCHITECT was awarded the German Innovation Award in 2019. 
At present, MIGUARCHITECT is available in the German language.
What are the future trajectories for your firm regarding your design process, upcoming projects, and research?
We are constantly developing our product portfolio. For this reason, we now have more than 600 different types of expansion joint cover systems in our range. This is because as individual as our customers' buildings are, the solutions must also be individual. If we do not yet have a required joint system in our range, we simply develop it from scratch. For building protection alone, it is important that our customers receive the optimal solution for them.
Since last year, architects, in particular, have been pleased with a new product launch. Now our customers can choose between different colour shades for certain joint cover systems. This gives them even more design freedom when using joint cover systems and allows them to meet their design requirements even more. 
Expansion to the Middle East
We expanded our product portfolio in the Middle East last year with a completely different product, namely high-quality floor mats, which our customers can now purchase in two quality grades and different colour schemes.
In 2022, we are also planning to expand our product range. In this context, we not only plan to expand our range of joint cover systems but to introduce a new product segment to the Middle East market.
There are general goals, such as ongoing digitalization and our current focus on sustainability. The latter is a matter particularly close to our hearts. We are therefore continuing to achieve our goals, such as the company's climate neutrality, and to further advance all associated social aspects.
Email: salesme@MIGUA.com
Contact: + 971 56 114 8980
Replaceable Expansion Joint Covers by MIGUA

Replaceable Expansion Joint Covers by MIGUA

Replaceable Expansion Joint Covers by MIGUA

Replaceable Expansion Joint Covers by MIGUA

Expansion Joint by MIGUA

Replaceable Expansion Joint Covers by MIGUA

Replaceable Expansion Joint Covers by MIGUA

Bild MIGUPREN Cover Flyer.

Dr. Kapil Singh, MIGUA