Green rating systems for buildings measure and quantify the environmental performance of a given building. India currently has the below green rating systems for buildings.
Green Rating for Integrated Habitat Assessment (GRIHA)
IGBC rating systems
These green rating systems aim to quantify the environmental, economic and socio-economic benefits of green building design with an emphasis on sustainable site planning, optimized energy performance, efficient materials, and construction practices, water, and waste management strategies; and indoor environmental quality.
1] GREEN RATING FOR INTEGRATED HABITAT ASSESSMENT (GRIHA):
Green Rating for Integrated Habitat Assessment (GRIHA) is the national rating system of India for any completed construction, endorsed by the Ministry of New & Renewable Energy (MNRE), Government of India and TERI. It is an assessment tool to measure and rate a building's environmental performance.
The basic features of GRIHA:
The scheme was created to assist in 'designing and evaluating' new buildings (structures that are still at the starting phases). A building is evaluated based on its expected results over its full life. The stages of the life cycle identified for evaluation are:
> Pre-construction stage: Intra and inter-site problems such as access to public transport, type of soil, kind of land, location of the property, flora, and wildlife on the ground before construction activity starts, the natural landscape and land features.
> Building planning and construction stages: Resource conservation and resource allocation problems, energy effectiveness, energy regeneration, and reuse, and occupant safety and wellness regulations. The prime resources considered in this section are land, water, energy, air, and green cover.
> Building operation and maintenance stage: Issues relating to the operation and maintenance of building systems and procedures, tracking and recording of energy consumption and occupant safety and well-being, as well as problems affecting the global and local environment
GRIHA Rating Criteria:
GRIHA provides a rating of up to five stars for green buildings and dispenses points based on criteria's met by any builder. It comprises a set of 34 criteria, few of them are:
> Preserving the existing landscape and protecting it from degradation during the process of construction can fetch 5 points.
> Enhancing energy efficiency of outdoor lighting and promoting usage of renewable forms of energy to reduce the use of conventional/fossil-fuel-based energy resources can gain 3 points.
> Preventing or minimization of air pollution from construction activities is also a GRIHA point.
> Reducing volume, weight and time of construction by adopting efficient technology (such as pre-cast systems, ready-mix concrete) can fetch 4 GRIHA points.
2] LEADERSHIP IN ENERGY AND ENVIRONMENT DESIGN (LEED):
LEED (Leadership in Energy and Environmental Design) is the most widely used green building rating system in the world. It was the Indian Green Business Center (IGBC), under the Confederation of Indian Industries (CII) that facilitated the LEED rating of the United States Green Building Council (USGBC).
At present, to strengthen the global consistency of the LEED rating system, effective June 5, 2014, GBCI (Green Business Certification Inc.) began managing the certification process for all LEED rating systems in India, which was previously managed by the Indian Green Building Council (IGBC)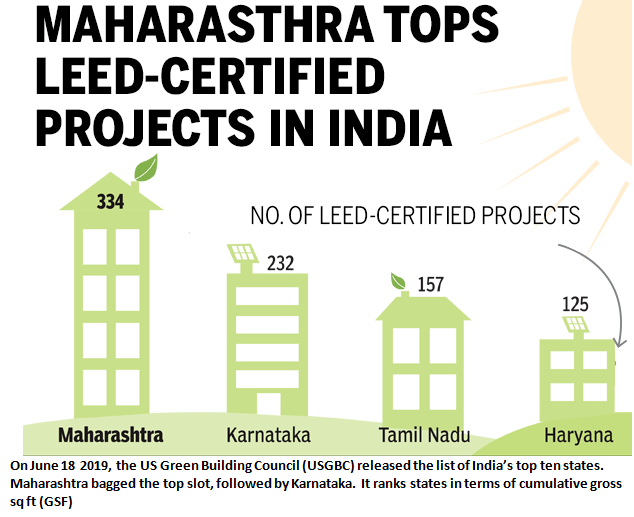 LEED India encompasses rating systems for:
Existing Buildings (EB)
New Construction (NC)
Core and Shell (C&S)
Green Homes
These represent the measurable indicators for global and local concerns in the Indian scenario. Based on the points achieved, the building may be eligible for LEED-certified, Silver, Gold or Platinum Rating.
Many buildings in India register for a LEED Green Building Rating. Some of the major structures that register for a LEED rating are IT Parks, Offices, Banks, Airports, Convention Centres, Educational institutions, Hotels, and Residential complexes. LEED-INDIA is, therefore, one of the chief councils to give a green rating to a structure, whether an apartment, independent home or office. 
3] INDIAN GREEN BUILDING COUNCIL (IGBC) RATING SYSTEM:
IGBC Rating System is a voluntary and consensus-based programme. This rating system would facilitate the development of energy-efficient, water-efficient, healthy, more productive, environmentally friendly factories. Below is the list of rating systems by IGBC:
Resources:
Ministry of New and Renewable Energy, Government of India, & TERI The Energy and Resource Institute. (2008). National Rating System – GRIHA.
LEED certification in India: Your top 3 questions answered. (2017, May 10). Retrieved from https://gbci.org/leed-certification-india-your-top-3-questions-answered
About GRIHA. (n.d.). Retrieved from https://www.grihaindia.org/about-griha
Buildgreenworldnow. (2013, April 18). What is LEED India. Retrieved from https://greenbuildingsindia.wordpress.com/2013/02/06/what-is-leed-india/
IGBC Rating System – Green Building Rating System in India. (n.d.). Retrieved from https://igbc.in/igbc/redirectHtml.htm?redVal=showratingSysnosign
Leadership in Energy and Environmental Design. (2019, August 09). Retrieved from https://en.wikipedia.org/wiki/Leadership_in_Energy_and_Environmental_Design
IGBC Rating System – Green Building Rating System in India. (n.d.). Retrieved from https://igbc.in/igbc/redirectHtml.htm?redVal=showratingSysnosign
United Nations Environment Programme – Sustainable Buildings and Climate Initiative. (2010). The 'State of Play' of Sustainable Buildings in India.