BX-1 is Biltrax Construction Data(BCD)'s revolutionary technology platform that provides unparalleled access to market-leading building project leads across various sectors in India. With its comprehensive coverage and deep data insights, BX-1 empowers professionals in the construction industry to identify new opportunities and plan their sales initiatives for new building projects. This article delves into the sector coverage and solutions offered by BX-1, highlighting its features and benefits.
Before delving into the capabilities of BX-1 , it's essential to recognize the inherent challenges faced by professionals in the construction industry. The sector's dynamic nature, coupled with the vast number of projects and stakeholders involved, creates a complex landscape to navigate. Identifying the right projects, understanding market trends, building strategic relationships, and staying updated with relevant information is crucial for success.
From project filtering options to smart specification tagging, BX-1 offers a comprehensive suite of tools and features that revolutionize the way professionals approach project identification, analysis, and execution.
Sector Coverage
BX-1 covers an extensive range of sectors within the building construction industry in India. The platform provides valuable project leads in the following sectors:
· Residential
· Commercial
· Retail
· Hospitality
· Healthcare
· Educational
· Recreation
· Data Centre
· Multi-Level Car Parking
· Religious
· Sports
· Airport Terminals
· Metro Station
· Railway Station
· Bus Station
· Public Buildings
Also Read : Driving Growth & Success – Biltrax's Mission & Vision for the Construction Industry
Features of the BX-1 Platform
BX-1 provides professionals in the Indian construction industry with a comprehensive set of features designed to address the diverse needs and challenges faced by industry experts.
1. Comprehensive Coverage: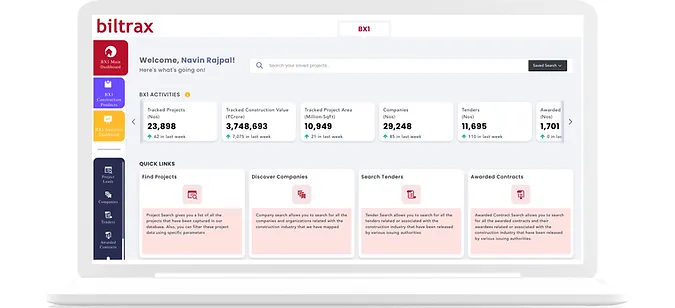 BX-1 provides extensive coverage of the Indian building construction universe, quantifying projects, construction areas, and construction values. It covers more than 80% of the market, ensuring access to a vast array of opportunities.
2. Deep & Wide Project Filters:
The platform offers advanced filtering options, allowing users to search and filter projects based on various parameters such as geography, height, depth, construction area, and more than 100 other key parameters. This enables professionals to narrow down their search and focus on specific project requirements.
3. Smart Specification Tagging: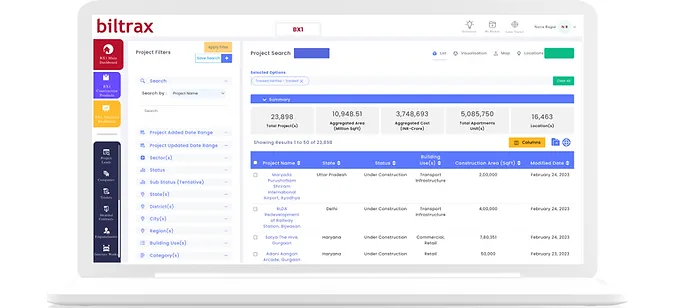 BX-1 utilizes over 200 tags to classify projects based on project amenities, material specifications, sustainability aspects, and other project features. These tags are obtained through on-ground research, providing users with classified information on projects.
4. Key Project Documents:
The platform provides access to a vast repository of project-related documents, including approval documents, RERA declarations, DPRs (Detailed Project Reports), project brochures, priced BoQs (Bill of Quantities), drawing sets, and more. This comprehensive collection of documents facilitates a thorough understanding of projects and aids in the decision-making process relating to demand.
5. Exhaustive Company Profiles: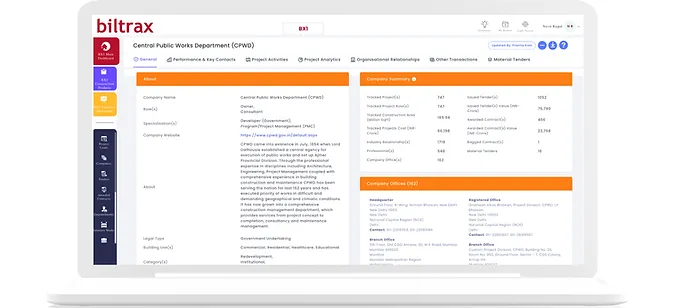 BX-1 offers detailed company profiles, providing users with an exhaustive list of projects, tenders, awarded contracts, key professionals, industry relationships, quantification of opportunities, and analytics on the distribution of projects by location and building use. These profiles enable professionals to identify potential collaborators, competitors, and market trends.
6. Project Profiles:
BX-1 includes thousands of project profiles, offering essential information such as project names, locations, construction areas, construction values, and up to 120 data points. These profiles highlight key influencers, such as architects, consultants, contractors, and project owners, along with information on their professionals.
7. Industry Relationships: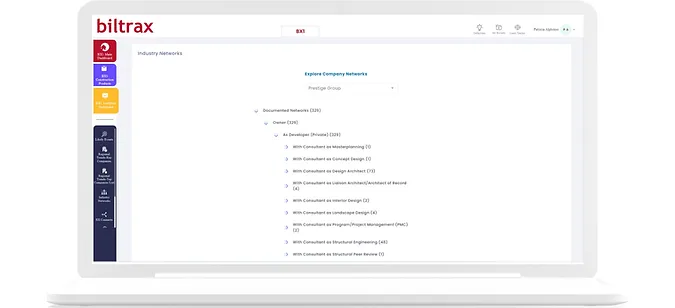 The platform features deep relationship analytics, covering architects, consultants, contractors, and project owners. It quantifies historical relationships, including project numbers, construction areas, and construction values. This valuable information assists professionals in building strategic partnerships and understanding market dynamics.
8. Insights & Analytics:
BX-1 provides deep analytics on top companies in each geography, prominent architect and consultant appointments, and weekly summaries of happenings in specific regions. It offers zone-wise, state-wise, city-wise, and pin-code-wise distribution and quantification of project opportunities. These insights help professionals stay updated and identify upcoming projects as per their requirements.
Note: The numbers shown in these images do not represent the current real-time data; they are just illustrative to showcase the platform's unique features. For the latest and most accurate numbers, please subscribe to our platform BX-1 and BX-2.
Also Read : How Architects Influence the Building Material Market (biltrax.com)
---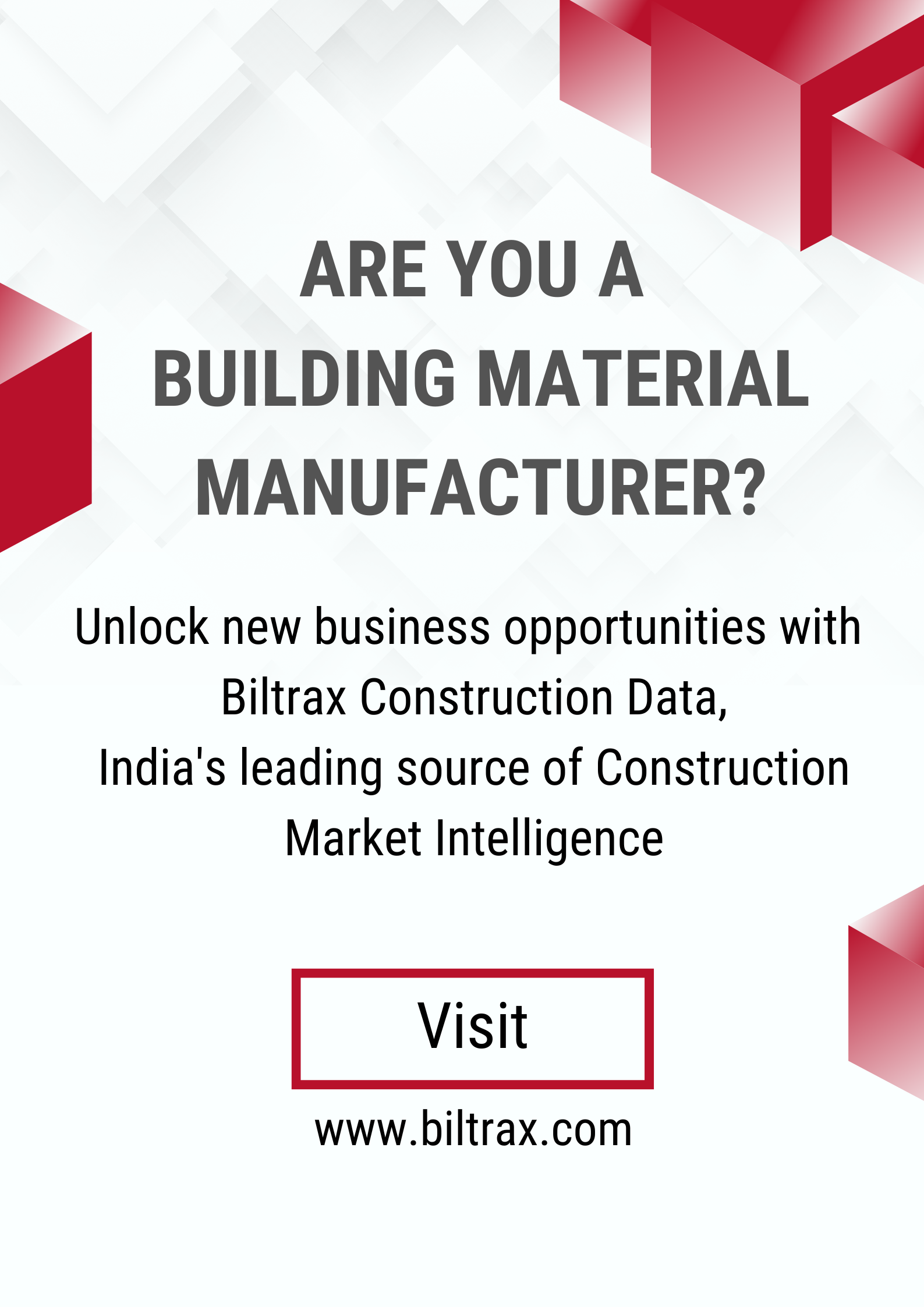 Biltrax Construction Data is tracking 26,000+ projects on their technology platform for their clients.
Get exclusive access to upcoming projects in India with actionable insights and gain a competitive advantage for your products in the Indian Construction Market.
Visit www.biltrax.com or email us at contact@biltrax.com to become a subscriber and generate leads.