Santosh Children's Hospital, Indirapuram, Ghaziabad is an adaptive reuse project by Creative Designer Architects (CDA) that has been carefully and meticulously chosen in order to connect with its young users. The proposal intends to revitalise an obsolete clinic and its current built form into a configuration that is interesting, flexible, and charitable while fostering the well-being of kids and the people who care for them.
Santosh Children's Hospital is located in the Santosh Nagar area of Ghaziabad on a site area of 5000 sq. ft. The built-up area for this project will be 13,000 sq. ft. The building intends to connect with children through its architecture and design. By understanding the cognitive framework of children, the architects tapped in on what they know. Children between the age of three and fourteen either begin to develop or have completely developed familiarity with basic shapes, nature and trees, and colours. The design aims to enhance the well-being of young patients through the inclusion of both functional and visual elements that are designed from an anthropometric and cognitive perspective for children under fourteen years.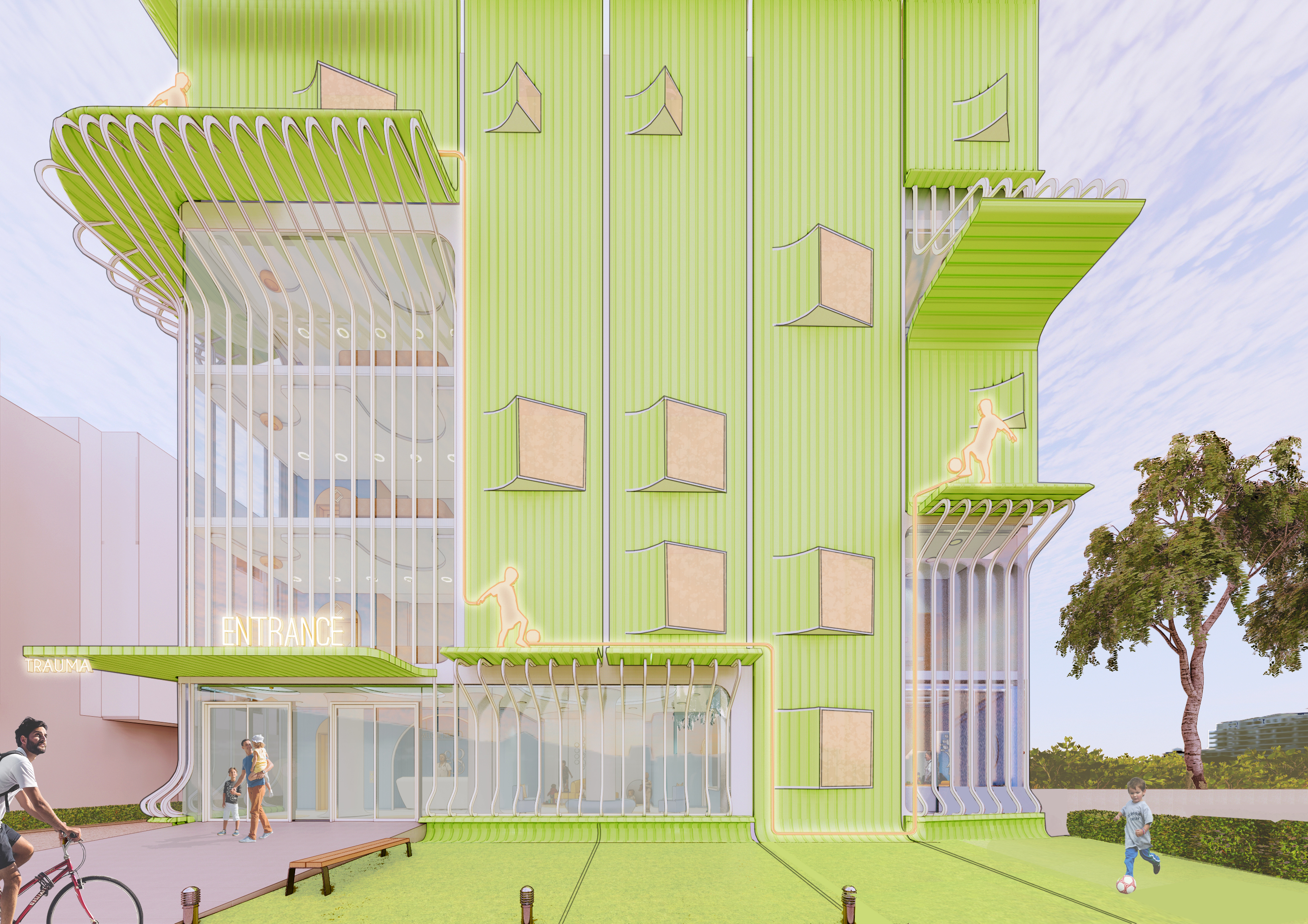 As a result of this understanding and a careful macro-level analysis of the existing street elevation and morphology, the exterior of the building emulates the organic form of a tree. The organic mutation and segmentation of the facade break away from the linear, horizontal contextual language of the adjacent buildings.  Located in a mixed-use neighbourhood with a predominantly white and grey colour palette with hints of red and blue, the hospital building emerges as a striking green manifestation of an urban sapling. The design brief demonstrates a need for establishing a strong brand statement through the design and architecture of the hospital. The distinct, green exterior augments the facility with a brand identity.
Interiors
The entrance lobby on the ground floor includes a waiting area that overlooks a play area for children and the pharmacy and outpatient exam room.  The first floor houses the counselling and imaging departments. Other operatives and intensive care units are located on the second and third floors. The play area adjacent to the therapy room on the terrace floor is designed considering children's needs. The design instils a sense of well-being in all the end-users through its use of form, texture and colours, and augments a seamless delivery through slick medical planning.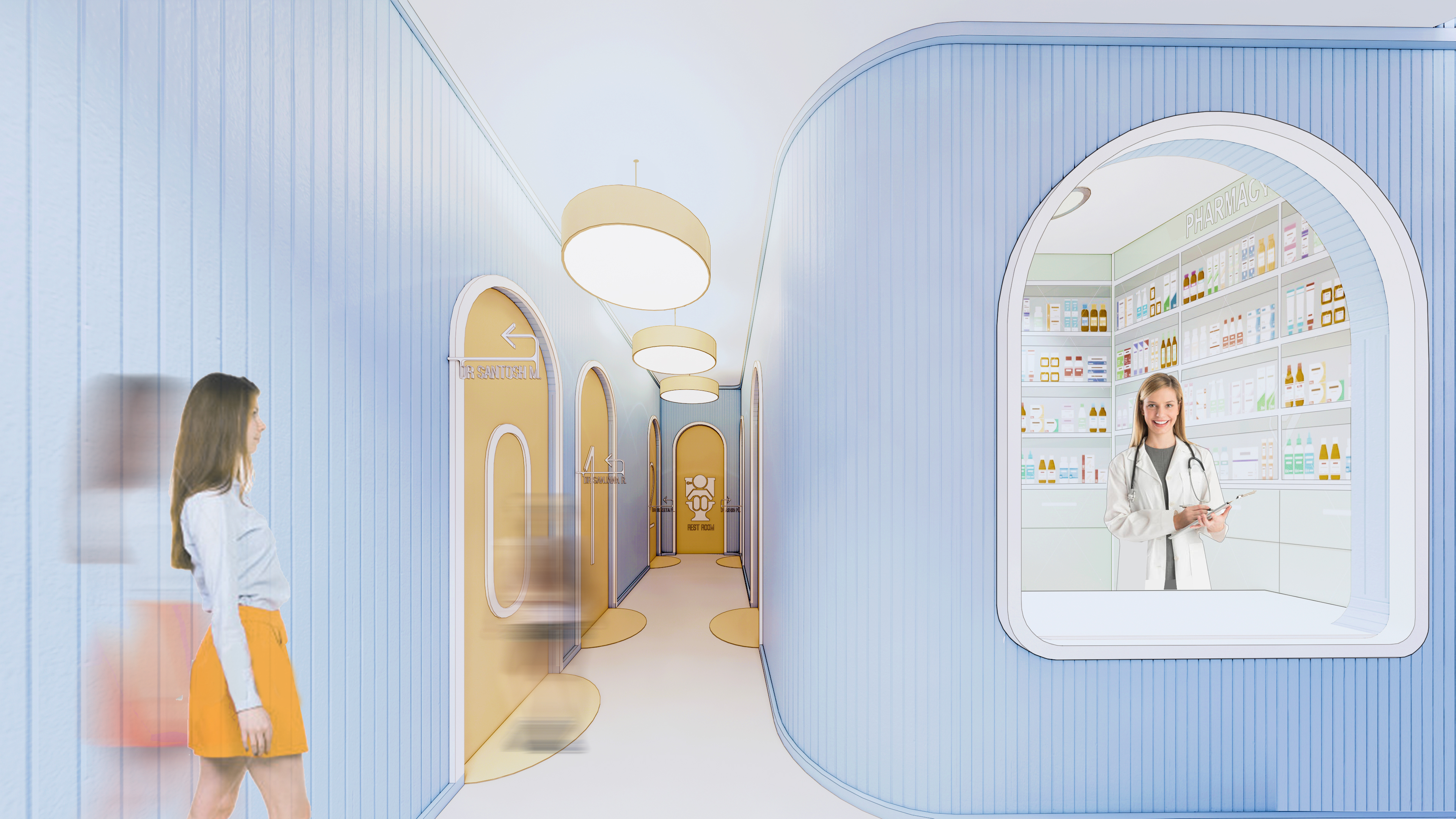 An adult patient ward in a hospital generally follows the conventional clinical, linear notion. Stepping into the shoes of a young patient, engaging interiors are planned at all levels by incorporating vibrant colours, forms and organic movement patterns. Families and caregivers are crucial partners in a child's healing journey. Therefore, patient rooms and wards, though fairly lean in their square footage, incorporate a family couch to keep loved ones close. The clear and distinct signage located throughout the facility serves functions beyond wayfinding. This promotes interaction with its youngest patients through enhanced legibility.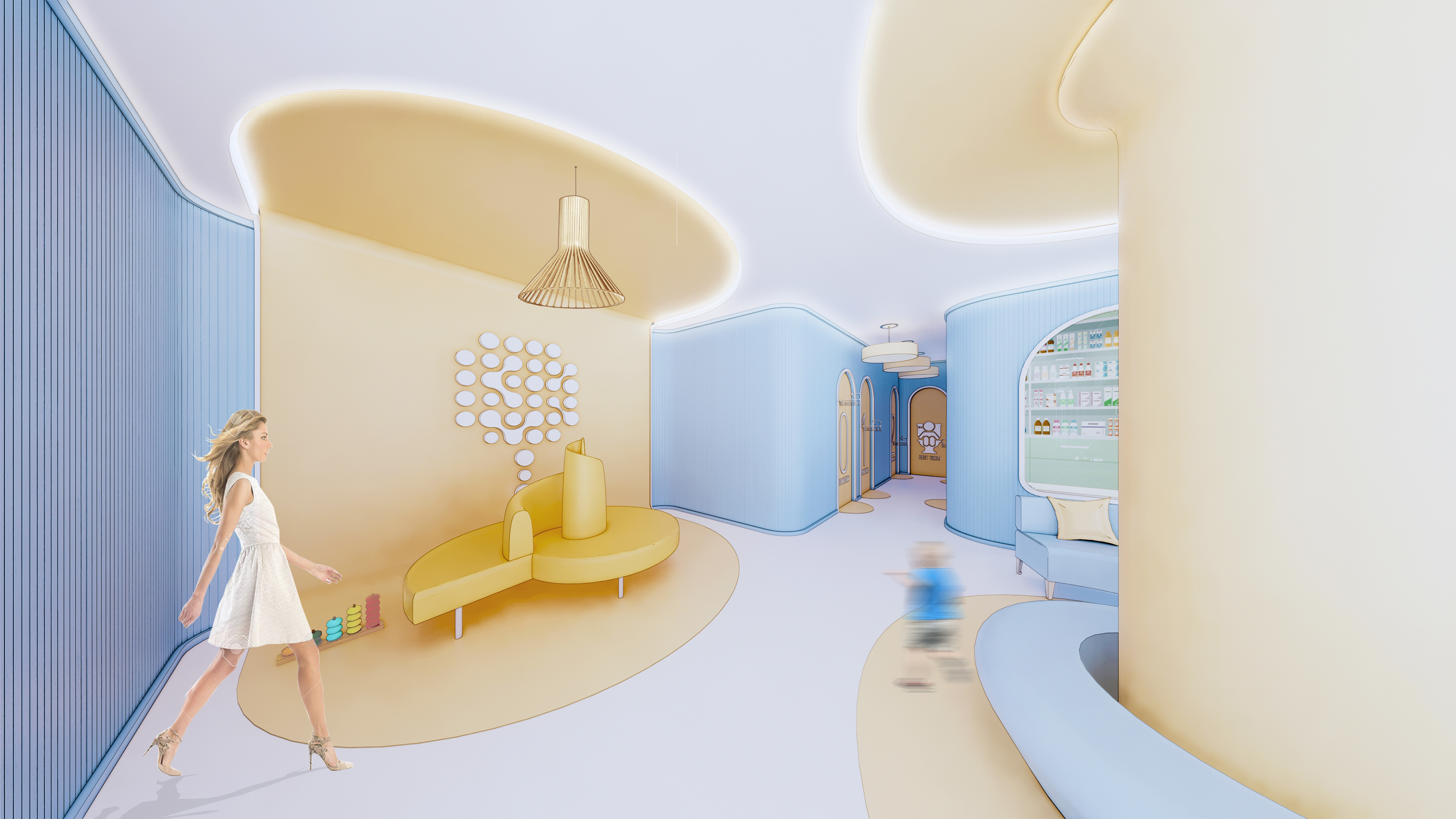 Children perceive spaces differently than adults and are more sensitive to the environments around them. Santosh Children's Hospital intends to provide a healing environment that engages with its young patients through colours, textures and shapes. The design augments the hospital ensuring patient and staff safety, satisfaction and well-being.
Creative Designer Architects
E-mail: creativedesigner.1@gmail.com, media@cdaarchitects.in
Contact: 0120 493 3350
Project Fact File
New Growth Associates – Mechanical and HVAC Consultants
Design Workx – PMC and Facade Consultant; Structural, Mechanical, Electrical, Civil, Landscape, HVAC, Plumbing, Facade, PMC, Engineering Contractors
EMPS Design Pvt. Ltd. – Electrical and plumbing Consultants
Creative Designer Architects – Civil, Landscape, and Architectural Consultants
Biltrax Construction Data is tracking 20,000+ projects on its technology platform for its Clients. Email contact@biltrax.com to subscribe and generate business leads.
If this article interests you, also read