A lot of data has been collected during construction projects. That information has been typically unstructured, compartmentalised, and gathered on paper. However, now that they have a better grasp of Big Data, construction organisations are eager to utilise it because of the multiple advantages it offers.
Larger construction organisations throughout the world are increasingly using tools like 5D BIM, data analytics, drones, mobile solutions, and collaboration platforms like common data environments. While they increase productivity in real time, they may be more important in preparing the way for the adoption of more disruptive technologies in the future.
Construction businesses may use Big Data to collect, analyse, and solve business challenges. Big Data aids businesses in completing projects on schedule, correctly bidding, and building more effectively. However, when it comes to collecting, sharing, and utilising data created throughout the complex construction ecosystem, Big Data offers a considerable problem.
Today's construction companies are beginning to use collaborative technology like real-time, cloud-based analytics to mine large structured and unstructured data repositories to ensure that all stakeholders – architects, consultants, engineers, subcontractors, specialty tradesmen, clients, operators, agents, and suppliers – are on the same page and have access to real-time data. These technologies have the ability to completely transform the industry by providing game-changing advantages.
Design Phase
In the design process, Big Data is already altering the building business. There's a lot of relevant information out there that, when correctly gathered and implemented, may help with the design process, including:
Input from stakeholders
Discussions on social media and by email
Information on the environment
Data from the Past
When all of these channels' data is combined, a developer may choose the best location for their new construction project. Furthermore, Big Data can evaluate the aforesaid data and put it to good use if it has an appropriate big-data analytics technology in place. Big Data can calculate probabilities and patterns that can be used to predict potential problems with a building project in the near or distant future.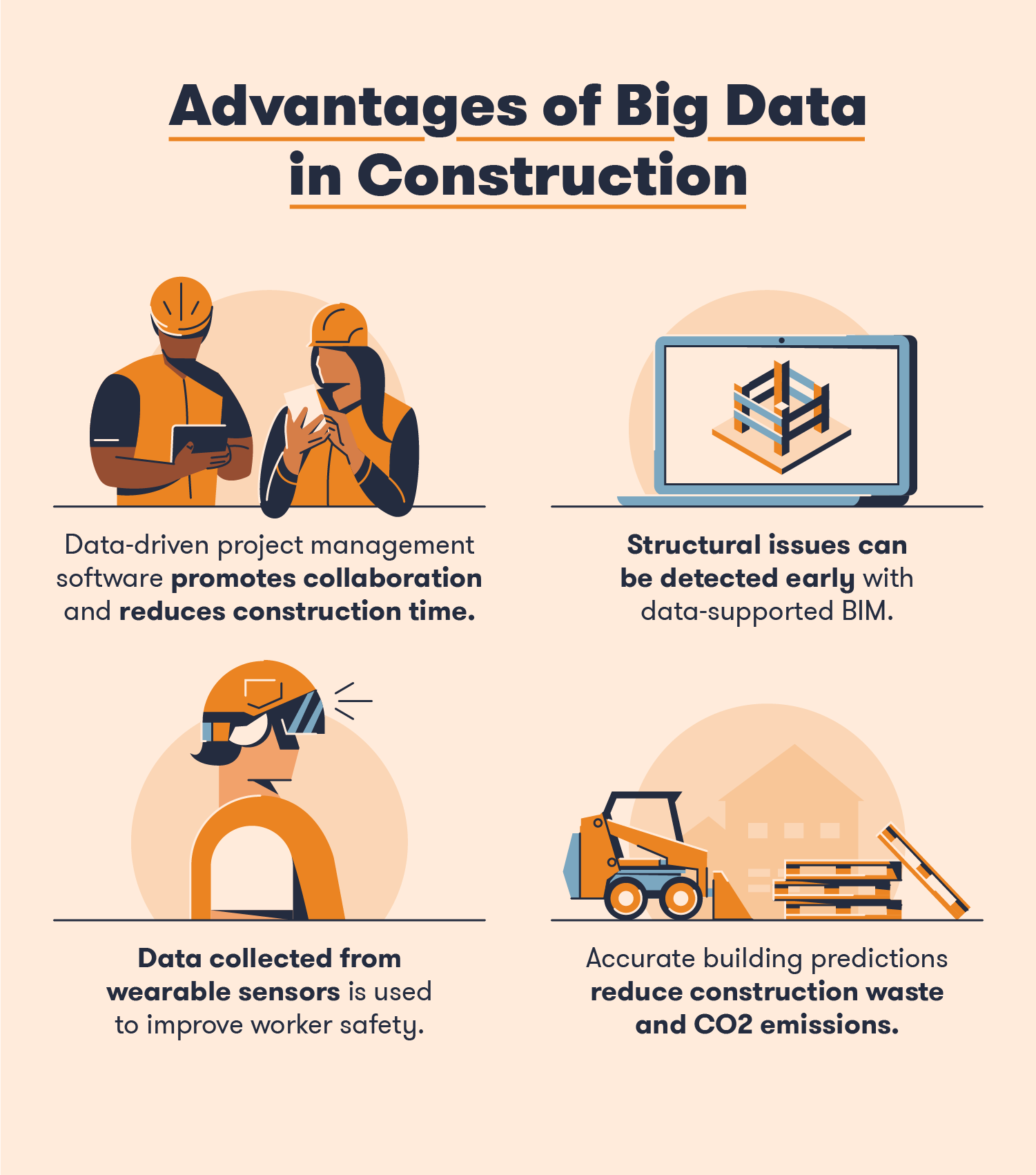 Big Data for Project Management
Big Data can aid in tracking and management of projects: weather, traffic, community, and business activity data can all be used to identify the best phasing for construction operations. Sensor inputs showing active and idle time can be analysed to derive better conclusions regarding buying or leasing equipment to make machines more efficient. It can also assist in establishing the most cost-effective and environmentally friendly method of fuel use. Equipment geolocation data will enhance logistics, enabling spare parts to be made accessible when needed, and reduce downtime.
Big Data analytics' capacity to provide teams with dependable and easy-to-understand status updates has been lauded by data advocates. Regular updates lead to better decision-making and also pave the path for more frequent project evaluations. Temperature, humidity, and stress may all be measured to see how they affect a facility and to warn the team if there are any unexpected changes.
Big Data for better Budgeting and Planning
Big Data for improved budgeting and planning: Access to the correct data would also allow commercial organisations to better evaluate subcontractors working on a project. With the right facts and research, one can figure out how trustworthy a possible consultant/vendor/contractor is. Most construction firms collaborate with a variety of organizations as well as independent consultants to obtain all of the necessary materials and other resources; with precise data, firms will be able to assess the risks associated with a possible partner. Removing a less productive partner from a project's setup can have far-reaching consequences and can also assist in cutting down on wasted resources.
Simulation is another advancement that Big Data can provide. Because anticipating outcomes is such an important part of data analysis, being able to forecast project outcomes might lead to unparalleled results. The many levels, as well as the sites of building projects, may encounter a number of unanticipated issues.
Contractors will be able to pinpoint the actual problem area even before the scenario develops thanks to thorough simulations. While it may not always be able to recognise a project's real-world constraints, data can significantly lessen the risk of issues appearing unexpectedly.
Familiarity with today's technologies and the ability to improve operations by utilising the vast data generated by them pave the way for the next generation of technology and its genuinely disruptive potential in the construction industry. In other sectors, five-dimensional printing, IoT sensors, process automation, robotics, digital twins, cognitive machine learning, and AI have already proved transformational, and we can expect the same basic consequences in the construction industry in the near future.
To justify the investment, early adopters confront a basic lack of information and a limited number of success stories concerning the implementation of these technologies in building. However, one of the most significant advantages that can be drawn from IoT solutions is that they solve one of construction's most debilitating issues: manpower.
Big Data from Sensor Technology
Sensor-based technologies have substantially enhanced data collecting, transmission, and processing, which can serve as the foundation for modernising construction safety management. Sensor-based technologies have aided the transition from experimental investigation to practical applications after nearly two decades of research. Currently, research is ongoing that is focusing on the uses of sensor-based technologies in construction safety management.
Furthermore, data from sensor-based technology intelligence aids in the creation of an interactive management platform, which is an integration of hardware and software for data processing that dramatically improves construction site monitoring capacity while also ensuring construction safety.
Collaboration is Encouraged
One of the most significant issues that construction workers confront on the job is a lack of communication. Big Data systems, fortunately, make information easily accessible and shared across crew members. This lowers miscommunication-related errors, enhances shareholder relationships, and keeps everyone informed in the event of a last-minute change or interruption.
Workplace Conditions are Improved
Construction workers are more likely than professionals in any other industry to be harmed while on the job. Fortunately, smart construction wearables and safety management software are gaining popularity in the sector.
These gadgets use Big Data to collect health and activity data, detect safety dangers, and notify construction personnel when safety regulations have been broken. This information not only protects employees who use safety technology, but it also prepares project managers for future safety risks.
Conclusion
Construction companies will benefit from digitising workforce management in a number of ways, including lower labour costs due to more accurate budgeting and planning, risk mitigation due to simplified legal and internal policy compliance, improved employee experience due to optimised scheduling, and increased productivity due to automated administrative tasks.
It's past time for the construction sector to embrace the digital age and realise the promise of technology to improve operations in 2021 and beyond.
Sources:
Disclaimer: The information contained herein have been compiled or arrived at, based upon information obtained in good faith from sources believed to be reliable. The opinions expressed within the content are solely the author's and can be subject to change. The image featured in this article is only for illustration purposes. If you wish the article to be removed or edited, please send an email to editor@biltrax.com