The construction business has a lot of promise, but companies need to focus on putting in place the correct rules to boost production and efficiency. In the construction and real estate industries, companies must be prepared to execute initiatives to boost productivity, efficiency, and productivity.
Infrastructure and construction are the most prominent sectors wherein the role of technology has emerged unprecedented. With mass urbanisation projects planned by the policymakers in the country, there has been a surge in both the number and the magnitude of the projects and this, in turn, has increased the importance of technology to colossal heights. With sheer ability to give the best results in a limited time frame, the construction industry is transforming by adapting to technological development within the sector.
Holding a lion's share of the employment market in India, the construction sector is an important indication of the country's economic health. India will face major social and economic transformations in the next few years. This will result in significant growth in the country's population and the size of its cities, resulting in a significant increase in the construction industry's demand.
Autodesk-IDC's latest research report, 'Digital Transformation: The Future of Connected Construction in India' states that almost one-fifth of India's construction companies cited completing projects on time and budget as a top industry concern, followed by workforce safety and effectively managing risk. As a result, project management, enterprise resource planning (ERP) and client relationship management (CRM) has been identified as the top planned software investments.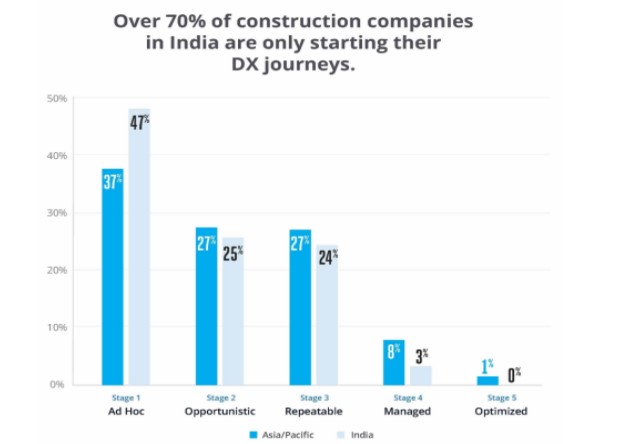 The demand for smart and sustainable technologies has been gaining ground since the environmental impacts of construction conditioning have gained significant importance. The use of digital technologies can help construction companies keep their heads in the game by incorporating inventions that are sustainable and align with the rising trend of constructing smart structures. Construction costs can be optimised by creating offsite, prefabricated accoutrements and digital tools that can help in proactively covering onsite safety and threat operation through offsite manufacturing along with prophetic conservation. This is due to the construction sector being very sensitive to changes like market demand and shifting economic trends.
Offsite construction is transforming product development.
Offsite construction is commonly used in projects that have repeating floor plans or layouts, such as apartment complexes, hotels, hospitals, dorms, jails, and schools. Offsite is set up in a controlled environment and functions as an auto production facility. Workers at each station have all of the equipment and supplies they need to complete their tasks consistently, whether the activity is simple or complex.
Technical Collaboration
A crucial benefit of espousing an enterprise-wide technology result for construction systems is increased collaboration between stakeholders. Nearly 70% of Indian construction enterprises are in the preliminary phase of their digitisation journey, precisely because of the increased effectiveness that collaboration drives.
Generally, larger capital systems also witness 20% time and 80% popular overruns throughout their dates, making it decreasingly gruelling to manage them at scale. With the preface of digitisation, construction enterprises can become more nimble to dynamic changes and trends without losing connectivity within brigades. This improves collaboration and productivity, giving further stakeholders more availability to erect designs, schematics, planning, and budgeting without passing multiple stages of data-finding.
Increasing workforce efficiency
Automation and digitisation have a major part to play when it comes to perfecting work pool efficiency. Robotisation can take up tasks that are complex for homemade labour and can be time-consuming. On point prosecution which needs to be better can be given further attention as robotisation takes care of other activities through a centralised system. It can also bring over lesser cost savings as directors can keep an eye on the hand conditioning through progress reports, updates, and mapping technologies. With processes automated at scale, all with outlined objects seamlessly. This directly boosts translucency and hand affairs throughout the lifetime of the design.
Also, construction systems are using robotics, drones, AI, and other advanced technologies to ensure effective reproduction of designs to on-ground execution. To ensure the effective restatement of designs to on-ground prosecution. They also help in point quality examination, safety reporting, visual reporting, etc. These technologies are giving workers more data points to ensure the flawless breakdown of fieldwork for all design sizes. They're also helping construction workers scientifically decide new perceptivity for perfecting design issues.
Technologies like Artificial Intelligence, drone mapping and sensors can enhance productivity at the site. These reviews can be compared across BIM models to determine point progress each day. Also, detectors installed through the spots can cover the outfit force, and deep literacy can compare it across work schedules to identify any setbacks in progress or indeed identify issues. The digitisation process not only helps in maximising effectiveness and gains but also in mainly minimising pitfalls to mortal life with rigorous monitoring of the spots and safety compliance protocols.
Reduced cost
It's anticipated that there will be increased use and dependency of technology in construction and construction operations going forward as companies will make the most of available technologies. The rearmost technologies in the construction space have accompanied a rising demand for faster construction and superior quality.
Significant changes can be supported if companies acclimatise to technologies similar to aluminium formwork, lair formwork, prefabricated structures, erecting information modelling (BIM), among others. BIM can help inventors in incorporating digital representations of structures in 3D models to digital representations of structures. This gives way to the better design and construction of structures. Steel fabricated form to cast ray, walls and columns in one go is used in the Lair frame. One can repetitively make use of sword formwork as it reduces labour costs and saves time as the finishing work isn't needed on the walls and crossbeams, thus perfecting construction effectiveness. Also, by executing prefabricated technologies, inventors can employ benefits conforming to point safety, waste reduction, better air quality, and quality operation.
Conclusion
As digitisation is paving the way in the construction industry, companies over the spectrum will have to up the ante while making use of will have to grease concentrated sweets to brush up their chops. They should concentrate on enforcing digital change, innovative technologies, and new construction ways to stay competitive.
Sources:
Disclaimer: The information contained herein have been compiled or arrived at, based upon information obtained in good faith from sources believed to be reliable. The opinions expressed within the content are solely the author's and can be subject to change. The image featured in this article is only for illustration purposes. If you wish the article to be removed or edited, please send an email to editor@biltrax.com